Target Canada: Prices To Be Competitive With Other Canadian Stores, Not U.S. Chain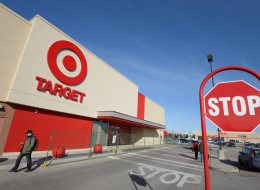 There is really only one major reason why Canadians have been flocking across the U.S. border to shop at Target locations: Lower prices.
With the opening over the next year of more than 120 Target Canada locations, shoppers are hoping that those bargains will now be available north of the border.
But while the chain's Canadian prices will certainly be competitive, don't expect it to match U.S. prices. Like with just about all other U.S. retailers operating here, the Canadian locations will have their own price structure.
Target Canada's website is coy about what to expect. "We absolutely intend to have competitively priced products in Canada," the company states in a FAQ. "However, we can't comment on specific prices as we are still working through the details of our overall pricing for the Canadian market."
In a recent interview with the Globe and Mail, Target Canada president Tony Fisher was more candid.
"We've built our business model to be incredibly competitive with the lowest-priced leaders in Canada," he said, but "[w]e're not building our business model as compared to the U.S."
In other words, you might get a bargain compared to other stores in Canada, but not when compared to the prices at Target USA.
(STORY CONTINUES BELOW SLIDESHOW)
Target Canada's Clothing & Product Lines
Learn more about the U.K.-based cosmetics line here

Target Canada and Roots, going hand in hand! In case you're not familiar with this favourite Canadian brand, check them out here.

Check out more of the beloved chef's kitchenware line for Target here.

See more of Nate Berkus' decor and design items here.

Find out more information on Target's in-house food brand here.

Sheets, and pillows, and platters - oh my!

This line designed by Natalie Portman's stylist was just announced this week. It will be the first collaboration available in Canada, hitting stores in April.

Don't know about Sonia Kashuk's makeup brushes and cosmetic line yet? You'll become very familiar with them.

Another in-house brand for Target, Market Pantry offers essentials like breads, cereals, water, and much more.

Did someone say cleaning supplies? Or baby wipes? The Target-based Up & Up will be a serious competitor for other home essential lines when they hit Canada.
The issue of U.S.-Canada price discrepancies came to the forefront once again in recent years as the Canadian dollar reached parity with its U.S. counterpart. Inevitably, it's those products and stores whose U.S. and Canadian prices are easily comparable — such as books — that draw the most attention from upset Canadian consumers.
And unfortunately for Target, many Canadian shoppers are familiar with its U.S. prices.
"I think the question is who is the benchmark? Is it Targets in the U.S. or is it the local competitors?" asked Robin Sherk, head of market insights at consultancy Kantar Retail, as quoted at Yahoo News.
Inevitably, comparisons to the U.S. will be made. When U.S. fashion retailer J. Crew came to Canada in 2011, it faced a barrage of complaints from shoppers about prices being almost 50 per cent higher here than south of the border. The retailer backed down, lowering prices to about 15 per cent higher than in the U.S.
A recent study by the OECD found that the soaring loonie has done little to help Canadian shoppers. In 2011, with the loonie near parity, the purchasing power parity of one Canadian dollar was the same as it was in 2002, when it was worth 62 cents U.S.
Simply put, it cost on average $1.23 to buy what $1 U.S. would buy you south of the border in 2002, and it still costs $1.23 today. The rising loonie has not brought prices down to any noticeable extent.
That statistic squares up with a survey done recently for the Globe and Mail, which found that prices at Walmart Canada are about 23 per cent higher than they are at U.S. Walmart locations.
So can shoppers expect a similar markup at Target Canada? Probably, but it's worth noting that Walmart is already engaged in a war with Target Canada, even before the first Target store opens. And that could help drive overall retail prices in Canada down.
And if all else fails, Canadians can still jump in the car, head for the border and go shopping at good ol' Target USA.