Toronto Should Be The New Capital Of Canada. Er..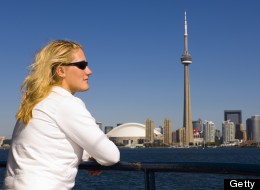 Readers of The Huffington Post Canada responded in the hundreds to our hypothetical question: If you had to choose a new capital city for Canada, what would it be and why?
Many readers cited Toronto for a bunch of reasons, as you'll see below. We'll profile some other top picks in the days ahead.
Agree? Disagree? VOTE NOW on our top reader picks and we'll put your Top 8 choices up for a face-off leading up to Canada Day. Just 'Like' the cities in the gallery below if you want to see them in the finals:
VOTE: New Capital Of Canada
We asked what city, town or village should be the new capital of Canada. These are the most popular of your picks. VOTE NOW by "Liking" your favourites. We'll put the top 8 choices up for a national vote leading up to Canada Day.

"It has a wonderful mix of high tech and other business ventures, fantastic scenery, great acceptance of people of all races, religions and sexual preferences ... and the weed is spectacular." — Ben Crosse "Food, sights, flowers and trees, people, beauty, water, hotels, and you feel calm with everything, and the wildlife." — Tish Roberts, Ontario "Vancouver is a dynamic, engaging metropolitan city filled with culture and diversity. Vancouver's wide diversity of people is an accurate representation of Canada's national identity, and the city itself has so much to it. From sports to arts and culture, Vancouver truly has it all." — B Maclean, Alberta

"It's in the middle." — Kevin, Ontario "It's in the dead centre of the country. Winnipeg is our version of Chicago. And to satisfy Quebec, there are enough French-Metis folk around to make the French quota. So 'go Winterpeg!' " — Paul, Alberta "Good mix of cultures. Moderate but active climate of political and social activism. Stable residency." — Unnamed, Ontario

"It's vibrant, modern, evolving and the future is the West." — Steve, Ontario "Rich heritage, diverse culture, Heart of the New West and an amazing place to live. Beautiful mountains in the distance and not to mention Banff and Lake Louise close by." — Unnamed, Alberta "Multicultural, exciting, adventurous, beside the mountains, opportunities everywhere." — Unnamed, Alberta

"Like Canada itself, Hamilton is often overlooked and under-appreciated. Yet like the country as a whole, Hamilton has great natural beauty (including the Niagara Escarpment and over 126 waterfalls), a proud history (the War of 1812 was fought here), a diverse population (20 per cent foreign-born), and a self-deprecating character. Gritty but friendly, proud but unassuming, Hamilton is the sort of city the whole country could rally around. Plus, Hamilton is the original home of Tim Hortons. What could be more Canadian?" — Ben Shragge, Ontario

"It time the government paid more attention to the North. Perhaps sticking them there would push things in the right direction." — Kevin, Ontario "It's a large northern city with a healthy economy and culturally diverse, which represents Canada's multiculturalism mentality. As Canada is "the Great White North" its capital might as well reflect it. It also boasts 11 official languages, most of which are from indigenous tribes/cultures, and we should pay our respects to the aboriginals who found and lived (continue in most part) off the land. Canada has many natural wonders and resources, all of which the North is in abundance of. For these reasons, I think Yellowknife should become Canada's new capital... That and maybe the cold will stop all the politicians from producing hot air. *cough *cough" — Unnamed, Quebec

"Why change it? It's perfect." — NM, Ontario "It is a very vibrant city at the centre of both official cultures ... The people in Ottawa in general are quite classy, stylish and are quite relaxed when dignitaries visit. When walking through the Glebe or spending time in either of two outdoor markets, one feels the international makeup of the city... Ottawa has a real feeling of history, not just from being the capital, but a feeling of basic Canadian history. I would like it to merged with Gatineau and be given a new aboriginal name." — Unnamed, Ontario "Ottawa is the only capital of Canada, and it will always be." — Julian, Ontario "It's central, experienced, dispassionate, familiar, bilingual, eminent, just to name a few. History has shaped and molded our identity and Ottawa is central to the very fabric of who we are." — Unnamed, Alberta

"It's in the middle and then something would go on there once in a while!" — Unnamed, B.C. "More inclusive of all parts of the country." — Unnamed, Quebec "Fast growing and at the centre of Canada." — Kevin, Saskatchewan

"Because it is friendly and very Canadian." — Unnamed, B.C. "Because it has history and beautiful nature and right by ocean. Perfect view of waterways and is Canada playground." — Abigail, Nova Scotia "Down East needs the jobs, we are bilingual, we have some of the most beautiful country in Canada. Now what we need is for the rest of the world to realize that we are part of Canada and not the forgotten provinces." — Barb, New Brunswick "Halifax embodies what it means to be Canadian because it embraces multiculturalism in a way that most others fail to. Halifax has a thriving music scene, incredible art and outstanding universities. The city is beautiful and full of warm, funny people." — Unnamed, Alberta

"It's the oldest city in North America. It's beautiful, the friendliest and the most fun city in Canada. And where else can you have live entertainment seven days a week at so many venues in such a small area." — Sandra, Ontario "It has everything. PLUS unlike other cities the people are keeping it real!" — Teri Banfield, Ontario "Awesome people, beautiful city." — Nicole, Nova Scotia

"Montreal is a multicultural feast; which I think truly describes the Canadian spirit... The peaceful and free life of Montreal; days walking internationally recognized sites; streets teeming with life at night - also contribute to this joyous and free Canadian spirit." — Tom, Quebec "It represents the bilingualism of Canada." — Roberto, Quebec "It's a metropolitan with both English and French speaking people. It would force the government (MPs) and officials to actually learn French. That said, it would really ruin Montreal to have all those government people there." — Leif, Saskatchewan "It was once Canada's capital, so it could be the capital again. Once Canada's metropolis, it retains its cosmopolitan feel, its worldly atmosphere and is Canada's most bilingual city." — Mario, Quebec

"It's time we had some representation in the West. Like the Stanley Cup it should move around." — Dale, B.C. "It has the most temperate climate and because I live here." — Harla Victoria guards the West Coast of the country and is a historic city whose beauty is unparalleled. It is more than a provincial capital." — Unnamed, B.C. "I believe that Victoria should be the capital of Canada because of it's seemingly infinite bureaucracy. We have the Vancouver Island Health Authority, the Capital Region District, The Victoria Harbour Authority, The Provincial Capital Commission, 13 fiefdoms (little consensus), 3 electoral districts, and also the provincial capital. Just think if the nations capital was here the military would be installing floating pontoons within hours. No more ferries, yeh." — Angus Moffat, B.C.

"Beautiful little town with Canada's best theatre." — HM, Ontario "Stratford has amazing culture and one of the smartest cities in Canada. (We need politicians to be smarter)." — Dylan Brenneman

"Fits the rest of the world's image of Canada! There are polar bears, folks live in igloos, get around on their dog sleds and skidoos, its freezing most of the time, snow for 10 months of the year, amazing northern lights, pioneer gold rush history, moose in the streets... It's neither east nor west, it's the true north strong and free!" — Unnamed, Ontario

"It would spur development in the North, it is more central to Canada. A beautiful area, beautiful people and traditions and room to grow. Ottawa has outgrown the meaning of its name, perhaps it is time to move to the 'place of people' — Mark, B.C.

"They got it right the first time." — Lee Horsman, New Brunswick "Kingston has more history then Ottawa; it is the home town of our first Prime Minister Sir John A. Macdonald." — Unnamed, Ontario "It's one of the most beautiful and historic cities in Canada. It's located halfway between Toronto & Montreal & close to the border. It's a small city with a big heart... Residents are friendly & neighbourly... Kingston has a thriving downtown full of excellent restaurants & entertainment. Kingston is already a tourism town, but would become even more so, it it were the capital. It was the first capital of Canada between 1841-1844. Kingston has a lovely waterfront onto Lake Ontario, & the Cataraqui River. It was the home of the first Prime Minister of Canada, Sir John A. Macdonald. Kingston has milder winters in relation to Ottawa, & less snow. It's a great place to live, & would be an asset as the nation's capital." — Katherine, Ontario

"It's our hatred for the Maple Leafs that unites this great country." — Raphaël Van der Heyden, Quebec "Because it is the financial, cultural, and recreational capital." — Pete, Nova Scotia "In England, the capital is London. In France, the capital is Paris. Only when the political capital is the country's cultural, economic and financial centre can the nation's people truly form a civilization." — Francois, Ontario "Canada = Diversity. Toronto = one of the most diverse city in the world. As globalization raises the profile of cities, Toronto is the only 'world city' in Canada." — Shoaib, Ontario

This remote island adjacent to the north east border of Alaska would achieve most Canadians wishes: 1. A long way from all of us 2. Ice Breaker lands only once a year 3. What Mike Duffy spends on a meal is their annual budget 4. Can't bother us: No post office, land phones, cell phones, internet or pigeons. 5. So cold even their bank accounts are frozen. 6. You only vote once or twice in a lifetime 7. If a war breaks out, with the loss of our capital ,oh well 8. No news most days 9. Tax dollars actually spent wisely 10. Polar bears have a place to hangout and dine. — Bill Moulson, Ontario

"This is a beautiful city and after all this is where Canada started. It has a bit of old fashioned class and is respected by travellers North America wide. Clearly Ottawa will remain our nation's capital, but Charlottetown certainly deserves an honourable mention. Perhaps an Honorary title." — Vic, Ontario

"Central location, would be able to plan out city so it is not constant gridlock, spectacularly beautiful sunsets after a long work day." — Janet, Ontario "It is centrally located. Not too congested. Good airport. Easy to maintain security for both Canadian and foreign dignitaries since it has only one access point from the U.S. and one from the west and one from the east. The northern economy would benefit as well as help to open up the north of Canada. It is the true gateway to all parts of Canada. I think it would be great." — Bruce M Burns, Ontario

"Most honest and best kept secret in the country. Great place to live." — Leonard Berube, Alberta "Edmonton is the true gateway to the north. It's a melting pot like no other city in the world. Winter 10 months of the year. You can almost see B.C. and Saskatchewan from here." — John Mullen, Alberta "More central. Out West, we feel very disconnected from the East. I recently moved to Edmonton from Ottawa, so the disconnect was shocking. Edmonton is the most northern major city in Canada with lots of economic growth." — Amanda, Ontario "Many cultures cooperate as one and they're the true gateway to the north. It already is the capital of the most prosperous, intelligent, and energetic region in all of Canada and is well positioned for this strategic advance should it ever occur." — Randal James, Alberta

"Every RCMP officer in Canada has to go through training in the Regina Depot; everyone in the world knows what the RCMP stand for and what country they are from. Truly awesome." — Linda, Saskatchewan "We're at the centre of Canada. We don't get enough recognition. GO ROUGHRIDERS." — Unnamed, Saskatchewan "It is roughly the middle of the country, geographically speaking, and with such a regal name it would be representative of our British history." — Lydia, B.C.

"The weather is better, the sailing is better, and so are the people. As a bonus, Gatineau is not right across the river." — Michael Martin, Newfoundland

"It's Terry Fox's hometown and he's arguably the Greatest Canadian ever." — Vicky, B.C.

"By moving the capital to Fredericton, many bureaucrats would quit. Sane service in an underdeveloped part of Canada, much less cost and pay off the national debt. and NB is the real only bilingual province in Canada." — M., Alberta

"2 words. GIANT GOOSE!!!!!" — Unnamed, Ontario

"It's beautiful and friendly." — Unnamed, Alberta CORRECTION: An earlier title on this slide misspelled the city as Lunenberg

"After all this is where Canada started." — Unnamed, Quebec "Beautiful city with lot of historic background, nature." — Unnamed, Quebec
A selection of reader responses on why Toronto should be Canada's new capital city:
"It's our hatred for the Maple Leafs that unites this great country." — Raphaël Van der Heyden, Quebec
"Because it is the financial, cultural, and recreational capital." — Pete, Nova Scotia
"High population, popular tourist destination. Diverse and multicultural city. Headquarters of many major industries within Canada." — Unnamed, Ontario
"In England, the capital is London. In France, the capital is Paris. Only when the political capital is the country's cultural, economic and financial centre can the nation's people truly form a civilization." — Francois, Ontario
"Canada = Diversity. Toronto = one of the most diverse city in the world. As globalization raises the profile of cities, Toronto is the only 'world city' in Canada." — Shoaib, Ontario
"It's the biggest, most multicultural city in Canada. It is the financial capital. Politically it better represents Canada than any other city I can think of." — Sean Gillhoolley, Quebec
"Because we are spicy and exciting and charming and peaceful. Every few blocks there is a new experience. We are not easily offended and not too prissy. We love the weird, off-the-wall, pushing the edge, polite and sometimes not so polite characters as well as some dull and boring who call Toronto home. While we may not be very conservative, most people live safe lives here. We accept the world and everyone feels welcome here. It is a beautiful city where even our homeless are cared for. The meaning of the word "Toronto" is meeting place. This is where all nations and people meet and that is why Toronto should be the new capital." — Lynne, Ontario
"It is already the financial capital, and it is a wonderfully diverse city with plenty to see and do." — Clare, Alberta
"Kind of obvious isn't it? :)" — Chris Henderson, Ontario
"Because it is rated the happiest city in Canada, and it has most of Canada's wealth, business and sights." — Tas Khan, Ontario