Finland has sent a baby box, Australia's former Prime Minister is knitting a toy kangaroo and now the U.K. is handing out customized silver coins for all babies born on the same day.
The anticipated arrival of the royal baby has become a global event, but out here in The True North Strong and Free, we have a few different ideas up our sleeves for celebrating Prince William and Kate Middleton's heir-to-be.
UPDATE: The Duchess of Cambridge gave birth to a baby boy at 4:24 p.m. London time on Monday July 22.

Parliament Hill's Centre Block will turn blue tonight to commemorate the birth, according to the CBC.

Niagara Falls will light up in "royal blue" on Monday and Tuesday nights at 9 p.m., 10 p.m. and 11 p.m. Toronto's CN Tower will also have "solid blue" lighting Monday night to celebrate the occasion.
In Toronto for example, the CN Tower will be lit up to welcome the new baby. The tower will be scheduled in the evening to light up for eight minutes in either a solid pink or blue — how original.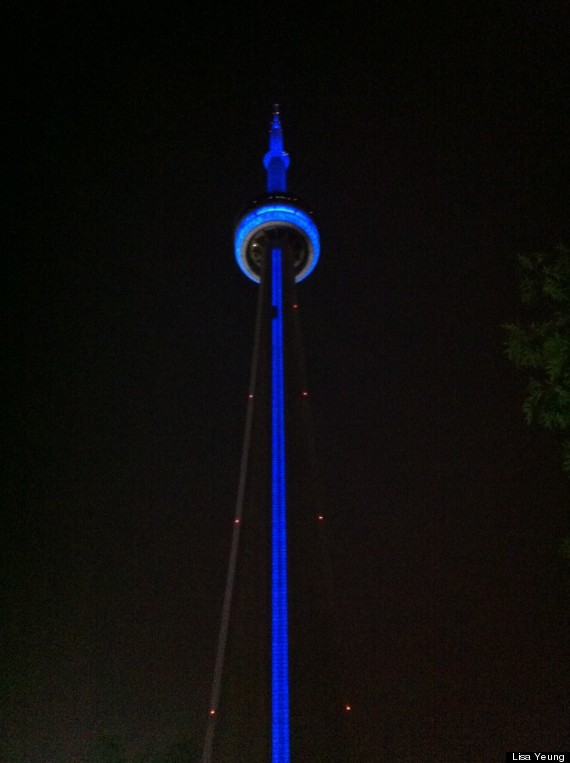 Credit: Lisa Yeung
Similarly, Niagara Falls will also be getting the pink-or-blue illumination treatment, after a request from the Monarchist League of Canada, according to Hello! Canada.
"There has been a noticeable surge in Canadian interest in the Royal family in the last few years," Monarchist League of Canada president Robert Finch told the magazine.
And along with the countless magazine and newspaper covers, and memorabilia after the birth, the Globe and Mail for example, is even planning a commemorative edition, according to The Vancouver Sun.
What do you think? Is all this royal fever over the top? Let us know in the comments below.
Loading Slideshow
Gilded Easel

MORE: Kate Middleton's Maternity Style

Britain's Catherine Duchess of Cambridge waves as she rides back to Buckingham Palace following the Queen's Birthday parade, 'Trooping the Colour,' in central London on June 15, 2013.
Check out the live blog below for the latest developments:

Share +
The royal baby is here! Now that we've seen him and his parents have said some sweet words about the birth, we're left wondering... what is his official title?
Until Will and Kate choose a first name, the royal baby will officially be titled as "HRH Prince of Cambridge." It makes sense, given that his father is titled "Prince William, Duke of Cambridge" and Kate is titled "Catherine, Duchess of Cambridge." In fact, the royal baby's title will be the first time "Prince of Cambridge" has been used in 194 years! Find out more about his royal title here.
Also on HuffPost: