Trudeau Apologizes For 'Used Car Salesmen' Quip, Throws Dig At Ezra Levant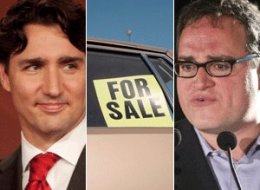 Liberal Leader Justin Trudeau apologized on Twitter Thursday for offending used car dealers — and threw a dig at Sun News' Ezra Levant in the process.
In a press scrum earlier in the week, Trudeau — who has said transparency will be a hallmark of his leadership — remarked that politicians now "rank below used car salesmen" when it comes to trustworthiness.
The quip didn't sit well with Warren Barnard, executive director at the Used Car Dealers Association of Ontario, who penned an open letter to the Grit leader.
Barnard accused Trudeau of attempting to "deride the tens of thousands of hard working men and women" who work in the industry.
"Yes, Mr. Trudeau, politicians do rank behind used car salespeople," Barnard wrote. "Our members and their employees have known that for a long time."
AutoDrive Canada, a used car dealership in Vaughan, Ont., tweeted a link of the letter to Trudeau.
@JustinTrudeau very disappointed to hear your comments re: ethics of used car salespeople, a group of hard working Canadians

— AutoDrive Canada (@AutoDriveCanada) September 19, 2013
@JustinTrudeau we strive to uphold ethics in all of our work, and are regulated through the Ontario Motor Vehicle Industry Council & UCDA

— AutoDrive Canada (@AutoDriveCanada) September 19, 2013
@JustinTrudeau Please read the following letter to further educate yourself on this matter http://t.co/kphmOje5r3

— AutoDrive Canada (@AutoDriveCanada) September 19, 2013
Levant, never one to pass on a chance to give Trudeau a hard time, also joined in.
Trudeau mocks salesmen. Not everyone was born with a silver spoon in their mouth "@carpages: letter to @JustinTrudeau http://t.co/gJkNX6MF1F

— Ezra Levant (@ezralevant) September 19, 2013
Which led to Trudeau's apology — and a shot back at the outspoken Sun News host.
Sorry @AutoDriveCanada, poor choice of comparisons. I respect the hard work you all do and thanks for doing it. #sorryforcomparingyoutoEzra

— Justin Trudeau, MP (@JustinTrudeau) September 19, 2013
While AutoDrive tweeted back that the apology was appreciated, Levant was unimpressed.
Sorta weird, sorta un-prime ministerial, sorta not grown up. In other words, classic Trudeau. "@JustinTrudeau: #sorryforcomparingyoutoEzra

— Ezra Levant (@ezralevant) September 19, 2013
@JustinTrudeau is middle class™. He drives a used car himself.* #cdnpoli
* a million-dollar Mercedes supercar inherited from his rich dad.

— Ezra Levant (@ezralevant) September 19, 2013