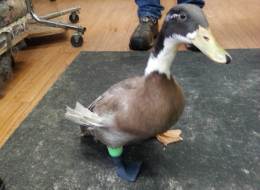 A very lucky duck who lost a leg to aggressive chickens is walking tall today in the B.C. Interior, thanks to 3D printing technology.
Dudley, a five-month-old call duck, was in a pen with some chickens at K9-1-1 Animal and Rescue Services in Sicamous last August. One of them attacked his right leg so badly that the foot fell off.
Months later, Dudley is quack of the walk, has found a mate and is standing up to animals that are ten times his size thanks to Terence Loring, a Kamloops designer who has made him a brand new leg using 3D printing technology.
"His nickname is, from what I hear, Studly Dudley," Loring told The Huffington Post B.C.
Check out some photos of Dudley and his 3D prosthetic leg. The story continues below:
Dudley The Duck's 3D Prosthetic Leg
Dudley the duck, seen here tangling with Elsie the potbelly pig, is the recipient of a leg produced by a 3D printer that has helped him stand upright.

This is Dudley before he received his 3D prosthetic leg.

NEXT: Animals Deep In Thought

Don't interrupt his train of thought. (Image via Flickr)

This problem is a tough one. (Image via Flickr)

She prefers not to be disturbed during her bedtime reading. (Image via Imgur)

His best ideas come to him when he's sprawled out on the deck. (Image via Flickr)

It's an odd place to sit and think, but it boasts a great view. (Image via Imgur)

Cat: "Now where did I hide that ball of string?" (Image via Flickr)

A very pensive polar bear... (Image via Flickr)

He's obviously hard at work and can't be disturbed. (Image via Imgur)

He has some intense thoughts about that hammock. (Image via Flickr)

The perfect thinking spot... (Image via Imgur)

Even gibbons have problems. (Image via Flickr)

This cat always gets lost in her own thoughts after partaking in a little hookah. (Image via Imgur)

No matter what this adorable puppy is thinking about, one thing is for sure -- we just want to give him a hug. (Image via Flickr)

This cat actually prefers to read sideways. (Image via Imgur)

This orangutan obviously has something on his mind. (Image via Flickr)

This thought is a real head-scratcher. (Image via Flickr)

We have a pretty good idea what this cat is thinking about. (Image via Imgur)

Don't interrupt him right now -- this gorilla has many thoughts to ponder. (Image via Flickr)

Introducing the most recent addition to the book club... (Image via Imgur)

They call this the thinking spot. (Image via Flickr)

Stare all you want, this dog will not be bothered. (Image via Flickr)

This is where he goes to mull over his problems. (Image via Flickr)

Is this chimpanzee praying or is he just deep in thought? (Image via Flickr)

Cat: "Where did I leave that toy, again?" (Image via Flickr)

He likes to call this his thinking log. (Image via Flickr)

This pug puppy does his best thinking outdoors. (Image via Imgur)

Orangutan: "What should I have for lunch?" (Image via Flickr)
The young duck may be just his first client as he joins a growing movement of innovators designing 3D prosthetics for injured animals around the world.
Animal parts, it should be said, are not Loring's primary business. He produces them on a voluntary basis as part of his work for his company 3 Pillar Designs, which creates 3D renderings for residential and commercial properties.
He began designing animal parts after he was approached by his Brazilian jiu-jitsu instructor, whose parents Doug Nelson and Debbie Fortin own the shelter in Sicamous.
"I was happy to jump on this project, not having too much experience with wildlife or anything like that," Loring said.
THE FIRST LEG
In designing Dudley's leg, he drew on his background in biomedical engineering, but YouTube also proved helpful. Videos on the social networking site helped him observe the precise angle and position of a duck's leg in each stride.
He eventually came up with a jointed prosthetic leg made of hard plastic and sent the design to Proto3000, an Ontario-based company that produced the limb using a 3D printer.
In the first experiment, the joint broke when Dudley stood on it, sending him face-first into the ground. So Loring designed a second leg, this time an unhinged model made of softer plastic.
When Dudley put it on, "the first thing he started doing was wagging his little butt, and literally, he just started walking. There was no delay for him."
The second leg is causing some sores at the bottom of Dudley's stump and he often snags his foot. Loring is still perfecting the design: "This is going to be the most advanced duck leg out there."
There's a growing demand for this kind of animal prosthetics.
In 2012, a bald eagle named Beauty was found starving in Alaska, unable to eat properly after a poacher shot most of her beak off. A mechanical engineer designed her a new beak using a 3D printer and a titanium mount.
Last year, Buttercup the duck became a worldwide sensation as innovators looked to replace a foot that was bent backward when he was born.
Novacopy 3D Printing in Memphis, Tenn. modeled a prosthesis based on Buttercup's sister, which was later used to cast a silicone prosthesis. The company soon received requests to help animals including dingoes, chickens and dogs, MyFoxMemphis reported.
Dudley, the young drake who was once bullied by chickens, now stands up to Elsie, the potbelly pig who checks him out when he visits the facility's grooming shop, said Doug Nelson.
"If the pig comes over to check him out or kind of noses him or anything then Dudley will put the run on the pig," he said. "He runs at him and the pig is threatened by that, I guess. He takes off."
Like this article? Follow our Facebook pageOr follow us on TwitterFollow @HuffPostBC