Cute Valentine's Day Ideas For Her: 25 Romantic Gifts Your Girlfriend And Wife Will Love
It's hard to be unique during the holiday of love and frankly, some people prefer the traditional box of chocolates and roses.
Your girlfriend or wife deserves the best, and sometimes this means getting something that reminds you both of how much you actually care about one another. This time around, we're keeping things cute and sappy, and found 25 gifts that are generally embroidered with hearts, birds and kisses.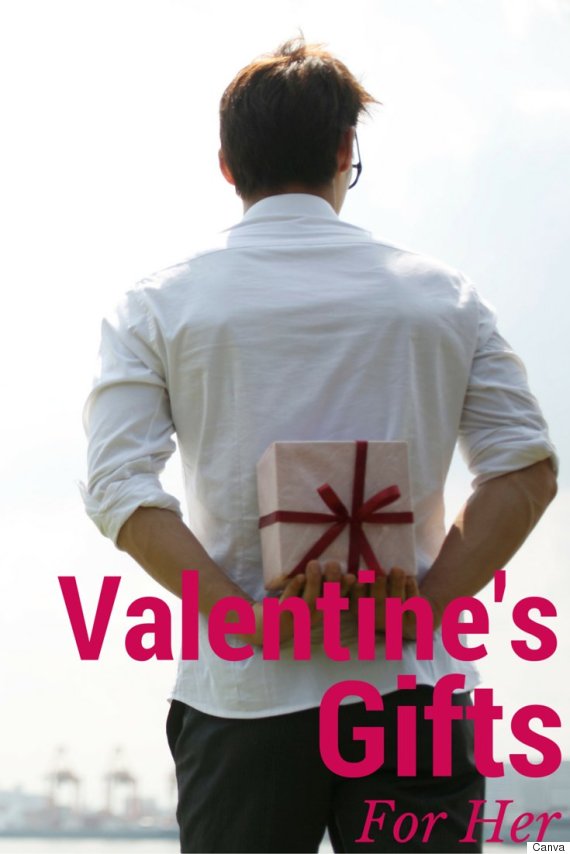 So if you're up for surprising her with something more classic — since we all know romance never gets old — here are 25 gifts that will impress the lady in your life:
25 Romantic Gifts She'll Love
If you've been with your sweetheart for years and you both remember carving your names on trees as teenagers, it's time to recreate that artwork in the comfort of your home. Personalized Birch Vase, $22, available on Etsy

If your girlfriend or wife likes to dabble in the latest dessert recipes, get her this charming little pasty book. And yes, you can be her test subject. Miette: Recipes from San Francisco's Most Charming Pastry Shop, $19, available on Amazon

This has 'aw' written all over it. If you feel like surprising your loved on on Valentine's Day with breakfast in bed, top it off with this cute handmade coaster. Heart Coaster, $9, available on Etsy

There's nothing more comforting than snuggling up with your partner after a long day of work. Make things a little more lovey-dovey with this custom pillow. XO with Heart Throw Pillow, $59, available on Overstock

We know she means a lot to you, but we also know how much she loves her mug collection. Give her something personalized on V-Day with this hand-illustrated mug. Custom Order Hand Illustrated Art Mug, $19, available on Etsy

If your lame old jokes still make her laugh...she won't stop giggling at this cute poster. Heh. Mid Century BIRDS DO IT typography, $28, available on Etsy

We all know sharing is caring, and if you still seem to learn something new about her on a daily basis, at least now you have a place to write things down. I Love You Activity Book, $12, available at Urban Outfitters

The classic and fancy tea that will make any girlfriend or wife feel like Kate Middleton. Don't forget the biscuits. Classic Citron Green Tea, $10, available at Chapters/Indigo

If going away for a relaxing retreat is out of the question (and budget), try an at-home massage kit and plan a night of relaxation. Conair Professional Percussion Massager, $44, available at Shop.ca

We get it, she hates winter. If your sweetheart gets anxious at the idea of leaving her house when it's cold, make things a little more bearable with this V-Day inspired scarf. Cozy Textured Eternity Scarf, $34, available at Urban Outfitters

Not everyone loves the holiday of love. If your gal is anti-Valentine's Day, we're sure this hilarious phone case will either make her laugh...or just hate it even more. Cat iPhone 5 Case, $8, available on Etsy

Your girlfriend is busy, but her love for espresso shouldn't get in the way. This espresso set is designed for the person on the go. Handpresso 'Wild Hybrid' Outdoor Espresso Set, $255, available at Overstock

She may remember her Easy Bake oven or she may just have an obsession with mini doughnuts. Either way, she needs to have this in her kitchen. Nostalgia Electrics Cake Pop and Donut Hole Bakery, $30, available on Shop.ca

Squee! If the girl in your life knows how to handle a bad pun or a good joke, she'll love you even more for this adorable card. Valentine's Day Car, $5, available on Etsy

When we say love, we mean LOVE. Chocolate and Valentine's Day go hand-in-hand and if the woman in your life just likes it simple, treat her to a box of fair trade chocolate. Camino Fine Chocolates, $14, available at various grocery stores

Let your valentine lounge around at home and take bubble baths. These personalized robes are perfect for the woman who needs a break. Monogram Joy Robe, $30, available at Chapters/Indigo

Does she love nature but live in the city? Bring a little bit of the outdoors to her urban life with this wooden bird house. White doves not included. Wooden Bird House, $41, available on Overstock

There are some women out there who pay attention to detail. If your valentine is loves hosting dinners, buy her this custom embroidered tablecloth. Heart Tablecloth, $15, available at Simons

For some, Valentine's Day and winter time reminds them of when they first met. If you and your sweetheart met during cold months, warm her up with these adorable handmade gloves. Heart Gloves, Grey Gloves, $39, available on Etsy

She may just love coffee more than you. If your sweetheart loves her morning cup of java, surprise her with this adorable mini coffee maker. Coffee Maker with Glass Carafe. $70, available at Williams-Sonoma

Whether she is into reality TV or sci-fi movies, keep her cozy with this 'Love is in my home' throw. Typeset Throw, $100, available at Simons

We all want to believe our love will last forever, so if you can't make it to San Francisco or another city with love lock displays, lock your own love lock in your neighbourhood or home. Lovelocks, $25, available at LoveLoveOnline

Alright. If you really want to impress her on V-Day, we suggest making your own chocolates. White chocolate dyed with red and pink food colouring in particular. Chocolate Candy Mold, $7, available on Amazon

She may have a hard time keeping track of her schedule, but she'll love you for this heart-shaped gem clock. 'You Melt My Heart' Rhinestone Jewels Clock, $58, available on Overstock

Cheers to the happy couple. These matchy champagne glasses are the perfect touch for all those nights you cook dinner for her. Cathy's Concepts Contemporary Champagne Flute, $30, available on Amazon

NEXT: Valentine's Day gifts that will help you get the girl

Price: $139.99 Where to buy: Available in red at Target locations across Canada, and in black at major retailers including Canadian Tire, Walmart, Sears, Future Shop, The Bay, Home Outfitters and Bed Bath & Beyond How many relationships have started with a simple, and predictable: "Would you like to grab a coffee sometime?" Delight your coffee crush with a Tassimo Coffee Machine and a Valentine's card that says: "Let's grab a coffee sometime…on you."

Price: 30 ml / $49.00 50 ml / $75.00 Where to buy: Available exclusively at Shoppers Drug Mart You are only courting disaster if you give jewelry too early in the courting stage of a relationship. That's why the Vera Wang Be Jeweled Rouge is the perfect alternative. The floral/fruity fragrance comes in a brilliantly cut, gem-like bottle that radiates sparkling pink and red colours for Valentine's Day. Also, think of what Vera Wang is famous for: wedding dresses. That's right, start planting those subliminal messages if you are serious about this one.

Price: $120 Where to buy: Palladium Boots Here's a simple fact of life: Women like shoes. Here's a lesser-known fact: Men are just as obsessed with their "kicks". So there's nothing odd at all about giving footwear for Valentine's Day – especially if it is a sleek-looking and practical shoe such as the Pampa Sport Cuff boot from Palladium. It is stylish, it is waterproof, durable, and most importantly – it is pretty. For extra charm-points: Get yourself a matching pair and present the boots as part of planned winter hiking date, complete with hot chocolate and picnic basket. You're welcome.

Price: $30 Cineplex physical Gift Card* and $50 Bon Appétit Gift Card Where to buy: Cineplex A lot of secret admirers make the mistake of making their big move on their crush by asking: "Um, do you want to go out sometime?" Why not be more specific and enticing? How about: "Want to go to dinner and a movie on Valentine's Day?" And if your crush is still unsure, seal the deal with plans to see one of the most anticipated romantic movies of the year: Winter's Tale, which is fittingly set for release on Valentine's Day. The movie stars Colin Farrell, Jennifer Connelly, Will Smith, and Russell Crowe – with an intriguing tagline that should get your crush in the mood for romance: "This is not a true story. This is true love." Swoon.

Price: Starting at $29.99 Where to buy: My Own Fingerprint If you want to be a little creative with your gift, try giving your Valentine's crush a t-shirt designed by a real life Crime Scene Investigator. The t-shirt has a standard fingerprint design but also comes with a fingerprint kit, allowing the recipient to create a custom t-shirt, watch, or hoodie, featuring their own fingerprint. It's a perfect gift if your crush is into TV shows such as CSI, Dexter, Criminal Minds, etc.

Price: $14.95 Where to buy: Amzer.com Not only are these pink gloves really cute…they also show how caring you are. For instance, you've probably been flirting with your crush via text up to this point. These knit gloves will keep her hands warm AND still allow her to use her smartphone while texting you smiley faces on her touchscreen.

Price: $27.83 Where to buy: Overstock.com This little trinket can act as four useful gifts in one. The Dakota File Clip Watch is a timepiece that can clip on to a purse, yet it also features a fold out nail file, magnifying glass, and thermometer. It's an ideal gift for the busy woman on the go, or a female MacGyver.

Price: $49.00 Where to buy: Kobo.com If your crush is an avid reader, the Kobo mini is a perfect fit in their pocket. The device is light as a feather, has a 5" touch screen, and features built-in Wi Fi. You also have the ability to fill the Kobo mini with tons of free literature from eBooks. Reading can be a solitary affair, so if you want to use the Kobo mini to help you get a date with your crush, try pre-loading book titles that have been turned into movies. Then start a book/movie comparison club with your crush. Start out with books that have been made into movies currently in theatres, then advance to older books that are now DVD titles.

Price: $79.99 Where to buy: Belkin.com The Belkin Wi-Fi enabled WeMo Switch and WeMo Motion Kit isn't a very romantic gift. But it is extremely practical, useful, and will score points if your crush is into cool techy innovations. The devices give your crush wireless control of their home appliances and electronics, turning devices of their choice on or off as soon as movement is detected. The WeMo Switch and WeMo Motion Kit makes it easy to set schedules for home appliances and electronics and turn devices on and off remotely from a smartphone. It's a thoughtful gift for the person who is often forgetful.

Price: $34.95 Where to buy: Landing Mr. Right It's been said that girls list "humour" as the most attractive trait in a guy. Put that theory to the test with a fun gag gift on Valentine's Day. Landing Mr. Right is a board game that helps women look at love and dating in a humorous and positive light.The game takes players on a virtual dating journey to find "Mr. Right." Throughout the game, players will be asked to answer questions and share stories about their dating experiences. When the game is over, players can review their date cards and may discover something new or even decide to date a different type of guy out in the real world. We're not saying this is in any way realistic, but this screams 'romantic comedy' if you can rig the game to make sure you are Mr. Right.

NEXT: V-Day gifts for her

For the guy who is proud of his inner nerd. Get it here,

For the woman who likes to look cute while she sleeps. Get it here.

For the woman who likes to wear a pop of colour when she bundles up. Get it here.

For the woman (and her significant other) who loves keeping her lips soft. Get it here.

For the guy who wears his heart on his sleeve, literally. Get it here.

For the guy who likes to take things way too literally. Get it here.

For the guy who won't wear any other kind of shoe, so it may as well be red. Get it here.

For the woman who loves to think she lives in the world of "Mad Men." Get it here.

For the woman who loves to have fun with fashion. Get it here.

For the woman who has a thing for cute dogs and wants the world to know it. Get it here.

For the woman who definitely does not want lingerie for Valentine's Day. Get it here.

For the guy who likes to look stylish when he travels. Get it here.

For the woman who wants to live as if she's in Paris. Get it here.

For the woman who has enough heart and love necklaces. Get it here.

We've all heard a story about how so-and-so's father made the mistake of giving Mom a toaster/blender/vacuum. Yet, it still happens. Giving your partner anything that suggests that their place is in the kitchen is a sure way to discover that your place is sleeping on the couch. If it's commonly listed on a wedding gift registry, it's not a good Valentine's gift.

This is a gift for the giver more than the receiver. You know it, your girlfriend knows it, and the sales clerk at Victoria's Secret knows it. And please avoid the edible undies. A pair of granny panties and a box of Fruit Roll-Ups ultimately have the same function, and would go much further to show you care about her comfort. (Note: Do not buy your girlfriend granny panties and Fruit Roll-Ups.)

Her YouTube history is full of ah-dorable puppy videos that elicit frequent squeals of "aww, I want one!", but that isn't a cue for you to spring a spaniel on her. Long-term pet ownership is a major decision that you can't make for her. Unless you've seriously talked about this as a couple, you shouldn't be cutting breathing holes in a cardboard box anytime soon.

These are designed to be an afterthought, so much so that stores keep them at the check-out counter so you'll buy them on the way out. To put it another way: if you resort to this as a Valentine's Day gift, you've pretty much checked out of the relationship.

No-name bath sets are for office Secret Santa desperation, not the love of your life. If she's a fan of a particular brand or store, then a mini-haul of her favourites will be a hit. But the bar of purple soap in her shower isn't a directive for you to buy "lavender stuff." Rule of thumb: if it comes in a cellophane-wrapped basket and contains a free loofah, it's a cop-out.

Your partner may love tools as much as he loves you, but not just any hardware store purchase will please him. Yes, that name-brand mitre box is on sale, and you're pretty sure he doesn't have one. Thing is, he already has a mitre saw. So you've just purchased something that will only ever come in handy if he has to urgently install crown moulding during a power outage

Ever go to a carnival and see the guys carrying around the giant Rastafarian bananas they won for their girlfriends? And notice how as the evening goes on, those same guys look like they resent the stupid things more and more? You're begging for a long, drawn-out version of that. Sure, the teddy bear is cute at first. But on Feb. 15, the red lace heart it's holding is already out of date. And then you start wondering how long you have to keep it displayed on your dresser to prevent hurt feelings. Answer: forever.

This may have worked for Mother's Day after you blew your whole allowance on Garbage Pail Kids cards, but no matter what your financial situation, you'll have to do better than this. A stapled booklet of promises to give her a back rub, run her a bubble bath, or – even worse – do household chores is both cheap and easy. If you can't invest the cash, at least invest some time and effort.

"Happy Valentine's Day. Now get off the couch, tubby!" That's the message you're sending with an exercise bike or a gym membership. If they want to shape up, they'll do it when they're ready, and you can show your support by joining them or just encouraging them. In the meantime, leave their love handles alone.

You're not like some of those sappy, lovey-dovey, annoying couples, and you agree that Valentine's Day is a pretty dumb idea. But if you're ever going to express your love sincerely, this is the day. If one of you buys the hilarious novelty condoms and the other buys a thoughtful, elaborate gift? Think long and hard about how the night will end. (Spoiler alert: you won't need the condoms.)

What it is: LoveBumper H20-OHH Blanket Why you'll want it: A blanket doesn't sound like the sexiest of gifts, but this one — meant specifically to make sex in, let's say, more original spots like the kitchen more comfortable — has the best of both worlds. It looks innocent, but can lead to lots of naughty fun. Find it here.

What it is: Victoria's Secret Bombshell push-up bra, matching 'cheekini' panty and waist cincher Why you'll want it: There's no question this is one sexy get-up — without going all the way into costume territory. For women who love lingerie, this will be a fun outfit for a special occasion. Find it here.

What it is: VibroPod Digital Music Stimulator Vibe Why you'll want it: This toy is meant more for one person than two, so can work perfectly for long distance relationships. It hooks up to an iPod to vibrate in rhythm with songs, so we're imagining a complete package of playlist and Vibe, delivered just in time for February 14. Find it here.

What it is: Silicone Handmaiden G-Spot Seeker Why you'll want it: If you haven't figured out the magical g-spot yet, maybe this Valentine's Day is the time. This four-inch g-spot finder includes massaging tips and a silicone base. Find it here.

What it is: Aubade's bra and panties Why you'll want it: Sexy with a leopard print twist, Aubade's take on Valentine's Day fun can slip comfortably under a sweater and jeans — until later. Available at Linea Intima.

What it is: Low Temperature Drip Candles Why you'll want it: If you've ever tried to use "normal" candles for some dripping wax good times, you know things can get a tad hotter than you'd like. These options, in a three-pack, mean no emergency trips to the hospital (and a slightly uncomfortable explanation). Find it here.

What it is: Lia Anal Love Beads in Pink Why you'll want it: Just like being struck by Cupid's arrow, enjoy this sex toy, featuring a silky finish, with your loved one this Valentine's Day. Find it here.

What it is: Edible Body Pasties in Cinnamon Heart Why you'll want it: These pasties can make for a fun surprise when your partner least expects it (and they also come in strawberry, cherry, even beer). Find it here.

What it is: Freya's Taylor Charcoal Moulded Plunge Bra Why you'll want it: For fuller busted women who like a bit of coverage, this option still has plenty of sex appeal. Find it here.

What it is: Twinkle Lover's Riding Crop Why you'll want it: Perfect for the holidays, this heart-shaped wand is designed for the naughty lover in your life. Find it here.

What it is: The Fantasy Sex Deck Why you'll want it: If you and your partner are interested in finding more fun in the bedroom but aren't quite sure where to start, this deck gives you 50 options — and a built-in activity for Valentine's Day. Find it here.

What it is: Swiss Moo 7-Piece Chocolate Fondue Set Why you'll want it: Who doesn't like the idea of dessert in bed? This seven piece fondue set is the perfect way to spoil your lover with everything sweet. Find it here.

What it is: Bathtub Love Game Why you'll want it: Maybe a bubble bath together is one of your Valentine's Day traditions ... or maybe you just want it to become one. But these baubles that go in the tub will give you plenty of ideas for what to do after — or for that matter, during. Find it here.

What it is: Saxx Underwear's 24-Seven Boxer Why you'll want it: Men's underwear is all-too-often neglected, but why shouldn't he get something he feels great slipping into on Valentine's Day as well? This particular option from Saxx is known for its long-lasting comfort. Find it here.

What it is: WonderBra's chantilly lace bra and panties Why you'll want it: Because there's plenty of sex appeal here — with a price (approximately $40) that leaves plenty of room for other expenditures. Available at the Bay and department stores.

What it is: Sex Bomb Why you'll want it: It's all in the name. If you're just looking for a way to relax on the big day, take a hot bath with your loved one with these exploding (and scented) bath bombs. Find it here.

What it is: Rose Petals Why you'll want it: If you're idea of V-Day is all about the romance, start your evening right with a trail of rose petals for your partner. And hey, they may not be the real thing, but think about how many times you can reuse these. Find it here.

What it is: Freya's Ashlee Candy Moulded Plunge Bra, Suspenders And Panties Why you'll want it: This lingerie may look innocent, but the combination of suspenders, knee highs and a bra that's sexy no matter the colour will drive any partner crazy. Find it here.

What it is: Strawberry Body Point Why you'll want it: Get creative with this edible strawberry flavoured body paint that can be used to draw doodles, paint over sensitive areas, and eaten later. Find it here.

What it is: Sex in the Shower Dual Showerhead Why you'll want it: Because when it comes to hot showers, two heads are always better than one. Find it here.

What it is: I Rub My Duckie Why you'll want it: Maybe you're going away for a weekend and you're not sure how to spice up things in the shower. This waterproof (and frankly, unrecognizable) vibrator is the perfect addition to any mini vacation. Find it here.

What it is: Victoria's Secret Very Sexy Lover Lace demi bra and matching 'cheekini' panty Why you'll want it: It's hard to tell from this shot, but those 'cheekini' panties are the perfect offset to, well, the perfect butt. Admire, and be admired, we say. Find it here.

What it is: Cake Angel Food Body Butter Why you'll want it: Have your cake, and eat it too. Find it here.

What it is: Why you'll want it: Because sometimes, you just have to go back to the basics. This newly illustrated edition is a perfect gift for those who like a challenge. Find it here.

What it is: Victoria's Secret Very Sexy Rose Corset and matching 'cheekini' panty Why you'll want it: What is it about corsets that are so sexy, for both the wearer and the watcher? This one, with its oh-so-sweet pattern could likely work equally well under a dress or sweater as a sexy accent, but we think it would do just fine on its own too. Find it here.

What it is: MyPakage Weekday underwear Why you'll want it: Specifically designed to cradle the most delicate part of men's bodies, this underwear is soft, supple, and it doesn't hurt that it's pretty flattering from behind as well Find it here.

What it is: Purple Fantasy Bondage Tape Why you'll want it: Maybe you don't feel so confident in your ability to tie knots, or frankly, just like how much easier it is to use a tape roll. But for bondage purposes, this is simple, and yes, even reusable. Find it here.

What it is: Nature Lovin' Lube Honey Bear Why you'll want it: Some honey for your honey. This naturally sourced lube is equipped with health enhancing ingredients in a perfectly squeezable bottle. Find it here.

What it is: WonderBra's scalloped lace bra and microfibre brief Why you'll want it: The support, the coverage, and the pretty pattern — this is lingerie that any woman would feel beautiful and sexy in, and more than happy to show off. Available at wonderbra.ca.

What it is: G-Spot Finger Extender Why you'll want it: If size matters, today's your lucky day. This waterproof finger extender is the perfect toy for that extra special intimate experience. Find it here.

What it is: Sqweel Oral Sex Stimulator Why you'll want it: It doesn't vibrate and it doesn't thrust. But if the thought of multiple tongues gives you multiple fantasies, this is the perfect Valentine's Day gift for you and your loved one. Find it here.

What it is: Mini Liquid Love Why you'll want it: Forget liquid courage, this holiday is all about the love. This warming massaging lotion is available in chocolate cherry, passion fruit and blue raspberry. Find it here.

What it is: Celia Mesh Kimono Why you'll want it: The woman in your life will appreciate this mesh kimono robe, topped with lacing detail. Find it here.

What it is: Simone Perele's bra and panties Why you'll want it: If you're going to go with a theme, it doesn't get much more Valentine's-y than red and pink underwear with a lacy twist. Plus, it's rather gorgeous, isn't it? Available at Linea Intima.

What it is: The Kiss Lip Balm Why you'll want it: Before you lock those lips, freshen up with this vegan-based lip scrub and lip gloss. Find it here.
Or follow us on Twitter Follow @HuffpostCaLiv