AC/DC Retiring? Malcolm Young's Health May Silence Legendary Rockers (REPORT)
Although there has been no official announcement by the group, there is rampant speculation that longtime hard rock legends AC/DC could be nearing the end due to the illness of one of its band members.
Australian publication The Daily Telegraph reports entertainment journalist Peter Ford tweeted the following yesterday about the AC/DC retirement rumours:
UPDATE: AC/DC has made a statement confirming Malcolm Young's 'ill health' but denying the band's retirement. Full details here.

@mrpford

Peter Ford
World Exclusive showbiz story tomorrow on
@2dayFMbreakfast
End of an amazing era!

@mrpford

Peter Ford
Working on major exclusive story for tomorrow that will rock the local,and world, music scene.
@2dayFMbreakfast
When asked later via Twitter if Ford had any additional information, Ford replied:
Ford also reportedly told radio station 3AW that "we may never hear them perform or record ever again." "
"My information is that Malcolm Young, one of the founding members of the group, in recent times has returned to Australia to live with his family and for his own personal reasons may not want to continue to perform with the band," Ford told 3AW. "And the boys have a pact that they will not get anyone into the group, nobody will be replaced. When somebody leaves, the group ends."
However, Ford also became involved in a spat with author Jesse Fink regarding the reporting. Fink, who wrote the forthcoming book "The Youngs: The Brothers Who Built AC/DC," took Ford and the news outlet to task for reporting the situation ahead of any possible statement by the band.

@JesseFink

AC/DC The Youngs
@mrpford
@ACurrentAffair9
AC/DC deserves respect. They are entitled to make an announcement on their own terms. You've shown no respect.

@JesseFink

AC/DC The Youngs
@mrpford
There are ways to do journalism without impeding on the privacy and dignity of someone who's ill. You really are a piece of work.
Fink also took to his Facebook account to criticize the coverage and say how "pissed off" at how "these rumours have been made public."
Fink also said that fans the band's privacy but "how hard is it for journalists to show them the same respect?" and added it showed a "total lack of respect to AC/DC, who deserve to go out on their own terms when they decide to go out and make an announcement about it, not some bloody entertainment reporter in Melbourne."
The Guardian reports the speculation initially began when an anonymous email by "Thunderstruck" to Perth radio station 6PR stated the person had "it on very good authority that one of the band members is quite ill and has returned to Australia with his family...No more is currently being said, however the particularly ill member of AC/DC's song has stated AC/DC may well be over."
Although not naming the band member, several reports claim it's rhythm guitarist Malcolm Young. The Sydney Morning Herald is reporting that "[Malcolm] is believed to be unable to continue playing, although there has not been any explanation why."
AC/DC's founding brothers Malcolm Young and Angus Young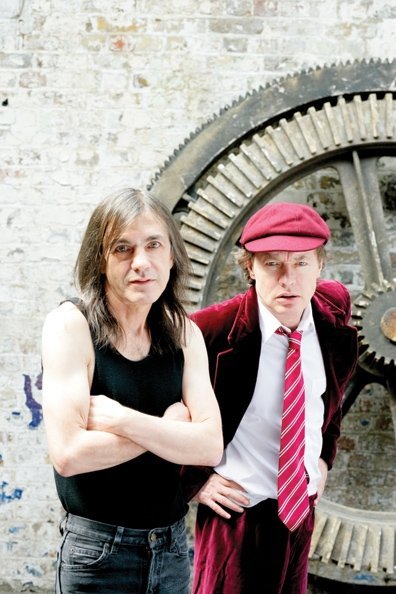 News regarding the illness gained credence earlier this year when singer Brian Johnson told a Florida radio station in February a band member was ill but remained silent as to who it was or what was wrong. "One of our boys was pretty ill, so we didn't like to say anything, and we're very private about things like this, so we didn't wanna say anything."
Johnson also stated the band was planning to enter a studio in Vancouver, British Columbia to begin work on a new studio album, the follow-up to their 2008 effort "Black Ice." The singer also stated — according to News.com.au — AC/DC had plans for 40 dates worldwide as a way to celebrate their 40th anniversary as a band.
Despite other reports stating the band could make an official announcement as early as today, April 15, there has been no official announcement from the band, its publicists or its record label.
AC/DC formed in 1973, released their first record in 1975 and have sold over 200 million albums in the 40 years since.