20 Mother's Day Gift Ideas Under $20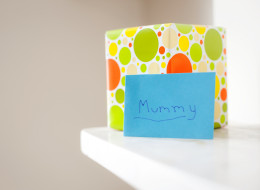 Anyone spending under $20 on a Mother's Day gift deserves a motherly time out.
But think about all times you've given your mother an expensive piece of jewelry or tech gadget, and Mom, being Mom, selflessly says, "Oh no, you shouldn't have spent so much on me!"
And while we all can agree it's the thought counts, this Mother's Day (May 11), take time to think about something your mother needs and can make use of, rather than doling out cash on something that looks pretty. (Hey, you can even do both!)
Here are 20 budget-conscious gifts that would get even the most frugal mom's approval.
20 Mother's Day Gifts Under $20
If your mom is going to follow you on Facebook and Instagram on her laptop, she might as well look good while cybersmothering you. This compact laptop sleeve looks like a stylish clutch purse and also provides padded and water-resistant protection. The attractive design might even encourage your mom to post a photo of your gift on her Facebook timeline under the heading: "Best Mother's Day ever!" Microsoft Laptop Sleeve, $19.97

Buying cleaning products for Mother's Day is a risky move that only Dad would dare try. But if your mom is all about mother nature and protecting the environment,she might appreciate some natural cleaning products. Still, you better get Mom some flowers to go along with this gift idea, or at least offer to clean the house for a month. ATTITUDE cleaning products, $2.99 to $10.99

This isn't your mother's ordinary water bottle that she carries around during workouts or jogs. The Rejuvenate Hydration is on another level: It has a long slotted tube that holds fruit slices to subtly flavour the water. The silicone pulp guard underneath the lid minimizes pulp intake. The flip top lid is also leak proof. Rejuvenate Hydration Bottle, $15.50

Moms that like to accessorize will appreciate Acoustic Research's new line of pretty tech accessories, each designed with input from more than 1,000 women. In particular, the bright and colourful charging cables for micro USB and 30-Pin add a designer's touch to everyday tech accessories. Acoustic Research for Her: Charging Cables, $11.99

Your mom will appreciate the Bracketron if she runs. The lightweight gadget will make it easier for her to carry her smartphone and other essentials while working out. It also features an easy-to-see, built-in reflector so passing drivers and cyclists can easily spot your mom, especially if she's one of those urban runners unwilling to break their stride for stoplights and crosswalks. Bracketron TruRunner, $19.95

Your mom will be the talk of her tea party when she pulls out her pocket-sized mini speaker to provide some mood music. The lightweight, rechargeable mini speaker has a 360-degree sound design and features a built-in audio cable which folds to store directly into the bottom of the speaker. It also has an enhanced bass resonator, just in case your mom feels like cranking it up when any Dr.Dre or Snoop Dog songs come up on her playlist. Kinivo: ZX100 Mini Portable Speaker, $19.95

Almost everyone is going to get their mom flowers for Mother's Day. You can take an extra step by getting your mom flowers… in a designer vase. The heart-shaped Bud Vase has cylinder glass tubes that can slide out for easy cleaning. Sweetheart Iron Heart-shaped Bud Vase, $16.78

The Kollar Clothing Toque is perfect for the mom that frets about buying department store fashions because she doesn't want to look like everyone else. Kollar Clothing is a boutique line that was started by young Toronto fashion designer David Kollar. The toque itself is light enough that it can be used to complement outfits for early spring. Kollar Clothing Toque, $20

Getting ready for a newborn can be a hectic experience. As such, expectant moms will probably appreciate a Mother's Day gift that consolidates all their needs in one little bundle of joy. The Bamboo Wipes Gift Set features natural and organic baby skincare from Aleva Naturals. The gift set includes: baby wipes, pacifier and toy wipes, breathe easy wipes and teeth wipes. Aleva Naturals: Bamboo Wipes Gift Set, $19.99

If you have a mom that is an avid bird watcher, you might have experienced the joy of seeing her comically chase squirrels away from the birdfeeder every morning. The Stumper looks like a fortified birdseed fortress – and it is. It features a squirrel resistant metal cage and twist lock top. Not even a team of Ocean's Eleven-type squirrels could crack this safe. PERKY-PET Squirrel Stumper Birdfeeder, $19.98

You can't buy Mom a time machine for Mother's Day but you can at least buy her a retro Adidas wallet to take her back to her youth. Adidas Wallet, $15

This one's for the mom that likes to chillax with a good book, soft music, and some scented candles. Prosperity Candles aren't only relaxing; they are also designed to do some good in the world. Each candle is handmade and ethically poured. The candles also come with a story about the woman who poured it. From pillars made by Iraqi widows, to repurposed glass votives from Haiti — each candle is handmade by another woman. Prosperity Candles, starting at $20

The quintessential gift for strong, talented mothers everywhere, Beyoncé's perfume incorporates the singer's favourite flower, the orchid. RISE is an intoxicating floral that includes Italian bergamot, gold symphony orchid and autumn woods accord — perfect for the mom that wants to get her diva on. Beyoncé RISE, 15ml, $20, available at a variety of stores across Canada

If your mom has a warm place in heart for charity, she'll appreciate this small gesture with a big impact. Buying this bundle of two rabbits could create an instant business for a family abroad. Two Rabbits from Christian Children's Fund of Canada, $20

Pamper Mom with the limited edition Sally Hansen Mother's Day Salon Gel Polish collection that comes in shades of turquoise, coral and metallic. You can even add to the nail salon vibe by gossiping about boys... your dad. Sally Hansen Mother's Day Salon Gel Polish collection, $14.95, available for a limited time exclusively at Shoppers Drug Mart locations across Canada

Your mom is a rock star, so help her look like one. The NYC Show Time Velvet Eyeliner has an interesting mix of intense pigments with a hint of liquid metal reflections that would make the band members of KISS jealous. You can even package the rock star eyeliner with concert tickets to your mom's favourite band. NYC Show Time Velvet Eyeliner, $3.49, available at drugs stores across Canada

Let your mom know that she's your superhero with Wonder Woman Caped Socks – which indeed feature tiny capes. The socks are one size fits all and also available in Batgirl and Supergirl designs. Warning: She will risk revealing her secret identity every time she takes off her shoes. Wonder Woman Caped Socks, $17.99

Show Mom how much you care this Mother's Day with an original bookstore-quality photo book, e-book or even cookbook of favourite family recipes. Blurb allows anyone to make the perfect, top quality book full of personal words, favourite photos, and even videos. It's a very personalized gift that will undoubtedly have your mom reaching for tissues. Blurb Mother's Day Book, starting at $9.99

The Travalo is a practical gift for jet setting moms on the go. Travel restrictions will make it hard for Mom to bring along her favourite perfume bottle as a carry-on. The Travalo has a pump-and-refill system that transfers Mom's favorite fragrance into a finger-sized dispenser. Travalo (portable fragrance device), $20

Mom will save paper and feel confident that her messages will never get lost again with her LED message board. Five super bright LED lights are used to illuminate whatever message Mom writes using a fluorescent marker. The only drawback is that you can never again say that you missed Mom's message to take out the trash. Trademark Home LED Writing Menu Message Board, $16.90

NEXT: Best flowers for Mother's Day

The Mom: Traditional The Flower: Geraniums Make It Stand Out: Geraniums are also seen as "traditional" flowers at most garden centres. To make your gift stand out, try putting your geraniums into a hanging basket.

The Mom: Modern The Flower: Orchids Make It Stand Out: If your mom is all business, buy her a vase of purple orchids. She can keep these outside or at her desk at work.

The Mom: New mom The Plant: Baby tears Make It Stand Out: If there's a new mom in the family, all the attention is usually paid to the new baby. Baby tears have tiny little petals (that look like baby tears), and looks the best in terrariums or in a backyard rock garden.

The Mom: The wild mom The Flower: Columbine Make It Stand Out: If your mom loves bending the rules and lives with a free spirit, columbines will help make any of her spaces stand out.

The Mom: Busy mom The Flower: Sedums Make It Stand Out: Sedums are low in maintenance and need little water. To surprise the mom who does it all, leave her a vase at work or at home.

The Mom: Mom who loves staying active The Plant: A veggie plant Make It Stand Out: If it was Mom who drove you to all your soccer games and still manages to keep up with her yoga schedule, she'll appreciate a minimal care veggie plant that she can devote her "free time" to.

The Mom: For the mom who can't stop hugging you The Flower: Forget-me-nots Make It Stand Out: We have huggers and then we have HUGGERS. If Mom is the latter and gets super emotional every time she seems you, make her love you even more with a pot of forget-me-nots.

The Mom: For the g-ma THE Plant: African violet Make It Stand Out: A classy flower for a classy lady. Buy your grandmother a bouquet of African violets this Mother's Day.

The Mom: For the mom on the go THE Plant: Fern Make It Stand Out: If she loves to travel or spend her time at the family cottage, give her a gift that she can bring with her. Pro tip: Get a glass terrarium.

The Mom: Mom who has been through it all The Flower: Sunflower Make It Stand Out: If 2013 was a tough year for Mom (maybe she lost someone or maybe she went through a divorce), brighten up her day by leaving her breakfast in bed with a bunch of sunflowers.

The Mom: The mother-in-law (who can take a joke) The Plant: Sansevieria Make It Stand Out: Sansevierias are basically flowering plants. If your MIL can take a joke, buy her a pot of these and label them, "mother-in-laws tongues".

The Mom: Mom who loves to cook The Plant: Chives Make It Stand Out: Chives are ideal if your mom loves to get creative in the kitchen. She can also cut up the chives and use them in her next meal.

The Mom: Spiritual The Flower: Lilies Make It Stand Out: If your mom is religious, spiritual, or just trying out meditation for the first time, lilies symbolize passion.

The Mom: Mom who stays on budget The Flower: Hydrangeas Make It Stand Out: Hydrangeas can last forever (well, for the most part) with proper love and care. If you (and your mom) love fresh flowers but don't like the price that comes with them, opt for pretty purple hydrangeas in a glass vase.

The Mom: Mom who loves her garden The Plant: Panicum Make It Stand Out: If Mom already has her green thumb, she'll obviously know that panicum (a species of grass) was crowned Perennial Plant of the Year. Regardless, she'll appreciate your garden knowledge.

NEXT: 26 gift ideas every mom will love

Your mom might pretend she doesn't like the sentimental stuff, but give her this pillow and just see how proudly she displays it on her couch. From $40, Overstock.com.

At this point, your mom's amassed plenty of great jewelry, and she undoubtedly wants a special place to store, while also seeing it on display. Antique Silver Jewelry Boxes, from $79, Pottery Barn.

If your mom is more of a traveller, then she needs a place to keep her precious jewels safe while journeying around the world. This gorgeous envelope will do that — and double as a clutch in a pinch. Morelle & Co. Audrey Jewelry Envelope, $23.99, Gilt.com/canadamom

A family photo grinning back at your whenever you check the time? Any new mom would love that, especially since the selections can come from her Instagram account. May 28th, $44US.

Mom's garden needs to grow, and there's no better way to help ensure that than this stellar watering can, known as one of the best brands in the world. Haws Traditional Watering Can, $105, Williams-Sonoma.

Mom might be the ultimate hostess, but even she can't make white wine instantly cold — but this gizmo can, which she'll appreciate for both quiet time and party time. Ravi Instant Wine Chiller, $38, Amazon.ca.

Make sure Mom's tablet is always nicely (and fashionably) enclosed in a padded spot. Marc by Marc Jacobs Zip Up Tablet Sleeve, $68US, Nordstrom.

Mom is obviously the best cook you know, but if she likes testing her boundaries, there's no better opportunity than following along with award-winning chefs (or at the very least, staring at their recipes' photos). The James Beard Foundation's Best of the Best, $43, Amazon.ca.

If your mom has a vanity table, or even a really lovely hallway table, she'll appreciate this stunning mirrored tray that will make even the random stuff from your pockets look great. American Atelier Round Mirror Tray, $30.30, Gilt.com.

Whether Mom's doing headstands or just starting out in yoga, she'll love some more gear to help with her practice. Socks that ensure non-slippage (gloves are available too) will keep her warm in the winter months as well. Jogi Yoga Socks, $10, Real Canadian Superstores.

If Mom's saute pan is getting a little dinged up, a new one will be greatly appreciated, especially when it's of Le Creuset quality. Saute Pan, $200, Le Creuset.

There's something so elegant about having monogrammed soaps in your powder room, and Mom will really appreciate the crisp towels that accompany this gift set too. Williams-Sonoma Home Monogrammed Soap & Towel Gift Set, $88.

If your Mom has a taste for colourful housewares and a penchant for mint tea, this Moroccan-inspired tea set will be right up her alley. Moroccan Tea Set, $76, Overstock.com.

Who doesn't love flowers — especially the kind that will never wilt? These fabric beauties will make Mom smile whenever she sees them. Fabric tulips, $51, Etsy.

It's time for Mom to put away her winter purse and start enjoying something a bit more summery. This tote will take her from work to the weekend, easily able to carry all her essentials. Candy Cross Tote, $165, Over the Rainbow.

Meanwhile, if she's in need of something a bit more substantial for any getaways she's planning for the rest of the year, a sturdy bag could be exactly what she's looking for. Saddle leather and canvas weekender bag, $344, Pottery Barn.

Considering how rarely people write these days, doesn't it seem worthwhile to have a pen you really love? Acme Studios makes a wide variety of options, like this Norman Moore "Paint Splash" pen, to make a statement. Acme Pen, approximately $95, Stylus Fine Pens.

How often does it happen where your mom's mobile rings, but she has no idea where it is? Ensure she'll always keep track of her phone with this cute carrying case (complete with a strap she can hang on to). Foley & Corinna City Mirror Phone Case, $61.86, Gilt.com.

If your mom loves animals and has a bit of a quirky sense of style for the house, this papier-mâché marine sculptures could be just the thing she's been seeking for over the fireplace. Papier-Mâché Animal Sculptures, from $110, West Elm.

If your mom keeps insisting she doesn't want anything, bring her this low-budget ombre pitcher, the perfect accessory for outdoor entertaining that she won't be able to resist. PC Ombre Pitcher, $9, Real Canadian Superstores.

Whether Mom loves camping or just hanging in her backyard, this foldable chair, which includes built-in speakers, will definitely get her seeing a lot more of the outdoors. Tera Gear Musical Camp Chair With Speakers, $24, Real Canadian Superstores.

You hear about the benefits of, say, putting lemon in your water, so why not make it even easier for Mom to get healthier on her daily walks? PC Tritan Bottle With Infuser, $7, Real Canadian Superstores.

If Mom has a growing family, but doesn't want to invest in a ton of new furniture, a pouf could be everything she wants to help create more chairs for her loved ones — plus, it will give the room a real pop of colour. Small Round Pouf With Varied Hand Embroidered Motifs, $79, Artemano.

Mom has all the tea (and mugs) she can handle from Mother's Days past, so isn't it time you replaced her cruddy old teapot with something fashionable and fun? Circulon 'Morning Bird' Capri Turquoise Enameled Stainless Steel 2-quart Tea Kettle, $40, Overstock.com.

Could there be a more ideal frame for a child's (or grandchild's) handiwork? Mom will love the handmade feel of this (but appreciate that it doesn't fall apart when she lifts it up). Colorful Pencil 5x7 Picture Frame, $35, Overstock.com.

We know, we know, giving someone exercise equipment as a gift can be interpreted as an insult, but if Mom has been talking about how much she'd like to tone her arms (and not as a way to get compliments), this is an easy piece of equipment she'll love to have around. Jogi Gym Ball With Straps, $20, Real Canadian Superstores.

NEXT: Gifts For Mom That Won't Break The Bank

Magnetic Chat Board, from $175, Ziggy's At Home Because mom needs a place to doodle, pin up pictures and occasionally, take down a message.

Koolatron Compact Wine Cellar, $115, Costco Because mom will love a place to store her bottles at the right temperature.

Drop Glass Tillandsia Kit, $40, ShopTerrain Because a beautiful, hard-to-kill plant will look gorgeous in mom's house.

Softest Throw, $49, West Elm Because even if mom doesn't need this for herself, she wants to make sure her family will be warm if they do.

PAVINA double wall glass, $18 for 2, Bodum Because not all tea drinkers want to be sipping out of a mug.

Manduka PROlite® Mat 79'', $88, Manduka Because surprisingly, not all yoga mats are comfortable — but this one is.

Blucube marrakech, $52, Bergo Designs Because mom wants her tunes around her at all times, with a nice-looking design to match.

Himalayan Salt Tequila Glasses, from $34 for 4, Uncommon Goods Because she needs an opportunity to show off what she learned at that tequila tasting course.

Keurig® Elite B40 Brewing System, $79, Walmart Because mom, like all of us, needs coffee NOW.

Monogram pillow, from $98, K Studio (allow 2-3 weeks for delivery). Because let's face it — monogrammed stuff is just cool, particularly when it has your family letter on it.

Mother's Family Necklace 2 Babies, $80, Figs & Ginger Because mom is proud of her brood, and isn't afraid to show it.

Google Nexus 7, $229, Google Because mom isn't afraid of the newest technology, and in fact, could show you a few tricks.

Vintage Bookshelf Monopoly, $39, Restoration Hardware Because mom can appreciate the aesthetic, the neatness and the chance to finally whoop your butt in this game.

Flavour Infuser Water Bottle, $17, Uncommon Goods Because water is boring, but we all have to drink it.

Inside Out Champagne Glasses, $70, MoMA Store Because mom deserves some champagne — and some gorgeous glasses to drink it in.

Put some texture into your tea. PC Cableknit Tea Gift Set, $10, available at Real Canadian Superstore

Need some inspiration to get drawing? These "rocks" made from soy should do the trick. Crayon Rocks, $7.95 (US), available at Imagine Childhood.

Buddy Salt & Pepper Set, $12.95, available at Linen Chest.

You're Cute: Cards To Break The Ice. $7.95, Available at Amazon.ca

The Instagram lover in your life will never stop thanking you. The Selfie Taker, $20, available at Urban Outfitters

For those who need to know every gram. Orly Tara Precision Scale, on sale for $9.98, available at Linen Chest.

Life at Home Plaid and Sherpa Throw, $19, available at Real Canadian Superstore

Even your puppy needs something sweet to cuddle up to. Pop Art Dog Pillow, $9.99 available at HomeSense

iPhone and Samsung Phone Cases, $9, available at Real Canadian Superstore

Tea for 4 Set, $10, available at Stokes

Winter whites never looked so good. Tommy Hilfiger's White Wool Mittens, $14.50, available at Tommy Hilfiger

Your outdoorsy friends may think it's a cheat, but we know there will be others who appreciate the ease of this one. Classic Fire Striker, $15, available at Imagine Childhood.

Magical Thinking Elephant Stamp Catch-All Dish, $6, available at Urban Outfitters

Because booze isn't everyone's indulgence. Gummy Bear Keg, $12, available at Urban Outfitters

Forget rabbits' feet — good luck charms now come with a better design. Golden Horseshoe Good Luck, $14, available at Artsy Modern

Never let that dill go to waste again. Think Kitchen Fresh Herb Saver, $17.99, available at Stokes

Sick of your smartphone? Go old-school. World's Smallest Walkie Talkie, Set of 2, $15, available at Urban Outfitters

Fly Away Tamer Headband, $12, available at Lululemon

I Am Malala: The Girl Who Stood Up for Education and Was Shot by the Taliban, $14.50, available on Amazon.ca

For the smoothie lover in your life, this device will be invaluable. Hamilton Beach Single Serve Blender, $17, available at Amazon.ca

A great knife that also adds some colour into the kitchen. Komachi 8" Chef Knife', $13.95, available at Linen Chest.

Finally, a truly great excuse to empty out your pockets when you get home. Digital Piggy Bank, $10, available at Stokes

Name Plate for a desk, Scrabble Office Decor, made to order, starting at $8, available on Etsy

Yes, some people do love to wear their patriotism on their sleeves. Oh Canada Buttons, $10, available at Assembly of Text

Your buddy might appreciate you handing this to him just because his New Year's party. Drinking Roulette Game, $10, available at Stokes

Olympic Collection Canada Script Tuque, $20, available at The Bay

A simple, but beautiful addition to a hostess' table. Pop-Top Glass Bottle, $12.95, available at Old Faithful Shop

Well, childhood with a twist — because those are shot glasses as your game pieces. Snakes and Ladders Game Set, $15, available at Stokes

Van Gogh's Starry Night Macbook Decal, $15.03, available on Etsy

Paris 1-2-3 Set of 3 Canisters, $15, available at Stokes

Perfect for parents who are shuttling kids from party to party. Chew Chew Train Place Setting, $20, available at Stokes

Café Cortado 13 Piece Coffee Set, $19.99, available at Stokes

Silver T-Rex Dinosaur Planter, $16, available on Etsy

Fotobuddy Wall Photo Display, $20, available at Umbra

Remember when these notebooks were a part of your daily life? Canada Journal, $14, available at Assembly of Text

Beautiful gift for someone who loves their wood furniture. Gilded Snowfall Coaster, $8, available at Anthropologie

Organized by theme, these magnets will make your grocery list that much more interesting. Refrigerator Magnet Set, $12.89, available on Etsy

Danesco Duck Tea Infuser, $9.95, available at Linen Chest.

Pop Art Dog Pillow, $5.99 available at HomeSense

Motto Think Less Wall Decor, $20, available at Umbra

Sprout Vase, $12.99 each, available at EQ3

Map of Canada Onesie, $20, available at Assembly of Text

For the budding (or existing) horticulturalist in your life. Pocket Microscope, $12, available at Chapters Indigo

NHL Montreal Canadiens Beach Towel, $9.88, available at Future Shop

Who knew beer could look so very beautiful? Beer Book, $4,99, available at HomeSense

Paris Jewelry Holder, $5, available at Stokes

The great lines of this clock might — might — make getting up a bit easier. J± Modern Alarm Clock Blue, $19, available at Real Canadian Superstore

Who can resist that face (when reaching for coins)? Pug Pouch, $9, available on Etsy

Mountain Bike Cotton Tea Towel, $17.19, available on Etsy

Vintage Bottle Spoon Rest and Wall Hanging, Coca Cola Collection, $19.34, available on Etsy

Kitchen Art Radish, $9.94, available on Etsy

STRÅLA Pendant Lamp, $14.99, available at Ikea

With a splash of colour! POP Mug, $9.95 for set of two, available at EQ3

Print Sleep Set, $19, available at Joe Fresh

50 Canadians Who Changed The World, $18.80, available on Amazon.ca

Shared History Winter Pillow Collection, $18 each, Drake General Store

Fleece Robe, $19, available at Joe Fresh

Alphabet Stamp Set, $19.95, available at The Penny Paper Co

Lunch-Sized Crock Pot, $17.99, available on eBay.

The hostess with the mostest will love these for parties, and just for display too. Nate Berkus Elephant Place Card Holders, $9.99 for set of 2, Target.

Artisan Collection Sports Trophy Mini Desktop Clock, $19.99, Future Shop.

Women's Ultimate Padded Run Sock, $14, available at Lululemon

Chef'n Emulstir, Emulsifier and Salad Dressing Mixer, $14.99, available at Amazon.ca

Union Jack Frame, $12, available at Anthropologie

Moose Mug Can Cooler Koozie, $8.99, available on RetroFestive.ca

7-Piece Tapas Set, $16.44, available at West Elm

Cook Cookbook Stand, $16, Urban Barn

WonderLand The PleasurePillar Vibe in Green, $18, available at PinkCherry.ca

Gold Letter, $14.50, available at Chapters Indigo

Taking the headphone splitter to the next level, this doodad helps multiple people listen to the same song at once. Music Branches, $12.50, available at Chapters Indigo

OLUNDA Picture, $14.99, available at Ikea

Reenact your favourite scene from Labyrinth with this decorative piece. Nate Berkus Natural Stone Gazing Ball, $19.99, Target.

Ho, Ho, No. Grumpy Cat Ceramic Mug, $9.99, available at RetroFestive.ca

2014 Herbs And Spices Calendar, $16, available at Artsy Modern

Antique Bird Bottle Opener, $13.95, available at The Cross

The perfect amount to satisfy a last-minute chocolate craving. Green & Black's Organic Milk Collection, $9.99, available at select Target and Loblaws locations.

Shadow Vase, $19.99, available at EQ3

Kate Spade Expletive Bookmarks, $10, available at Chapters/Indigo

Faux Fur Earmuffs, $19.50, available at Chapters/Indigo

Kate Spade Thermal Mug, $18, available at Chapters/Indigo

LUXE City Guides, $10, available at LUXECityGuides.com

No one will ever know ... you have a mug with you. KJB Security Camera Lens Cup, $15, available at Amazon.ca

PowerPop Microwave Multi-Popper, $19.99, available at Amazon.ca

Crayons, markers and pencils, all in one handy case. Micro Art Set, $10.95, AGO

A motion-sensor 'robot' that can record a 10-second message to terrify (or inspire) friends and family. Echo Bot Voice Messager, $19.95, AGO

Leather piggy bank, $19.84, Crate & Barrel

If anyone you know has a mudroom, then this must go in it. ABC Chalkboard, $20, available at Assembly of Text

Starfrit Gourmet Multi Blade Herb Scissors, $9.99, available at Amazon.ca

The park lover, the 'you have to hear this song' buddy and the dance party aficionado all need this. Meggabeat iPhone® 5 amplifier, $16.95, CB2

Mr. & Mrs. Ring Dish, $17.19, Crate & Barrel

Even if few people require paperweights anymore, these are still pretty enough to display. Glass Knot Paperweight, $19, West Elm.

A little something for everyone at the party. Party Crackers With Tea, $16.50, David's Tea.

Skullcandy Ink'd In-Ear Headphones, $19.99, available at Best Buy

Little Pink Dress, $20, available at Umbra

Reclaimed Wood Tea Light Holder, $19.95, available at The Bay

Danesco 12 Muffin pan with decorative tops, $14.99, available at Linen Chest.

For that snowy Christmas day activity with Gramps, it doesn't get much better than this. Eurographics Titanic Jigsaw Puzzle, $16.98, available at Future Shop

Johnny Bower Toronto Maple Leafs, $19.99, available at Future Shop

Ceramic Measuring Spoon Set, $15.95, available at Old Faithful Shop

Start the party right. 90's Music Trivia, $12, Drake General Store
Need more Mother's Day ideas? Check out our Pinterest board
Follow HuffPost Canada Living's board Mother's Day on Pinterest.