Trudeau's Cabinet Filled With Fresh Faces And Achieves Gender Balance
OTTAWA — Justin Trudeau unveiled a 31-member cabinet filled with new faces, casting aside experienced Liberal old hands in his first move as prime minister on Wednesday.
Trudeau, who had promised gender-parity, appointed 15 men and 15 women to serve as his council of ministers.
At a press conference outside Rideau Hall, the new prime minister was asked why it was so important to achieve gender balance with his cabinet.
"Because it's 2015," he said, to laughs and cheers. "Canadians elected extraordinary members of Parliament from across the country and I'm glad to have been able to highlight a few of them in this cabinet here today."
Trudeau called it an incredible pleasure to "present to Canada a cabinet that looks like Canada." He said his team would work together to deliver on an ambitious plan for the country.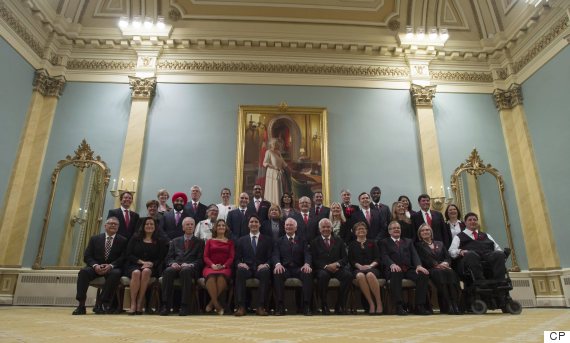 The new prime minister vowed that openness and transparency will be central to his government, and that policy decisions will be based on evidence and information.
But he also signalled a clear shift from his predecessor Stephen Harper, who was often seen as having a one-man style of leadership. When asked about his promise to bring 25,000 Syrian refugees to Canada before the end of the year, Trudeau said he took a "big step" by appointing a team that will help him accomplish that goal.
"This is going to be a period of slight adjustment for a number of people in the political world in Canada because government by cabinet is back," he said. "We are going to sit down, around the cabinet table, and talk about the solutions (we) need to put forward, what's in the best interest of Canadians, and how we're going to deliver on the promises Canadians quite rightly expect us to keep."
When inevitably asked about his father, former prime minister Pierre Trudeau, he said his dad would be pleased to see Canadians rally around the Liberal vision for the country.
"But my thoughts today — sorry Dad — aren't mostly on him," he said. "They're very much on my own kids and the kids across this country that we're going to work very, very hard to ensure they have a better future."
Rookie MPs land key roles
Newly elected Toronto MP Bill Morneau, a multimillionaire known on Bay Street, is the country's new finance minister. Morneau was executive chairman of Morneau Shepell, one of Canada's largest human resources companies, which also administered pension and benefits plans.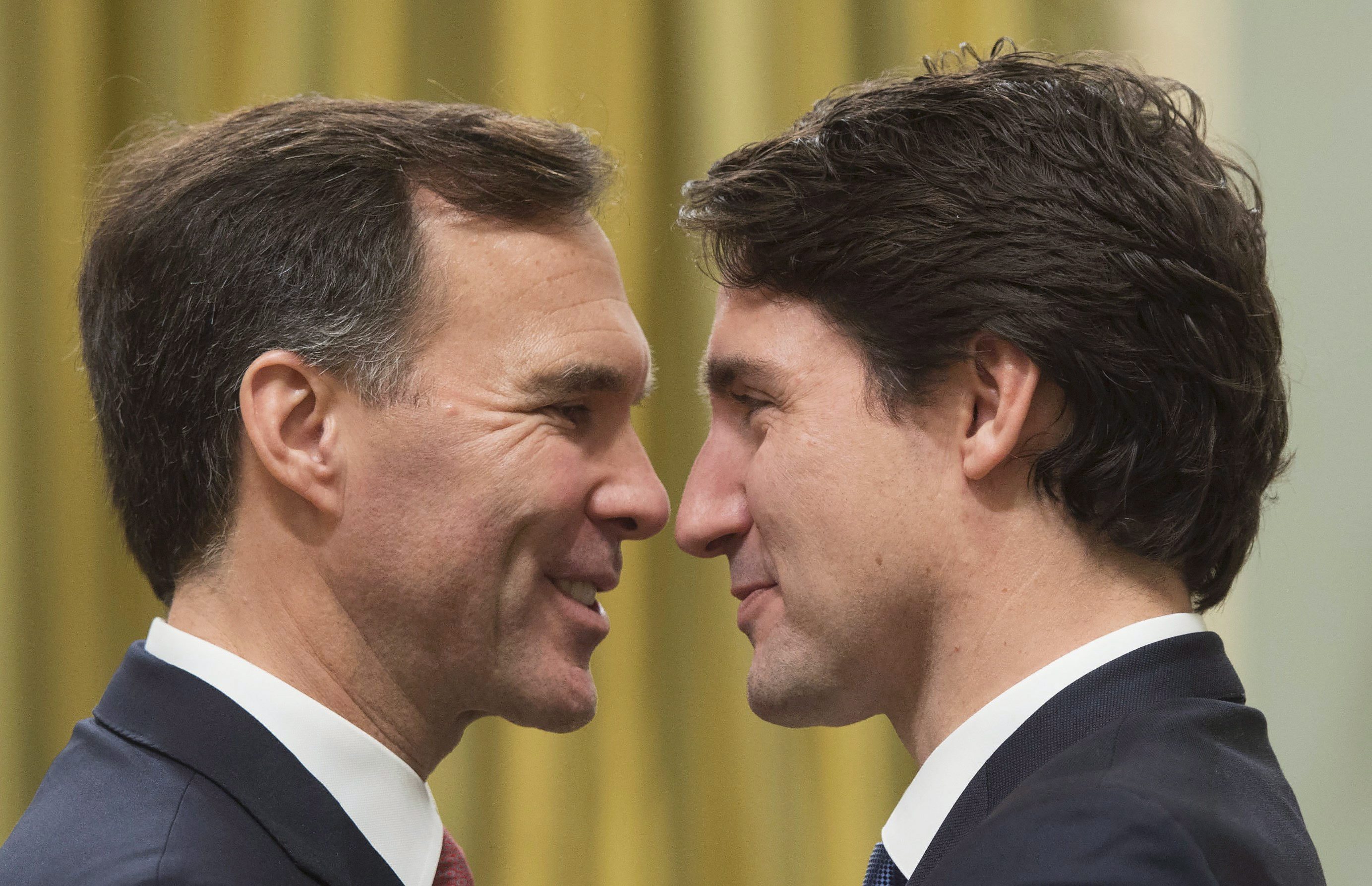 Prime Minister Justin Trudeau goes face-to-face with Finance Minister Bill Morneau at Rideau Hall. (Photo: Sean Kilpatrick/CP)
Toronto MP and former journalist Chrystia Freeland, whom Trudeau recruited from New York City two years ago, is Canada's new international trade minister.
Former Liberal leader Stéphane Dion is the new foreign affairs minister.
Vancouver newbie Harjit Sajjan — a decorated veteran of the armed forces who earned glorious reviews during his time in Afghanistan — is the defence minister, while another newcomer and star recruit – Vancouver MP Jody Wilson-Raybould — was named justice minister. She is a past regional chief of the Assembly of First Nations and has worked as treaty commissioner and a Crown attorney.
There are 18 first-time MPs appointed to the cabinet. Among them:
Carla Qualtrough, a legally blind paralympian from Delta, B.C., who is the minister for sport and persons with disabilities.
Ontario family doctor Jane Philpott, who is the new health minister.
Ottawa MP Catherine McKenna, who will be in charge of mitigating climate change as Canada's new environment minister.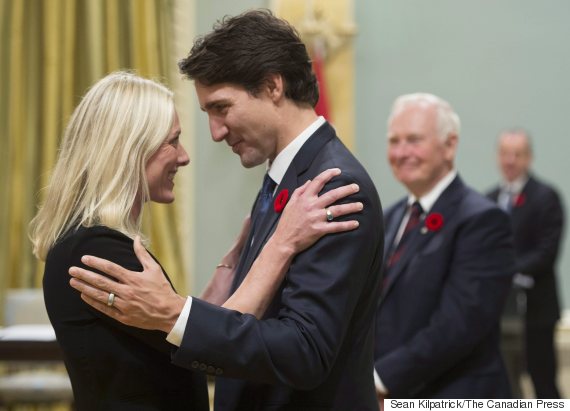 Prime Minister Justin Trudeau hugs Environment and Climate Change Minister Catherine McKenna. (Photo: Sean Kilpatrick/CP)
Only six members of Trudeau's cabinet have previous experience as ministers:
Dion (former Liberal leader, environment minister and intergovernmental affairs minister)
Public Safety Minister Ralph Goodale (former finance minister)
Treasury Board Minister Scott Brison (former public works minister)
Indigenous Affairs Minister Carolyn Bennett (former public health minister)
Immigration Minister John McCallum (former defence minister and veterans affairs minister)
Agriculture Minister Lawrence MacAulay (former minister of labour and solicitor general of Canada).
Women were favoured over male counterparts in regions such as Southwestern, Northern and Eastern Ontario, no doubt as a direct result of Trudeau's promised gender parity.
Maryam Monsef, the 30-year-old democratic institutions minister and new MP from Peterborough, defended the practice.
"The more diverse your organization, your board, or, in this case, cabinet, the more it reflects the realities of the population we are serving, and that can only be a good thing," she told The Huffington Post Canada Tuesday.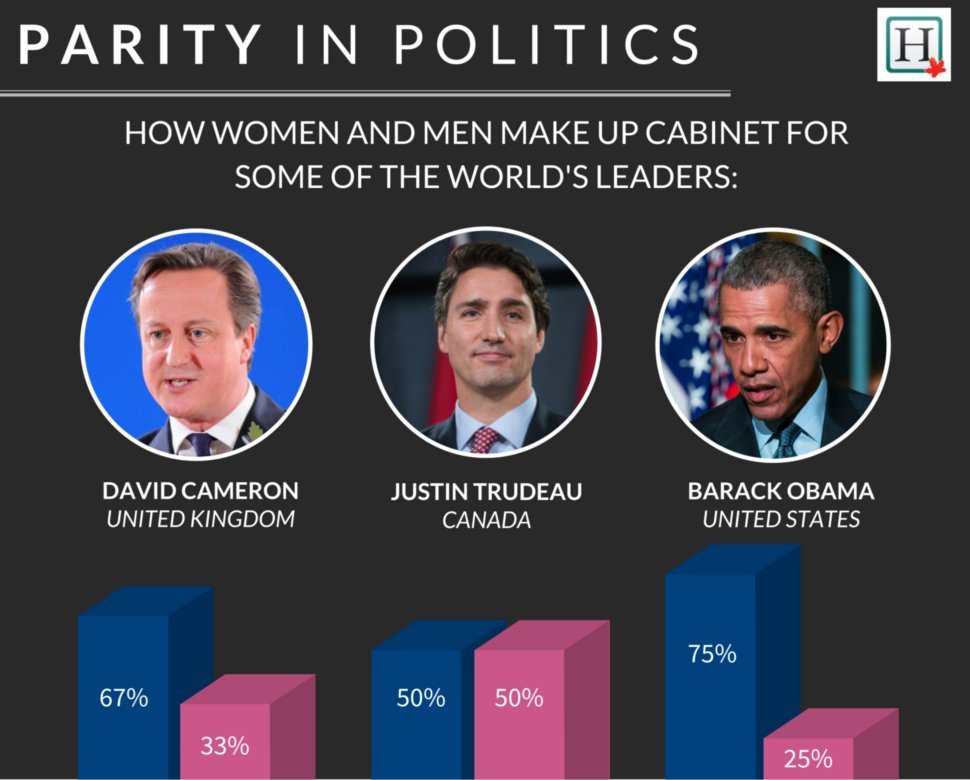 In making his selection, Trudeau excluded other star recruits such as Toronto MP and former police chief Bill Blair, Toronto MP Adam Vaughan and Ottawa MP and former Lt.-Gen. Andrew Leslie. He also left out his Quebec organizer, Montreal MP Pablo Rodriguez.
Surprisingly, Trudeau chose not to reward Vancouver MP Joyce Murray, the only sitting caucus member who challenged him for the Liberal leadership. The new prime minister also chose neophytes over former Liberal cabinet ministers such as Hedy Fry, Judy Sgro, and Mauril Bélanger.
In total, he appointed three cabinet ministers from B.C., two from Alberta, one from Saskatchewan, two from Manitoba, 11 from Ontario, six from Quebec, one from each Atlantic province, and one for all the territories.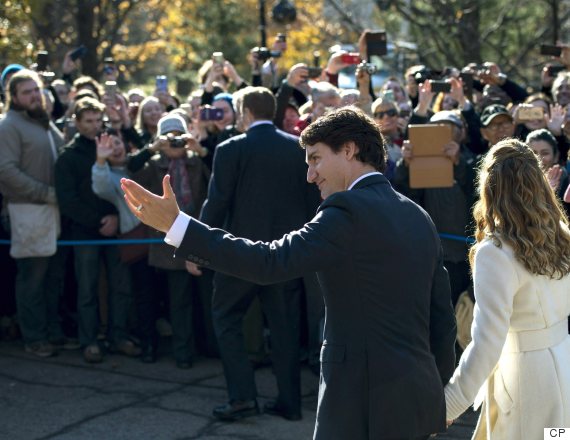 A crowd looks on as Justin Trudeau and the MPs who will comprise his cabinet arrive at Rideau Hall. (Justin Tang/Canadian Press)
Approximately 3,500 Canadians gathered on the lawn of Rideau Hall Wednesday morning to see Trudeau, his wife Sophie Grégoire-Trudeau and his new ministers walk the long driveway to the swearing-in ceremony. The sky was blue, the sun was shining on a crisp fall day and free hot chocolate was handed out to onlookers.
Bernice Fitzmaurice and Irene Pulcine from Arnprior, Ont. waited several hours for a chance to see Trudeau. "We hope to get a selfie," Pulcine told HuffPost laughing.
Sarah Nelson and Jesse DeSmit, two University of Ottawa students from Niagara Falls, said they came to be a "part of history."
Monique Lugli and her sister Marie drove from North Bay, Ont. to attend. "[We were] really actively involved in the campaign and there is no way we could miss the crowning moment. We did it and we are here to celebrate," said Lugli, who ran unsuccessfully for the Liberal nomination in Nipissing—Timiskaming.
After addressing media, Trudeau took part in a Google hangout session with school children. He later chaired his first cabinet meeting.
McCallum, the minister responsible for following through on the Liberals pledge to bring in 25,000 Syrian refugees by years end, said the government would work with mayors to make it a Canada-wide project.
Government House Leader Dominic LeBlanc announced Parliament would be recalled on Dec. 3. The speech from the throne laying out the government's agenda will be presented on Dec. 4. LeBlanc said Trudeau hopes to pass his middle income tax cut before Christmas so it could can into effect on Jan. 1.
Most of the new cabinet ministers said they would wait to meet with their deputy counterparts before answering substantive questions.
The Huffington Post Canada has learned that Trudeau, in an unusual move, will make public the mandate letters he has written for each of his ministers, outlining their roles, responsibilities, and his expectation of them based on the Liberals' platform promises related to their portfolio. Those letters are expected to be made public as early as next week.
Prime Minister Justin Trudeau has kept his promise of a smaller, gender-balanced cabinet. At 31 ministers (including him), Trudeau's first cabinet features many new faces and some veterans.

Minister of Finance Morneau is the former executive chair of Morneau Shepell, one of Canada's largest human resources firms.

Minister of Foreign Affairs An MP since 1996, Dion served as Canada's intergovernmental affairs minister under Jean Chrétien and environment minister under Paul Martin. He served as Liberal leader and leader of the Official Opposition from 2006 to 2008.

Minister of Justice and Attorney General of Canada Wilson-Raybould is a former Crown prosecutor and regional chief of the B.C. Assembly of First Nations.

Minister of International Trade An MP since 2013, Freeland was courted by Trudeau's team when she was a senior editor at Thomson Reuters in New York City.A Rhodes scholar, she is a well-known author and journalist. She was part of Trudeau's team of economic advisers.

Minister of Health Philpott is a family physician, associate professor at the University of Toronto, and former chief of the department of family medicine at Markham Stouffville Hospital.

Minister of National Defence Sajjan is a retired lieutenant colonel who served in Afghanistan and was the first Sikh to command a Canadian Army regiment. He also served as a Vancouver police officer for 11 years.

Minister of the Environment and Climate Change McKenna was a former legal adviser for the United Nations peacekeeping mission in East Timor and founded Canadian Lawyers Abroad (now known as Level), a charity focused on global justice issues.

Minister of Employment, Workforce Development, and Labour Mihychuk was an NDP MLA in Manitoba from 1995 to 2004, serving as minister of industry, trade, and mines, and later minister of intergovernmental affairs.

Minister of Infrastructure and Communities An Edmonton city councillor since 2007, Sohi immigrated to Canada from India 35 years ago. He spent time as a political prisoner in India in the late 1980s.

Minister of Canadian Heritage Joly, 36, made a name for herself by finishing second to ex-Liberal cabinet minister Denis Coderre in the Montreal mayoral race in 2013. She's a lawyer and communications expert.

Minister of Democratic Institutions Monsef, a community organizer, was born in Afghanistan. She fled the Taliban and came to Canada as a refugee with her widowed mother and sisters in 1996.

Minister of Veterans Affairs and Associate Minister of National Defence Hehr was an Alberta MLA from 2008 to 2015, was one of just two Liberals elected in Calgary. In 1991, he was the victim of a drive-by shooting that left him confined to a wheelchair.

Minister of Status of Women Hajdu was executive director of Shelter House, Thunder Bay's largest homeless shelter.

Minister of Sport and Persons with Disabilities Qualtrough is a lawyer and former Paralympian. Legally blind, she won three Paralympic and four World Championship medals for Canada in swimming and was president of the Canadian Paralympic Committee.

Minister of Families, Children, and Social Development Duclos is a renowned economist who taught at at Laval University.

Minister of Natural Resources Carr, a former Manitoba MLA and deputy leader of the Manitoba Liberal Party, served as president of the Business Council of Manitoba from 1998 to 2014.

Minister of Public Services and Procurement An MP since 2008 and the party whip, Foote previously held several cabinet portfolios in Brian Tobin's provincial government.

Minister of Transport The former astronaut, navy engineer, president of the Canadian Space Agency and Liberal leadership contender was first elected in 2008. He has served as an industry and foreign affairs critic.

Minister of Public Safety and Emergency Preparedness The finance minister under Paul Martin's government, Goodale was the only Liberal elected in Saskatchewan.

Minister of Innovation, Science, and Economic Development An MP from 2004 to 2011, Bains regained his seat this year. In addition to being a certified management accountant, holding an MBA, and teaching at Ryerson University, Bains was an important Trudeau organizer and also served on the Liberals' national election readiness committee.

President of the Treasury Board An MP since 1997, Brison was the public works minister and receiver general of Canada in Paul Martin's government. He had been the Liberal spokesman on economic issues and the vice-chair of the Commons' committee on finance.

Minister of Indigenous and Northern Affairs A family physician who has been an MP since 1997, Bennett was Canada's first minister of state for public health and oversaw the 2003 response to the SARS epidemic. In recent years, Bennett has served as the party's vocal critic on aboriginal affairs.

Minister of Agriculture and Agri-Food An MP since 1988, MacAulay has served as solicitor general of Canada, minister of labour, secretary of state for veterans and secretary of state for the Atlantic Canada Opportunities Agency. In the last Parliament, MacAulay was the critic for fisheries and oceans.

Minister of Fisheries, Oceans, and the Canadian Coast Guard LeBlanc served as the Government House leader until August 2016, when he was replaced by Bardish Chagger. LeBlanc was sworn in as a privy councillor in 2004 when, under Paul Martin, he served as parliamentary secretary to the leader of the government in the House and deputy government whip. He is a childhood friend of Trudeau's.

Minister of Immigration, Refugees, and Citizenship First elected in 2000, McCallum, a former chief economist at the Royal Bank of Canada, served as minister of national defence and minister of veterans affairs under Jean Chrétien. He was named minister of national revenue under Paul Martin and was also tasked with leading an expenditure review of government spending.

Leader of the Government in the House of Commons and Minister of Small Business and Tourism Chagger, 35, worked for the Kitchener-Waterloo Multicultural Centre. She also worked on Trudeau's leadership campaign.

Minister of National Revenue A small business owner who has been an elected warden for the Regional County Municipality of Rocher Percé since 2010, Lebouthillier won a seat in Gaspé that the Liberals haven't held in more than a decade.

Minister of International Development and La Francophonie Bibeau worked for the Canadian International Development Agency (CIDA) in Ottawa, Montréal, Morocco and Benin, Africa, before settling and launching her own business in her riding.

Minister of Science Elected in 2008, Duncan taught meteorology, climatology, climate change, and medical geography at the university level.
Prime Minister Trudeau's full statement on his cabinet:
Canadians from all across this country sent a message that it is time for real change, and I am deeply honoured by the faith they have placed in my team and me. Canadians chose a positive and optimistic plan for the future, and we will immediately begin implementing our plan for a strong middle class.

Today we have the pleasure of introducing the team of extraordinary Canadians who will serve in the new Ministry. This strong, diverse, and experienced team will serve all Canadians, and for the first time in our country's history, there will be an equal number of women and men around the Cabinet table.

Canadians expect to see their values and priorities reflected in their government, and we have listened closely to them. Canadians told us what kind of government they want, and we built the plan to make it happen.

We are committed to investing in our economy, strengthening the middle class, and helping those working hard to join it. We will invest in job creation and broad-based prosperity to ensure every Canadian has a real and fair chance to succeed.

We will shine more light on government to ensure it remains focused on the people it is meant to serve. Openness and transparency will be our constant companions, and we will work to restore Canadians' trust in their government and in our democracy. We are committed to the highest ethical standards and applying the utmost care in the handling of public funds.

We will demonstrate national leadership and work with the provinces and territories to take real action on climate change and create the clean jobs of tomorrow.

We will further strengthen our great country with a renewed, nation-to-nation relationship with Indigenous Peoples, based on a recognition of rights, respect, co-operation, and partnership. We will fulfil our sacred obligation to Canadian veterans and their families, who have given so much in service to our country. We are committed to both the security and safety of Canadians and the protection of their rights and freedoms. We will also reinvest in our cultural and creative industries and create an immigration system grounded in both compassion and economic opportunity.

Canada is strong not in spite of its diversity, but because of it, and we are committed to bringing new leadership and a new tone to Ottawa. We also made a commitment to pursue our goals with a renewed sense of collaboration. Most importantly, we will be a government that governs for all Canadians and brings Canadians together.

We will work tirelessly to honour the trust Canadians have given us, and together build an even better future for our children and grandchildren.
Here is the complete list, by order of precedence:

Justin Trudeau (Quebec) — Prime Minister, Minister of Intergovernmental Affairs and Youth.
Ralph Goodale (Saskatchewan) — Minister of Public Safety and Emergency Preparedness
Lawrence MacAulay (P.E.I.) — Minister of Agriculture and Agri-Food
Stéphane Dion (Quebec) — Minister of Foreign Affairs
John McCallum (Ontario) — Minister of Immigration, Refugees, and Citizenship
Carolyn Bennett (Ontario) — Minister of Indigenous and Northern Affairs
Scott Brison (Nova Scotia) — President of the Treasury Board
Dominic LeBlanc (New Brunswick) — Leader of the Government in the House of Commons
Navdeep Bains (Ontario) — Minister of Innovation, Science, and Economic Development
Bill Morneau (Ontario) — Minister of Finance
Jody Wilson-Raybould (B.C.) — Minister of Justice Minister and Attorney General
Judy Foote (Newfoundland and Labrador) — Minister of Public Services and Procurement
Chrystia Freeland (Ontario) — Minister of International Trade
Jane Philpott (Ontario) — Minister of Health
Jean-Yves Duclos (Quebec) — Minister of Families, Children, and Social Development
Marc Garneau (Quebec) — Minister of Transport
Marie-Claude Bibeau (Quebec) — Minister of International Development and La Francophonie
Jim Carr (Manitoba) — Minister of Natural Resources
Mélanie Joly (Quebec) — Minister of Canadian Heritage
Diane LeBouthillier (Quebec) — Minister of National Revenue
Kent Hehr, (Alberta) — Minister of Veterans Affairs and Associate Minister of National Defence
Catherine McKenna (Ontario) — Minister of Environment and Climate Change
Harjit Sajjan (B.C.) — Minister of National Defence
MaryAnn Mihychuk (Manitoba) — Minister of Employment, Workforce Development, and Labour
Amarjeet Sohi (Alberta) — Minister of Infrastructure and Communities
Maryam Monsef (Ontario) — Minister of Democratic Institutions
Carla Qualtrough (B.C.) — Minister of Sport and Persons with Disabilities
Hunter Tootoo (Nunavut) — Minister of Fisheries, Oceans, and the Canadian Coast Guard
Kirsty Duncan (Ontario) — Minister of Science
Patty Hajdu (Ontario) — Minister of Status of Women
Bardish Chagger (Ontario) — Minister of Small Business and Tourism
With files from Ryan Maloney


Like Us On Facebook

The Liberal government