Vancouver, Toronto Luxury Real Estate Could Basically Be Single-Family Homes Soon: RBC
Take a look at this house.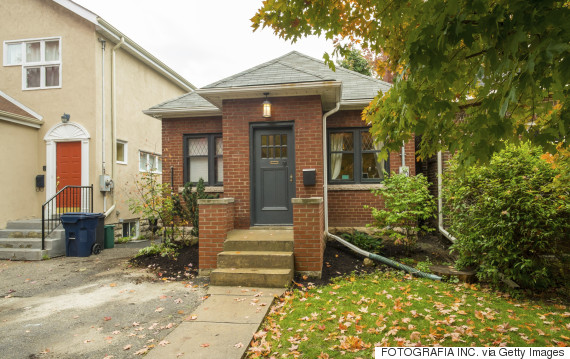 It's an approximately 80-year-old Toronto bungalow with two bedrooms on the main floor and another in the basement.
Does that scream "luxury" to you?
Maybe not. But Royal Bank of Canada (RBC) points out that's precisely how a single-family detached home could be defined if affordability keeps deteriorating in the 6ix, and beyond.
"Any further deterioration in the affordability of single-detached homes would entrench these segments as 'luxury' forms of housing in Vancouver and Toronto, available only to wealthy households," reads a RBC Economics February report released Monday.
To determine this, RBC measured affordability by looking at housing ownership costs as a percentage of median household income.
And by that measure, the affordability of a single-family home has reached its worst level in Toronto since 1990.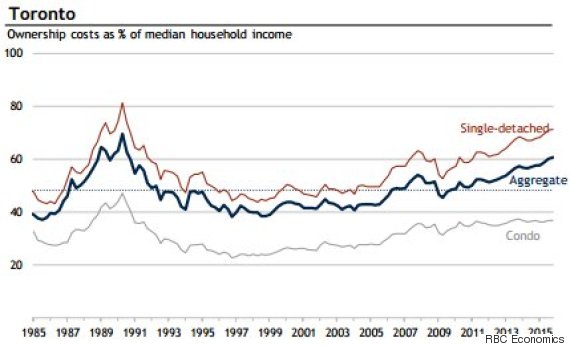 A chart attached to the report shows that ownership costs for a single-family home represent 71.4 per cent of median household income. The last time it was that high was in 1990, when it reached over 80 per cent.
"Such deterioration almost entirely reflects developments in the single-detached segment," the report reads.
There was a similar trend for condo ownership since the 1990s, but affordability was much better at 36.7 per cent.
Those numbers still paled compared to housing costs in Vancouver.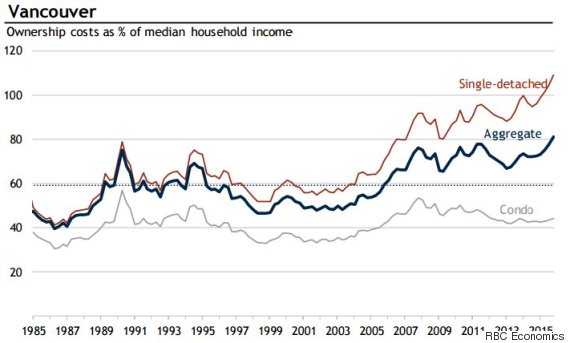 Owning a single-family home now represents more then 109 per cent of the city's median household income. A condo in comparison, consumes 44.1 per cent.
The trend came as the Vancouver area emerged as Canada's "hottest housing market" in 2015, with resales hitting a record high of over 43,000 units, and prices jumping by 11 per cent.
It's just the latest report to show how sharply affordability is falling in the West Coast city.
The study comes just over a month after a report by Andy Yan, urban planner with Vancouver firm Bing Thom Architects, found that a boundary dividing city areas where you can find $1-million homes had essentially disappeared — and has become a $2-million line.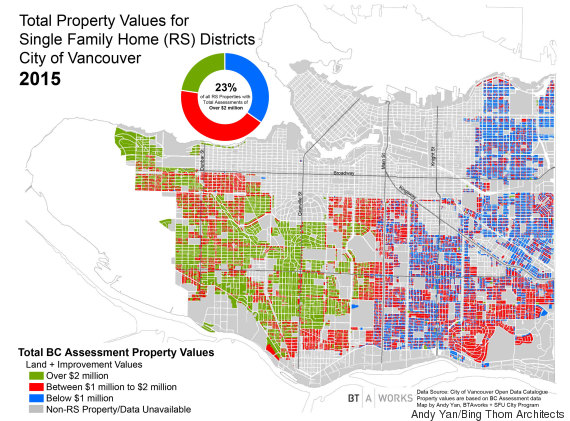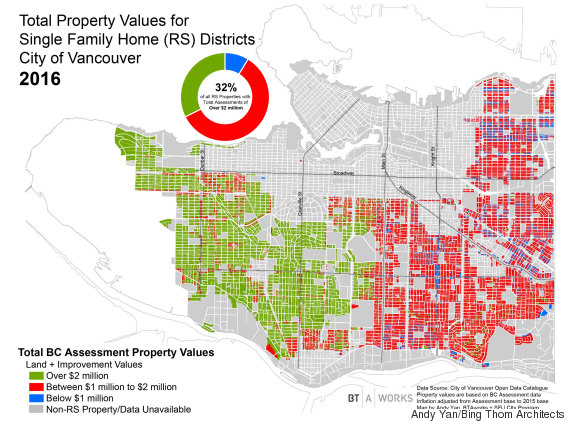 RBC Economics had better news for affordability in other Canadian cities like Calgary, where the cost of a single-detached home makes up only 38.3 per cent of the median household income.
Property values in the city were largely flat throughout 2015, despite a downturn due to the falling price of oil, but they could worsen this year. And RBC sees it unlikely that falling ownership costs are likely to give a boost to the city's real estate market.
Montreal also appears to be a relatively affordable city, with single-family home costs eating up only 42.8 per cent of a median household income.
Like Us On Facebook

Follow Us On Twitter

Also on HuffPost:
Craziest Vancouver Real Estate Stories Of 2015
This Tudor home in Vancouver's ritzy Shaughnessy neighbourhood was listed for $5.99 million in May. After 12 days, it sold for just over $8 million. "When you've got too little supply (of detached houses) and too many buyers, that's always what happens," realtor Stuart Bonner told The Province.

This abandoned home (read: eyesore) became a dumping ground over several months in 2015. Piles of rotting trash and unwanted furniture attracted rodents to the area, and the smell was sometimes so bad that neighbours refused to open their back doors. The house was assessed at $813,000, and others in the area were valued at over $1 million.

"Avail now. Bring your tent." A Craigslist ad advertised a backyard for rent for $500 per month. WiFi, use of the home's bathroom, kitchen, laundry, and "art room" were part of the deal. Great for travellers, apparently!

This home was listed at just under $3 million in June, and was sold to an offshore buyer for $4.1 million after a couple hours, the realtor said.

Bargain alert: a former grow-op hit the market in March for $930,000. The 1968 two-storey home was in such bad shape that no one could live in it. The house got an occupancy permit back in 2001, and was renovated before it was listed. The price was mostly because of the 6,000 sq.-ft. lot.

This rare, 3.6-metre wide home sold in April for $1.35 million. Tucked in the upscale Point Grey neighbourhood, the floor space is only 945 sq.-ft., but manages to cram in a full kitchen, master bedroom, living room, garage, den and 1.5 bathrooms. The home is believed to be one of the last of its kind in the entire city, according to the realtor.

This house, listed for just under $1.6 million, sold for $2.17 million in March — a mind-boggling 35 per cent over asking. "It was the highest price per square foot ever achieved for an East Vancouver home," realtor Paul Eviston told CBC News.

Chump change, amirite? This 25,000 sq.-ft. mansion, which sits on a 1.09 hectare property, was purchased in December 2014 for $51 million. (Details of the sale were made public in March.) The deal included a movie theatre, grass tennis court, and 10-car garage, according to the CBC.

Talk about a sweet deal! This (very well-decorated) gingerbread house was advertised on Craigslist for $4.5 million in December. It's a one-bedroom home that's a single sq. ft. in size. The baking sheet upon which it stands was not included in the sale. The seller asked for "serious" inquires only.