Celine Dion's Florida Home Can't Sell. So She Slashed The Price.
Celine Dion has had a tough time selling her luxury home in Florida at $62.5 million.
So, she has slashed the price to a much more affordable $45.5 million.
Celine Dion's Jupiter Island Mansion
Also on HuffPost: DRAKE'S TORONTO CONDO FOR SALE

THE MOST EXPENSIVE HOUSES FOR SALE IN CANADA

Six bedrooms and 12 bathrooms in this house the realtor describes as a veritable "Versailles" in the Toronto suburbs. Amenities include a seven-car garage, a "Ferrari room" (can you keep any other cars there?), handpainted sculptures and ceilings, and a heated indoor pool.

This two-story, 10,000-square-foot condo in the heart of Toronto's super-ritzy Yorkville neighbourhood boasts four bedrooms, five baths and 5,000 square feet of terraces. One feature that could make many Toronto commuters jealous is the parking availability — the condo comes with four spots.

Though it might look like a bungalow from some angles, this is actually a three-story house located on UBC's endowment lands. Eight bedrooms and eight bathrooms on some 11,500 square feet. Not to mention an indoor pool and a view of the ocean.

This penthouse unit in Vancouver's tallest waterfront tower features a media room, a climate-controlled wine room and views in all directions from multiple terraces. Four bedrooms and five bathrooms on 6,000 square feet of living space.

For a house of this price, the 3,400 square feet of living space and four bedrooms might seem less than impressive. But then, the house sits on a 75,000-square-foot lot overlooking the ocean. In Vancouver's Point Grey neighbourhood, that's enough to crown you king. For a wealthy investor, this property could be an ideal "tear-down." Sadly, only two pics available of this house.

The selling agent promises "360 degree panoramic views of Coal Harbour, mountain, Stanley Park & the city" in this 6,000-square-foot, three-bedroom penthouse. Features include a double-height living room, a rooftop jacuzzi and ensuite bathrooms in each bedroom.

OK, this is NOT actually the house for sale. There is no house on this property; it's a vacant lot. The pictures depicted in the realtor's ad, of this rather extravagant property, are actually artist's renderings. But the renderings caused some confusion earlier this year, with the realtor being accused of running a "fake" ad. So rather than show you pictures of a vacant, $19.9-million lot, here are the artist's renderings of the non-existent, ninth-most-expensive house for sale in Canada.

Only four bedrooms and two baths in this property in B.C.'s Okanagan Valley. But the property sits on more than 100 acres, and features a massive dock and a waterfall with guest houses near each.

This massive, 16,000-square-foot home sits on a one-acre lot and features a pool and a stunning poolside kitchen, as well as a wine cellar, a theatre, a guest suite, a pool room and a gym. And oh yeah, it has bedrooms too - six of them.

This nearly 10,000-square-foot home in West Van features all sorts of sci-fi goodness, like a TV built into a circular sculpture and an LED-lit wet bar. You have to see the pictures to believe it. Five bedrooms and eight bathrooms in the house.

The "Mayfair," as this property is known, sits in Vancouver's upscale Shaugnessy district and features four bedrooms and seven bathrooms. The house "blends classical Tudor Architecture with touches of Art Deco," as the realtor describes it. The property features a pool and hot tub, and outdoor kitchen and dining terrace, and a botanical garden.

Yet another property near UBC (are all of Canada's rich people moving into the same neighbourhood?), this house features a rec room, a media room and a wine cellar. Six bedrooms and eight bathrooms, and a damn fine view.

Seven bedrooms and 14 bathrooms in this house in Toronto's uber-posh Bridle Path. Sadly, the realtor wasn't able to provide any photos of this, the second-most expensive house publicly listed on the market, because it's under construction. But we hear it's awesome! Moving right along...

Six bedrooms and 14 bathrooms in this house near UBC, which also features geothermal heating, a 16-seat home theatre, a gym, a two-lane bowling alley and a four-level elevator. You may never need to leave home again.
Dion and her late husband René Angélil had the home built on Florida's Jupiter Island in 2010, The Montreal Gazette reported Thursday.
It's a spectacular gated property that's as much a waterpark as it is a home. Five separate pavilions include two guest homes with four bedrooms each, according to The Pinnacle List.
The buildings sit next to a 500,000-gallon waterpark that has pools, waterslides, as well as a lazy river. A seperate, 126-metre-long pool overlooks the Atlantic Ocean.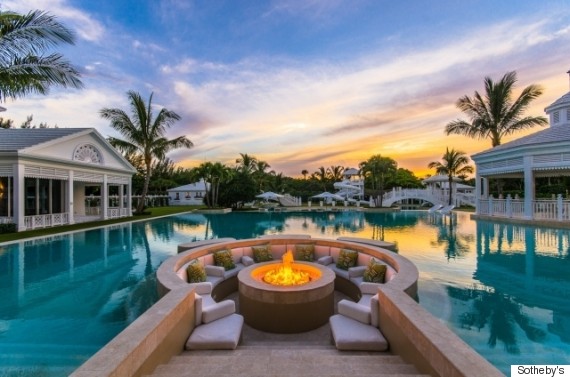 Dion's property was first list for $72.5 million in 2013. It was reduced to $62.5 million in 2014.
Realtor Joseph Montanaro told Gossip Extra that slashing the price means the singer could take a big loss on the home, as the original listing price was around what it cost to build it in the first place.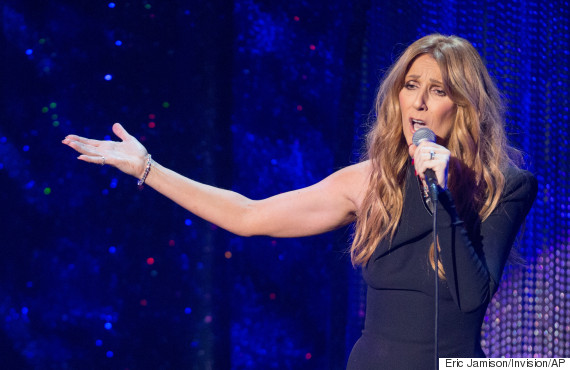 Celine Dion performs during the Sinatra 100 - An All-Star Grammy concert at The Wynn in Las Vegas on Dec. 2, 2015. (Photo: Eric Jamison/Invision/AP)
The chanteuse had more luck selling a mansion on an island off Laval, Que. earlier this month.