CRTC Chair Jean-Pierre Blais At Internet Hearings: Where Are The Women?
The chair of Canada's federal telecom watchdog noticed something missing this week from hearings he's holding into the country's internet accessibility: Women.
"Today there was a report issued by Employment and Social Development Canada that found the proportion of women in federally regulated companies has dropped from 46 percent to 41 percent in the past 20 years," Jean-Pierre Blais said in an unexpected aside on Wednesday.
"And since we've started this hearing we've faced panels like your own entirely of men," he said, addressing Chris Edwards, a vice-president at the Canadian Cable Systems Alliance (CCSA).
"I'm not picking on you. You're not alone in this," Blais told Edwards, who spoke just before the watchdog.
Blais, the chairman of the Canadian Radio-Television and Telecommunications Commission (CRTC), crunched some numbers on how much of a voice women have had in CRTC hearings, which help determine regulations for TV, internet and phone services in the country.
Of 1.8 million words spoken at three CRTC hearings in the fall of 2014, only 163,000 were spoken by women — about 14 per cent.
Read more:

CRTC Wants Public To Tell Them If Internet Services Are Good Enough, Cost Too Much

Tech Jobs Will Boom In Canada, But Country Lacks People To Fill Them: Study
"Where there have been women on the panels in these telecom proceedings, they don't have speaking roles," Blais said.
Blais turned the spotlight on the CRTC itself, noting that just two of its eight commissioners are women.
He said he was "speaking to government, to the industry and even ourselves" when he asserted "that we can do better."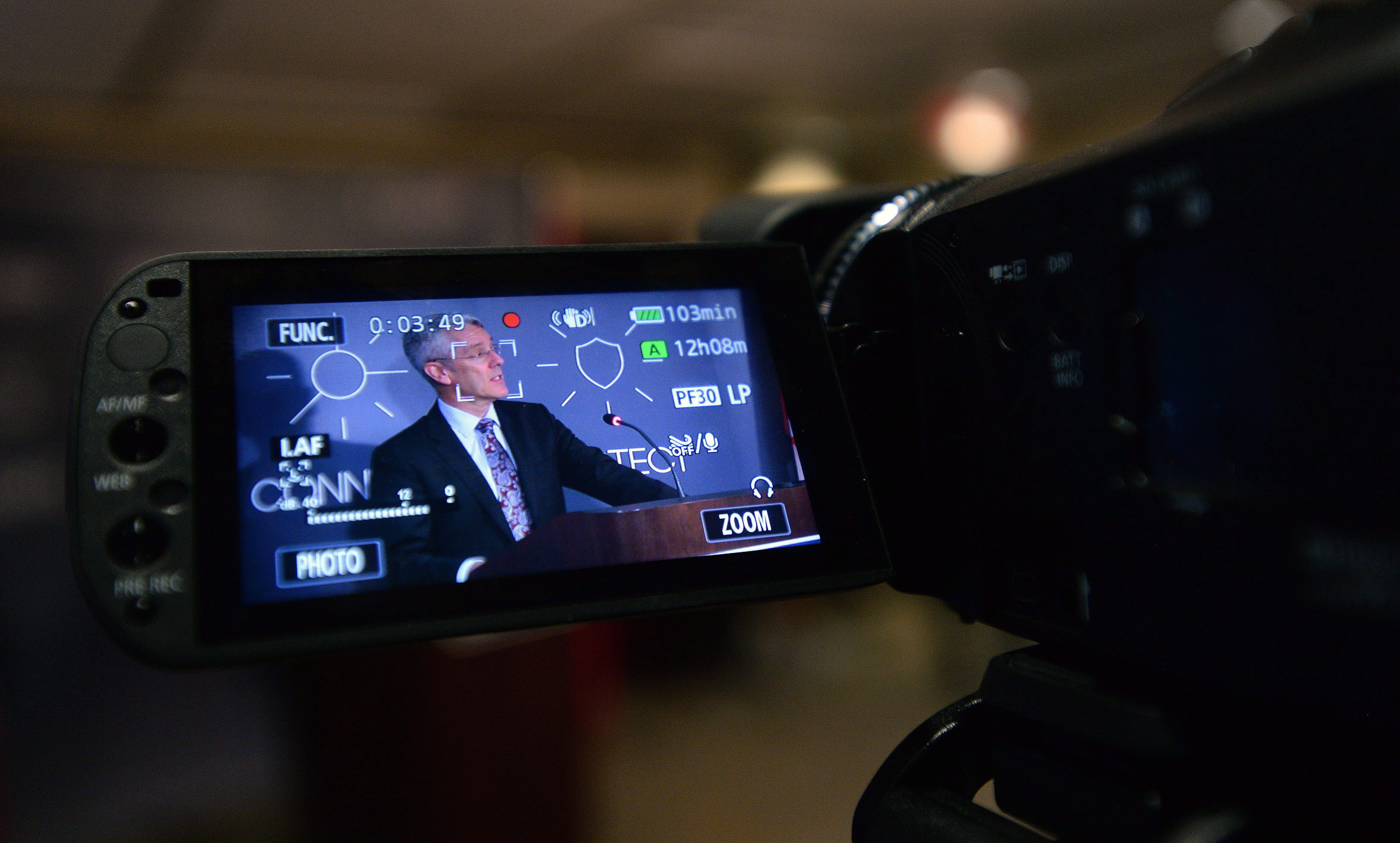 CTRC Chairman Jean-Pierre Blais is pictured in the screen of a reporters camera as he is filmed speaking to media at the CRTC offices in Gatineau, Que., on Thursday, March 19, 2015. (Canadian Press photo)
According to research from 2014, there were 208,000 women employed in information and communication technology jobs in Canada, amounting to less than one-quarter of the total workforce of 845,000.
After Blais finished, Edwards said he also wants to see more women in the sector.
But he added: "The other thing that you have to balance off is that we are asked to come here with the people who have the expertise to deal with the questions."
"Absolutely," Blais agreed.
Also On HuffPost:
7 Facts That Show Women Still Aren't Equal
Yes, really. Only 14.2 percent of the top five leadership positions at S&P 500 companies are held by women.

According to The Washington Post, Congress is 80 percent male and 80 percent white. The number of women in Congress is at an all-time high. Also, 0 percent of U.S. Presidents have been women. Infographic by The Washington Post.

According to the National Coalition Against Domestic Violence, 1 in 5 women have been victims of severe physical violence by an intimate partner in their lifetime, compared to 1 in 7 men. At least one-third of women murdered in the U.S. over a 9-year period were killed by their male partners. While no person should have to experience domestic violence, the fact that women are overwhelmingly the victims is troubling. Infographic by Frankie Rendón for the University of New England's Online School of Social Work.

According to the National Women's Law Center: "Poverty is a women's issue. Nearly six in ten poor adults are women, and nearly six in ten poor children live in families headed by women. Poverty rates are especially high for single mothers, women of color, and elderly women living alone."

According to the CDC, an estimated 1 in 5 women in the United States has been raped in their lifetime, compared to 1 in 71 men. We need to put an end to all sexual assault -- and understanding the gender discrepancy in the victims is one step towards elimination.

A 2014 study showed that the gender pay gap is alive and well in all 50 states. According to the U.S. Department of Labor, women make approximately 78 cents for every dollar a man makes. The wage gap is even larger for women of color: African-American women earn 64 cents for every dollar a white man makes, and Latina women earn a mere 56 cents. Illustration by Tri Vo, Mic.

Of course, no person should be the victim of stalking. But according to the CDC, 1 in 7 women and "have been stalked by an intimate partner during their lifetime to the point in which they felt very fearful or believed that they or someone close to them would be harmed or killed," compared to 1 in 18 men.