Justin Trudeau Shows Prince Harry How Canadians Behave In A Hockey Rink
Ed Sheeran stunt double Prince Harry was in Toronto Monday to start the countdown to the 2017 Invictus Games, set to take place in Toronto.
The young royal, who created the tournament in 2013 for veteran and active members of armed forces, later attended a sledge hockey match with Prime Minister Justin Trudeau, Ontario Premier Kathleen Wynne and Toronto Mayor John Tory.
At the game, which took place at Ryerson University's Mattamy Athletic Centre, the prime minister successfully showed at least some composure around the prince.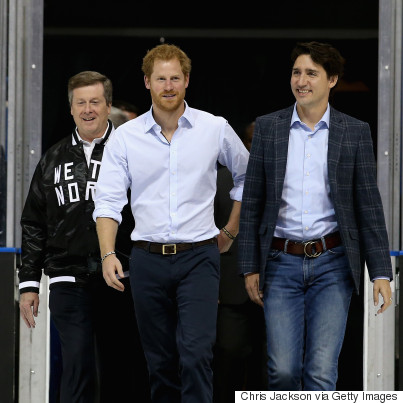 Toronto Mayor John Tory, left, Prince Harry, centre, and Justin Trudeau walk into the rink at the Mattamy Athletic Centre on May 2, 2016. So far so good. (Getty Images)
But then Trudeau, a Canadian, remembered he was in a rink. With ice. And hockey.
This can't end well: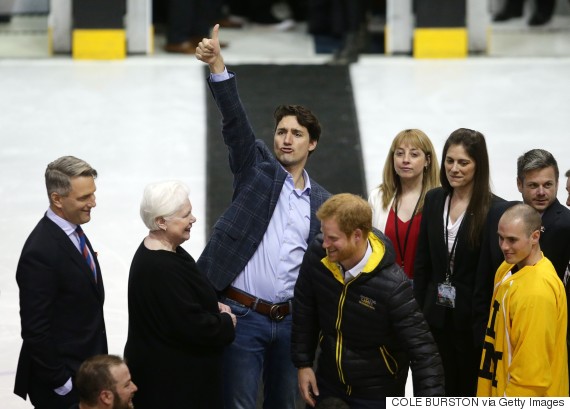 Thumbs up, composure down. (Getty Images)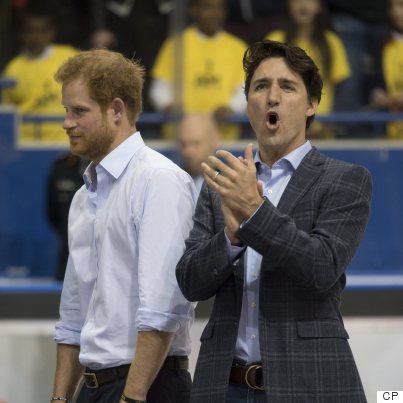 Prince Harry clearly knows what's about to happen. (Photo: The Canadian Press)
Once the two got settled at the players' bench, Trudeau just couldn't contain his excitement: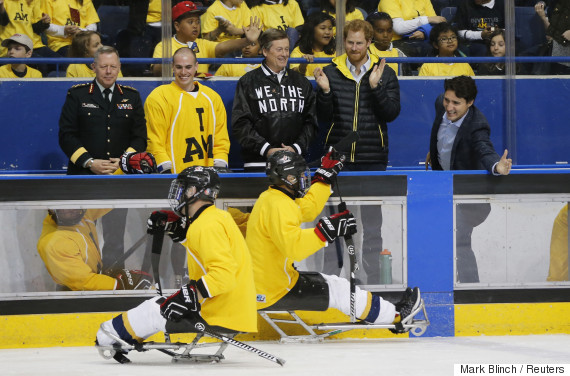 Hockey is happening, therefore hi-fives are happening. (Getty Images)

Tory couldn't hold it in either: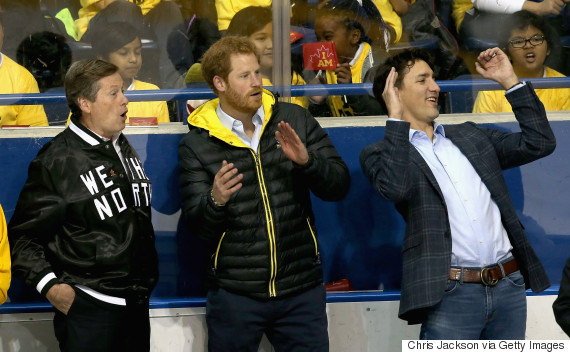 (Getty Images)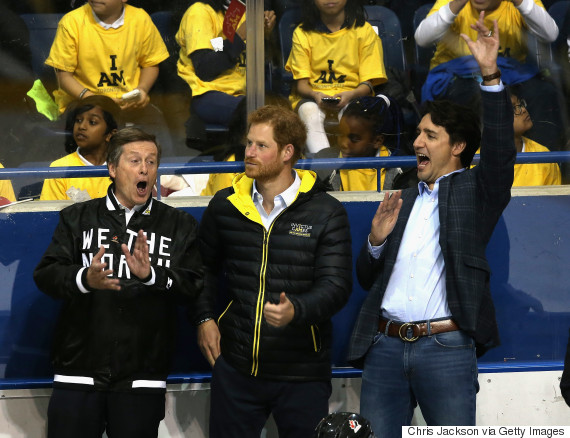 "Goodness, is this what all elected officials look like?" the prince thought to himself. (Getty Images)

Trudeau isn't even trying to stay cool at this point: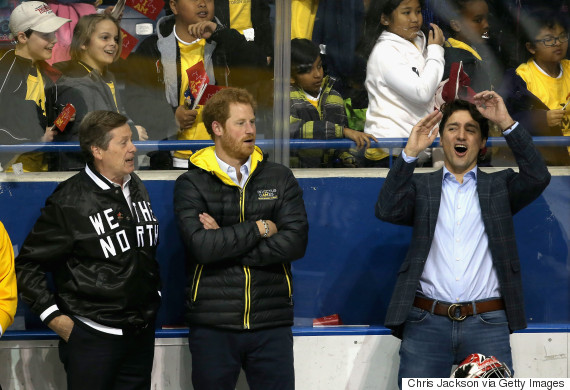 (Getty Images)

PM Trudeau gives thumbs up to a kids pic of him w. Prince Harry at sledge hockey demo for Invictus Games at Ryerson pic.twitter.com/9LPo2D8Qr8

— Michael Peake (@Michael_Peake) May 2, 2016
Oh, thank god. Trudeau's official photographer, Adam Scotti, is here to calm him down: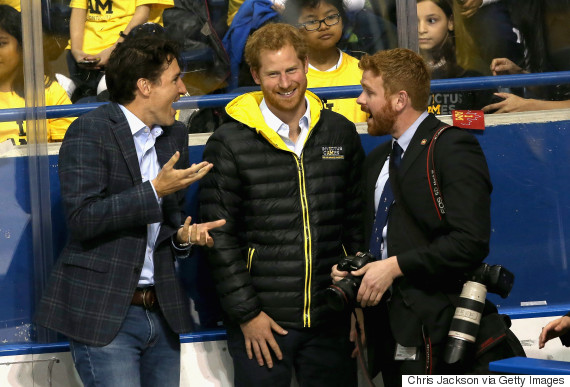 "Justin, your hands, no," (Getty Images)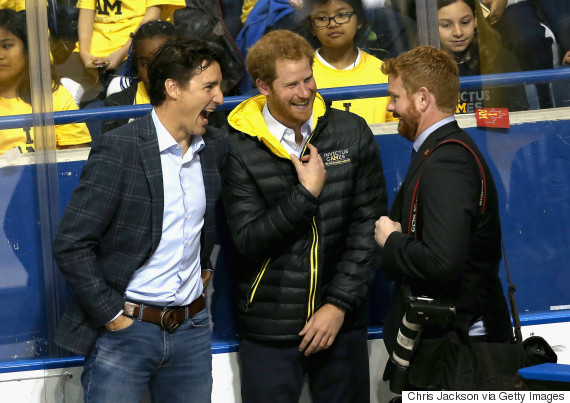 "NEED SOMETHING TO DO. YOUTH. ENERGY. SPORTS," Trudeau screamed internally. (Getty Images)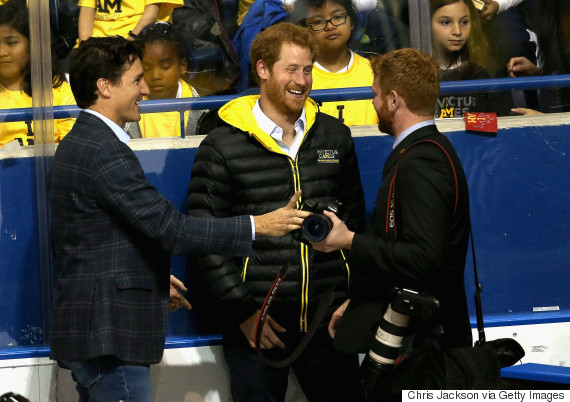 (Getty Images)

Well, that sort of worked: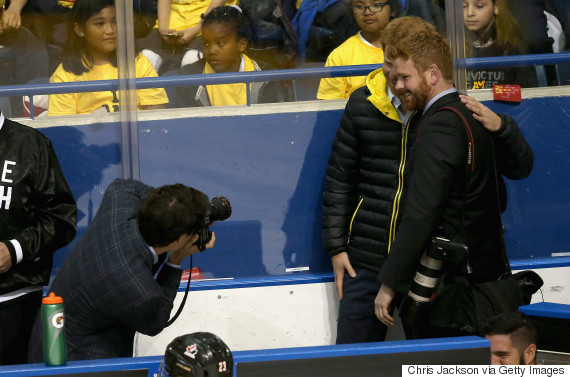 (Getty Images)
There you have it. Example #342,447 of how Canadians behave when hockey occurs.
Trudeau also kept the sports rivalry going between him, the prince and U.S. President Barack Obama with a video that involves push-ups and a mic drop.
Also On HuffPost:
Trudeau's Photographer Explains Favourite Shots
Hartley Bay, B.C. — "As we were walking around in this very very small Northern B.C. town, a woman spots the boss walking by through her window and quickly invites him in to say hello. "I didn't really care to go into her house, that was somebody's home and he was invited and we weren't. I happily stayed outside and ended up getting this great photo through the window with this wonderful woman that he ended up meeting."

Amherst, N.S. — "This is a great story of how interconnected we are as Canadians to different parts of our country. The photo in the background is the prime minister meeting this woman in Calgary at the Stampede and the photo was taken in Nova Scotia, and she showed up saying 'Hey! I'm the one on your bus.' I think we saw her one more time in the campaign in a totally different area as well. Each time, it was just a magical moment, because this woman was just so excited to see him, meet the team and now she actually got to be a part of it, in a way she could only have imagined as the setting of a great campaign bus wrap."

Hamilton, Ont. — "Here's a picture from one of our rallies with former prime minister Jean Chrétien, and he is a force all on his own to get people riled up and very, very excited. But it was fun to watch the two of them work in tandem and then see Mr. Chrétien stand aside and listen to the prime minister deliver his remarks in his speech and get the crowd worked up. I think this expression on his face really says it all without having to caption it."

Calgary, Alb. — "This is from the early days of the campaign. We were a very ragtag small team flying coast to coast. We were still flying commercial at this point. We ended up getting to Calgary in this room which — we were only expecting about 150 people — ended up having three or four hundred. And there are even more people waiting around out back in the parking lot. Of course, everybody wanted to be inside, and we crammed [in] as many people as we could. As soon as you cross this point where these kids and their father are standing, you actually got hit by a heatwave — just because it was so warm and humid inside with all the bodies."

St. Thomas University, Fredericton, N.B. — "Here is a photo of Meghan Gulliver out East in New Brunswick. She actually got a tattoo that reads: 'Just watch me' with the maple leaf on it. And it's a photo of her showing me her tattoo with the prime minister in the background, which just reminds me how much of an impact we can have on people's lives and how meaningful he is to some people, which is a great reminder of why we are in this job in the first place."

Brampton, Ont. — "Here we are at the Brampton rally, with about 7,000 supporters, in the last month of the campaign. It was absolutely amazing to see a hockey arena filled up with well-wishers and to see the family move throughout the crowd. A lot of what we do on a day-to-day basis is not just tell you know here's a photo of the PM — or the candidate at the time — it is the story around him. What did the event look like to other people. Here is a great example of how enthusiastic people were just to be there."

Calgary, Alb. — "I love [this one] because of the hands. Everybody wants to meet him, everybody wants to shake his hand. Everybody wants to share a story that they've had, either with him or with a family member of his, whether it is his mother or his father, and they just want to be a part of that — and I think it really comes across in this. And it also comes across in terms of how open he is, and how engaged he is in meeting people. He could stand in one spot for two or three hours shaking hands in this manner. And he will be just as high energy at the end as when he started."

Calgary, Alb. — "This is the inside of the previous photos event. After having moved around the room a bit and gotten some of the typical photos that you would need from these events, I moved to the back of the room as that is how he had planned to exit and then my camera started fogging up. There were, I think it was 2,000 or 3,000 people inside, and you can see the lens flaring. And what I would have to do is take a photo, wipe my camera lens, take another photo and then it would fog up by that time again. And at that point, I think it really hit home that something crazy was about to happen."

Toronto, Ont. — "It was primarily myself and the EA Tommy [Desfossés], travelling around with the boss. It's a very barebones team. He would always remind us that if you see something wrong, try to fix it, don't expect other people to come along and fix it. And sure enough that is displayed here, when he noticed that somebody unbeknownst to them had a flat tire, and he ended up getting out as we were at a red light to let them know about their flat tire. It's just a comical moment illustrating who he is and 'do have fun in your job, but also try to help others as much as you can, no matter what that is.'"

Ottawa, Ont. — "This is just a photo of my father, who was visiting me on the Hill one day for lunch, and of course, is just happy to see me at work doing the same job that he did in the halls of Parliament and also happy to run into the boss. "He asked if the prime minister liked his Mickey Mouse tie, which is a family mainstay for us. We all like Mickey Mouse ties to try to lighten the mood and remind ourselves to have fun every day."

Ottawa, Ont. — "They let me be there for private moments. It enables me to do my job to the best of my ability, and it means that, for the historical record, there is a thorough telling of the story but also, for themselves, they have great memories to look back on. And certainly for the kids, they have great memories to look back on. And especially in day of iPhones and Samsung Galaxies at least this allows them to have a very good quality image as opposed to a just dinky camera phone. "Everybody always says 'Oh, it's just for the photo op,' but really what I try to do is recognize people as much as I can. I wouldn't be with him if I didn't like him as an individual. How he fathers his kids, and how he works as a team with Sophie, is a measure of how great people they really are. How down-to-earth they are."

Manila, Philippines — "Here's a photo from one of our meetings. It's not so much about the one or two key players in the meeting but it's a story around the meeting and who else is taking part and what else is going on. "For example, I have my mother's last name simply because my parents decided to give me my mother's last name. Growing up, I have always been very attuned to women in the workplace, as my mother was the breadwinner for the family for a while and it's given me a different perspective of many of the things that we do. And this is just one of those moments where one side of the room had a lot more women than the other. And it hits home. It's nice to be able to illustrate that in an artistic way without necessarily meaning anything from it, as opposed to pointing it out and saying this is still a reality."

Ottawa, Ont. — "This is a more lighthearted moment from the past year, where our office had been given a bunch of old negatives from a TV show that had gone into archives and copied them. But old negatives are not necessarily true colours, so what you need to do is you need to take an iPhone, invert the colour and then you can look at the negatives themselves as how they were shot. So this is a fun photo of old technology meets new and a reminder how things used to be done in this job and what goes into the job now. "He loves to learn about new technology, so any fun fact or fun work-around, whatever you call it, he likes to learn it. They are photos of Mr. Trudeau senior, and some of Justin, but not many, and it's all stuff that we scanned and put away on hard drive for future reference…. Most were taken by the first person to be photographer to a PM, Robert Cooper."

Montreal, Que. — "Here is a picture of him working on his speech before his nomination in Papineau in November of last year. And I think Ella is drawing alongside him on a different piece of paper. It's always great to have the kids around, it reminds us to relax a little bit, have some fun, have a couple of laughs, and they are a great calming influence on us all because they remind us of those things."

Ottawa, Ont. — "This is a picture of the candidate at the time, Mr. Trudeau, being informed by Air Canada staff that Prime Minister Harper did, in fact, call the election as we were on our way to Vancouver to walk in the Pride parade as well as launch the campaign on the West Coast. "We'd asked the cabin crew if they could radio down to ground control, and ground control notified them as soon as anything had happened. We got a little printout, teletext message or telegraph message, as to what had happened and when we would actually vote. … We were all relieved to finally get things kicked off in a more official manner."

Iqaluit, Nunavut — "This was our second to last week, flying out of Iqaluit heading home, and just the beauty of it. We actually managed to take off in the evening, and we saw the northern lights from the plane. Seeing the Northern Lights is one thing, but seeing them from the plane is an entirely different experience."