Austin Wang, Vancouver Student, Wins Top Prize At Intel Competition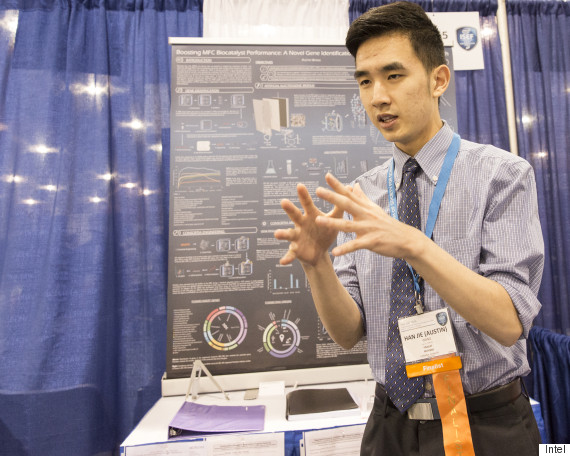 Austin Wang said his win at the Intel competition is "surreal." (Photo: Intel)
For the second year in a row, a Canadian student has won the top prize at the world's largest high school research competition.
Vancouver's Han Jie (Austin) Wang, 18, took home US$75,000 at the Intel International Science and Engineering Fair in Phoenix, Ariz. for developing microbial fuel cells (MFCs) that convert organic waste into electricity more efficiently.
"It's completely surreal," Wang told The Huffington Post Canada in an interview. "I almost feel like I can wake up any moment from this dream."
Commercial possibilities
Wang identified genes in genetically enhanced E. coli bacteria that allowed them to generate power. He believes that his MFCs could be used commercially because they generate power more efficiently than existing MFCs, and at a lower cost than solar energy.
He came up with the idea for a school science fair in Grade 9 when he learned that bacteria could generate electricity. He said he's been working on the project ever since.
Wang, who is now in Grade 12 at David Thompson Secondary School, explained that the most immediate application for his project is in treating sewage and wastewater. He said that the MFCs could use energy from wastewater to generate power.
"Back-to-back wins showcase how competitive Canadians can be on a global scale."
The Intel competition aims to honour the world's most promising student scientists, inventors, and engineers. Finalists are chosen from hundreds of fairs, and their projects are scrutinized by almost 1,000 judges from nearly every scientific discipline.
Wang beat out over 1,700 other students from across the globe.
Eight other Canadian students won 14 awards this year, totaling US$106,700. Intel gave out US$4 million in prizes this year.
Repeat Canadian victory
Last year, Vancouver teens won two of the three top prizes at the competition.
Raymond Wang, 17, was recognized for a device that improves air quality on airplane cabins while cutting down on the transmission of diseases, while Nicole Ticea, 16, won for creating a simple and inexpensive HIV test that can be used by people in low-income communities.
"Back-to-back wins showcase how competitive Canadians can be on a global scale," said Nancy Demerling, marketing manager of Intel Canada in a news release.
Follow The Huffington Post B.C. on Facebook, Twitter, and Instagram.
Also on HuffPost:
12 Amazing Inventions Created Entirely By Accident
Anti-masturbation dieticians Dr. John Harvey Kellogg and William Keith Kellogg believed that a clean, healthy diet of plainer foods like cereal was key to preventing sexual urges. So, they began experimenting with granola as a non-stimulating replacement for the average diet. One day, the brothers left a batch of wheat unattended to go address some other matter. When they returned, the wheat was stale, but they attempted to roll it out anyway -- resulting in a flat, thin flake.

A navy engineer by the name of Richard James was working to create a meter to monitor the horsepower output of ships during World War II, when one of the springs used to stabilize the meter fell off the table and continued to "walk" away. The idea to make a children's toy out of the wandering spring came to him almost immediately, and in 1945 his first Slinky was complete.

Desperately trying (and failing) to concoct a medical remedy for his headaches, pharmacist John Pemberton dumped together a bunch of ingredients into a kettle, in the process creating a recipe that still remains a secret today.

In 1968, while trying to come up with a extra strong adhesive at the 3M company, scientist Spencer Silver managed to create just the opposite: a very weak adhesive that would peel off when removed from any surface. No one thought there was any use for such a product, until another scientist, Art Fry, realized that the little pieces of paper made great book marks for his church songs without leaving residue on the page.

You can thank one picky, dissatisfied customer in Saratoga Springs, N.Y., for the invention of this glorious snack food. In 1853, after a customer repeatedly sent his order of fried potatoes back to the waiter, complaining that they were too soggy and thick, the New York restaurant's chef George Crum was fed up, and so he took the request for a thinner potato quite literally -- cutting the potatoes into thin slices, frying them and covering them in salt. Behold, "Saratoga Chips."

Play-Doh first originated as a wallpaper cleaner produced and sold by Noah McVicker's soap company, Kutol Products. Over time, the moldable substance became very popular among school teachers, who used it for classroom arts and crafts. Not until years later did the McVickers decide to re-market the product for children.

Who can actually take credit for originally inventing champagne has always been a topic of debate -- but it might actually have just been the weather. The climate was changing significantly during the 1490s, which had a dramatic effect on wine fermentation. Rather than the grape juice completely fermenting, the drop in weather caused the yeast to stop working too early and remain dormant until spring, when a second round of fermentation would take place. This gap ultimately led to the formation of carbon dioxide in the wine, or as we know it, the bubbles!

Originally known as "Cellucotton," these wadding pads were used during World War I to dress the wounds of soldiers. However, many Red Cross nurses found that the product also made great feminine care protection pads. In 1920, "Kotex" was born.

Perhaps one of the only times not washing your hands led to something useful? In 1879, after a long day of working with coal tar, chemist Constantin Fahlberg came home to have dinner with his wife without washing his hands first. While eating his meal, Fahlberg noticed that everything he put in his mouth had a very sweet taste, and discovered that the saccharin on his hands was responsible.

In 1905, Frank Epperson, then 11, was experimenting with different ways of making homemade soda pop when he accidentally left a batch sitting outside with a stir stick left in it. Temperatures dropped overnight, and the next morning he went outside to find the surprise frozen treat.