Justin Trudeau Ushers In New Political Masculinity: Study
Prime Minister Justin Trudeau has changed the role gender plays in politics — and it has nothing to do with the 15 women in his cabinet.
The Liberal leader's rise to power suggests that his style of masculinity is tangibly different from the traditional definition favoured in a leader, according to an article published by the magazine Policy Options this week.
Researchers in Ottawa analyzed more than 750 articles published during the last federal election campaign, and found a "striking" difference in how Trudeau was portrayed, compared to his rivals Stephen Harper and Thomas Mulcair.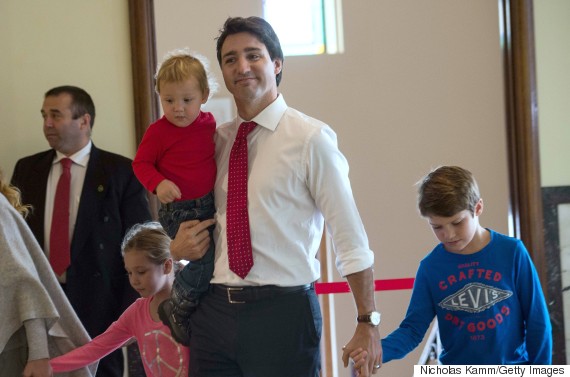 Justin Trudeau casts his ballot in the federal election with his children in Montreal on Oct. 19, 2015. (Photo: Nicholas Kamm/AFP via Getty Images)
Media often described Trudeau as "emotional" and "boyish," the study found. This was in stark contrast to the other major party leaders — Harper seen as "tough" and "strong" while Mulcair was described as "angry" and "aggressive."
"I think the Canadian electorate got somewhat fatigued with the aggressive, angry, tough approach and took a different direction," one of the study's authors Jerald Sabin told CBC Radio.
Sabin and co-author Kyle Kirkup will present the study for the first time next week at the annual meeting of the Canadian Political Science Association in Calgary.
Trudeau's image used against him
An effeminate portrayal of Trudeau has been a common thread in the Conservative party's narrative.
Just this weekend at the Conservative party convention in Vancouver, interim leader Rona Ambrose negatively referred to Justin Trudeau thinking he was the first female prime minister.
Correction: Rona Ambrose takes swipe at Justin Trudeau alludes to him as female prime minister https://t.co/WCMUvsVwWk

— Globalnews.ca (@globalnews) May 28, 2016
For years, the Tories played up Trudeau's youth, his background as a drama teacher, and his hair in attack ads.
These ads were intentional attempts to undermine Trudeau's masculinity and hurt his standing with middle-aged men, a pollster told The Canadian Press. The masculine image is vital to maintain, Harper himself once admitted, saying he'd never be caught on a motorcycle with his wife driving.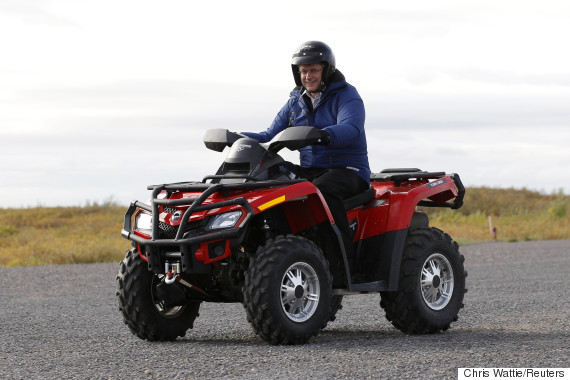 Former prime minister Stephen Harper rides an all-terrain vehicle at the airport in Tuktoyaktuk, N.W.T. on Aug. 26, 2010. (Photo: Chris Wattie/Reuters)
Trudeau may be perceived by some as less manly than other leaders, but his athleticism and toughness has still helped him out. A 2015 University of Toronto study found that Trudeau's portrayal in the media pivoted after he beat Conservative Sen. Patrick Brazeau in a charity boxing match.
"By engaging in performances of traditional masculinity, he created a new brand for himself," the study's author, Elise Maiolino, said at the time. That one fight took him from "pretty-boy lightweight" to "a man lauded for his 'toughness, strength, honour and courage,'" the study said.
The yardstick all Canadian politicians are measured by is still very traditional, and very male, the Ottawa researchers found. A perfect politician is a straight man — muscular, above six-feet-tall, "hopefully with a wife, 1.5 children, and a dog," Ian Capstick, Founding Partner and Creative Director of MediaStyle, told them.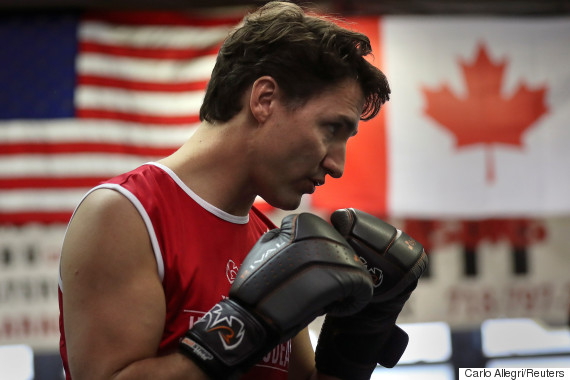 Prime Minister Justin Trudeau spars in the ring at Gleason's Boxing Gym in New York on April 21, 2016. (Photo: Carlo Allegri/Reuters)
Indeed, politics is still very much a man's game in Canada. A record number of women were elected to Parliament in 2015, but this only took women's representation up to 26 per cent.
Nearly 100 years after Agnes Macphail became the first female Member of Parliament, Canada is nowhere close to having equal representation for women in politics. One study estimated that women won't participate fully in Canadian politics and economics until the year 2240.
With files from The Canadian Press

Also On HuffPost:
Liberal Women Appointed To Cabinet
Minister of Justice and Attorney General of Canada Wilson-Raybould is a former Crown prosecutor and regional chief of the B.C. Assembly of First Nations.

Minister of Indigenous and Northern Affairs A family physician who has been an MP since 1997, Bennett was Canada's first minister of state for public health and oversaw the 2003 response to the SARS epidemic. In recent years, Bennett has served as the party's vocal critic on aboriginal affairs.

Government House Leader and Minister of Small Business and Tourism Chagger, 36, worked for the Kitchener-Waterloo Multicultural Centre. She also worked on Trudeau's leadership campaign.

Minister of Public Services and Procurement An MP since 2008, and the party whip, Foote previously held several cabinet portfolios in Brian Tobin's provincial government.

Minister of International Trade An MP since 2013, Freeland was courted by Trudeau's team when she was a senior editor at Thomson Reuters in New York City.A Rhodes scholar, she is a well-known author and journalist. She was part of Trudeau's team of economic advisers.

Minister of Health Philpott is a family physician, associate professor at the University of Toronto, and former chief of the department of family medicine at Markham Stouffville Hospital.

Minister of International Development and La Francophonie Bibeau worked for the Canadian International Development Agency (CIDA) in Ottawa, Montréal, Morocco and Benin, Africa, before settling and launching her own business in her riding.

Minister of Canadian Heritage Joly, 36, made a name for herself by finishing second to ex-Liberal cabinet minister Denis Coderre in the Montreal mayoral race in 2013. She's a lawyer and communications expert.

Minister of National Revenue A small business owner who has been an elected warden for the Regional County Municipality of Rocher Percé since 2010, Lebouthillier won a seat in Gaspé that the Liberals haven't held in more than a decade.

Minister of the Environment and Climate Change McKenna, a human rights lawer, was a former legal adviser for the United Nations peacekeeping mission in East Timor and founded Canadian Lawyers Abroad (now known as Level), a charity focused on global justice issues.

Minister of Employment, Workforce Development, and Labour Mihychuk was an NDP MLA in Manitoba from 1995 to 2004, serving as minister of industry, trade, and mines, and later minister of intergovernmental affairs. She ran an unsuccessful Winnipeg mayoral campaign in 2004.

Minister of Democratic Institutions Monsef, a community organizer, was born in Afghanistan. She fled the Taliban and came to Canada as a refugee with her widowed mother and sisters in 1996.

Minister of Sport and Persons with Disabilities Qualtrough is a lawyer and former Paralympian. Legally blind, she won three Paralympic and four World Championship medals for Canada in swimming and was president of the Canadian Paralympic Committee.

Minister of Science Elected in 2008, Duncan taught meteorology, climatology, climate change, and medical geography at the university level.

Minister of Status of Women Hajdu was executive director of Thunder Bay's largest homeless shelter.