Sylvester Stallone's Daughters Named Miss Golden Globe 2017
The title of Miss Golden Globe 2017 goes to Sylvester Stallone's three stunning daughters: Sophia, 20, Sistine, 18, and Scarlet, 14.
The Globes made the announcement on Instagram on Friday, sharing a sweet photo of the 70-year-old actor with his girls.
The honour of Miss or Mr. Golden Globe is usually given to a child of a Hollywood icon and their job is to assist with the awards ceremony. Last year, Jamie Foxx's daughter Corinne was given the honour. Now 2017 will mark the first year a trio has been chosen to share the title.
Over the weekend, Stallone's eldest daughters, Sophia and Sistine, took to Instagram to share their excitement.
"FINALLY I can announce that my sisters and I are the official Miss Golden Globes 2017!" Sophia captioned a photo with her siblings.
Posting a similar image, Sistine wrote, "So EXCITED to announce that we are Miss Golden Globes 2017! Such an unbelievable experience, still cannot believe this is happening!"
Stallone is also proud of his girls. Describing her dad's excitement, Sophia told People magazine he was "running around the house, dancing. The dogs were chasing him."
The Stallone girls are no strangers to the limelight as they often attend red carpet events with their famous dad. Last year, for instance, they accompanied Stallone to the Golden Globes, where he won best supporting actor for reprising his role as Rocky Balboa in "Creed."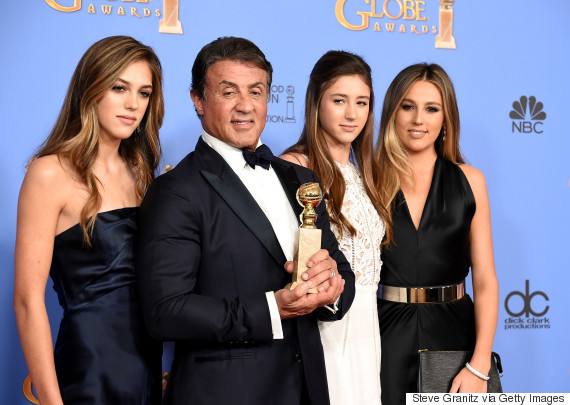 Stallone and his daughters at the 73rd Annual Golden Globe Awards on January 10, 2016 in Beverly Hills, California.
But while the girls are clearly shining stars, they admit they don't see themselves following in their dad's footsteps anytime soon.
"I don't think any of us will be actresses," Sophia, who is a student at the University of Southern California, told Us Weekly. "[Sistine] will be the model, and I could see myself being in the movies behind the scenes, because I love watching my dad work — he's the best and he lives in my house, so why not learn from him?"
As for the youngest Stallone, 14-year-old Scarlet, she agreed saying: "I'm only in junior high, so I don't think I even know!"
Stallone had his three daughters with his wife, model Jennifer Flavin. The 70-year-old actor also had two sons, Sage and Seargeoh, with ex Sasha Czack.
The 2017 Golden Globes will air on Sunday, January 8.
Flip through the slideshow below to see other celeb kids who were chosen as Miss or Mr. Golden Globe in the past.
Past Miss & Mr. Golden Globe
Parents: Actress Tippi Hedren and actor Peter Griffith

Parents: Actress Diane Ladd and actor Bruce Dern

Parents: Actress Connie Stevens and singer Eddie Fisher

Parents: Actor-comedian Freddie Prinze and real-estate agent Katherine Elaine Cochran

Parents: Melanie Griffith and Don Johnson

Parents: Bruce Willis and Demi Moore

Parents: Kelsey Grammer and stylist Barrie Buckner

Parents: Jamie Foxx

Parents: Sylvester Stallone and Jennifer Flavin

Celebrities With Ridiculously Good-Looking Kids

Celeb parents: Sean Penn & Robin Wright Age: 22 Dylan is from Sean Penn's second marriage to actress and singer Robin Wright. Dylan rose to fame in 2013 when she reportedly began dating Robert Pattinson in September. Currently, Dylan is a model for DT Model Management. Sean Penn and Robin Wright also have a son named Hopper.

Celeb parent: Jamie Foxx Age: 20 Jamie Foxx has been taking his oldest daughter Corinne to events since she was 10-years-old. Her first event was the 2005 Oscars where her father won Best Actor for his role as Ray Charles in the film "Ray." Foxx, whose real name is Eric Marion Bishop, never revealed who Corinne's mother is. Despite this, he also has a 4-year-old daughter named Annalise.

Celeb parent: Robin Williams Age: 25 Zelda Williams is the daughter of late-comedian Robin Williams and his former movie producer wife Marsha Garces. She was named after Princess Zelda of the Legend of Zelda video game series. Zelda is currently an actress and has most recently guest starred in the TV series Teen Wolf. Garces and Williams also had a son together named Cody. Robin had another son, Zachary, from his first marriage to Valerie Velardi.

Celeb parents: Steven Spielberg Age: 23 Sasha is an actress and musician. She has appeared in several of her father's movies, including "Indiana Jones and the Kingdom of the Crystal Skull" and "The Terminal." She is also part of the alternative-rock band Wardell, which she created with her adopted brother Theo. Excluding Sasha, Steven Spielberg has five other kids: Mikaela, Destry, Theo, Sawyer, and Max.

Celeb parents: Clint Eastwood & Frances Fisher Age: 20 Francesca is an actress, model, and TV personality. She is most well-known for her role on the E! reality series Mrs. Eastwood & Company, which follows her family. Because of her father's complicated relationships, Francesca has four paternal half-sisters and two paternal half-brothers.

Celeb parent: Clint Eastwood Age: 27 Francesca wasn't the only one to inherit good genes. Scott Eastwood, formerly known as Scott Reeves, is Clint Eastwood's second son. Clint had him in 1986 with Jacelyn Reeves, a flight attendant. Currently, Scott is an actor and model. He made his first film debut at the age of 20 when he took part in his father's film, "Flags of Our Fathers." Altogether, Clint Eastwood has 7 kids: Scott, Francesca, Kyle, Alison, Morgan, Kathryn, and Kimber.

Celeb parents: Melanie Griffith & Don Johnson Age: 23 You might not know this, but Dakota Johnson is the daughter of Melanie Griffith! Although Dakota has been in quite a few films ("21 Jump Street" or "The Five-Tear Engagement" for example), she gained fame mostly from being cast as Anastasia Steele in the highly anticipated movie "50 Shades of Grey." Melanie Griffith also has two other kids. She had her son Alexander with ex-husband Steven Bauer and she had her other daughter Stella with her current husband Anotnio Banderas.

Celeb parent: Diana Ross Age: 25 Evan Ross is the son of legendary singer Diana Ross. Today he is an actor and musician. In January this year, Evan got engaged to fellow singer Ashlee Simpson and announced it to the world via Twitter. In total, Diana Ross is a mother of five: Evan, Rhonda, Tracee, Chudney, and Ross.

Celeb parents: Bruce Willis & Demi Moore Age: 25 Rumer Willis is the oldest daughter of Bruce Willis and Demi Moore, who were married for 13 years. She is currently an actress and is most noted for her role as Gia Mannetti on 90210. Rumer has two sisters: Tallulah and Scout. Besides these three girls, Bruce is also a father to Mabel Ray Willis, who he had with his current spouse Emma Heming. The couple are currently expecting their second child together.

Celeb parent: Eddie Murphy Age: 24 Bria is one of the kids from Eddie Murphy's marriage to Nicole Mitchell Murphy. Although Bria is known for her work in "Daddy Day Care," her aspirations lie in modeling.

Celeb parent: Eddie Murphy Age: 19 Shayne is one of Eddie Murphy's eight kids. Currently, she is trying to break into the modeling industry with her sister Bria. Excluding Shayne and Bria, Eddie Murphy is also a father to Angel, Zola, Bella, Miles, Christian, and Eric.

Celeb parents: Kate Beckinsale & Michael Sheen Age: 15 Though only a teen, Lily Mo Sheen is growing up to be as beautiful as her mother. Kate Beckinsale met Michael Sheen on the set of "The Seagull" in 1995. Though they never married, they were together for 7 years before their split in 2003. Beckinsale then remarried her "Underworld" director Len Wiseman.

Celeb parents: Kim Basinger & Alec Baldwin Age: 18 Ireland Baldwin is a fashion model with some very famous parents. Despite this, she is known for her height. Ireland stands at an astonishing 6"2. Besides modeling, Ireland has also made a brief appearance in the film "Grudge Match" directed by Peter Segal.

Celeb parent: Arnold Schwarzenegger Age: 20 Although Arnold Schwarzenegger is a father of five, his son Patrick is a standout. Patrick is a young model and an aspiring actor. His most well known role was when he played a frat boy alongside Taylor Lautner in the film "Grown Ups 2." He was also known to have had a brief relationship with country singer Taylor Swift. Patrick's siblings include Katherine, Christopher, and Christina. His father also has a lovechild named Joseph.

Celeb parents: Kevin Bacon & Kyra Sedgwick Age: 21 Sosie Bacon takes after her father and is a budding young actress. For her first movie role, she played 10-year-old Emily in the film "Loverboy." It was directed by her father. Since then, she has appeared on the TV series The Closer and is currently filming a movie.

Celeb parent: Kevin Costner Age: 27 Lily Costner (right) is the second oldest of the Costner children. She was born to actor Kevin Costner and his first wife Cindy Silva. Lily is known for her role in "The Baby-Sitters Club" back in 1995. Kevin Costner and Cindy Silva are also parents to Annie and Joe. The 59-year-old actor is also a father to Grace, Liam, Hayes, and Cayden who he had in various relationships.

Celeb parents: Lenny Kravitz & Lisa Bonet Age: 25 It's hard to believe that Lenny Kravitz is turning 50 this year, but what's even more shocking is that he has a 25 year old daughter! Zoe Kravitz is Lenny's only child and she is a singer, actress, and model. While Zoe might have flown under everyone's radar, she has actually been part of some very successful films including "The Brave One" and "X-Men: First Class."

Celeb parent: Stephen Baldwin Age: 21 Alaia is Stephen Baldwin's first daughter. His second daughter, Hailey, is 18 years old.

Celeb parent: Andie MacDowell Age: 25 Rainey Qualley is an actress best known for the films "Mighty Fine" and "Pink & Baby Blue." She is also the daughter of actress Andie MacDowell. Rainey has two siblings: Sarah and Justin.