Canadians' Weird Online Shopping Searches Are On Full Display In This Map
Online shopping has made it easier than ever to keep weird purchasing habits private. But research from real estate company Estately gives us a glimpse into Canadians' wacky shopping searches.
The site looked at Google Trends to measure Canadian Internet searches with Google Shopping, and compared the results to find out what items each province or territory searched for more frequently than other regions. We're not sure how exact the methodology was, but the results are definitely worth a laugh.
Some of the findings are pretty reasonable — B.C., Canada's most earthquake-prone province, had the most searches for earthquake kits. But it also topped the chart when looking for shark costumes, leg warmers, vape juice and wine fridges (who wouldn't want to go to that party?)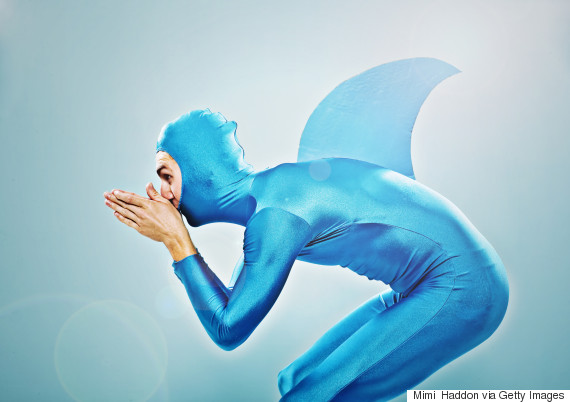 What are you doing, B.C.? (Photo: Getty)
Newfoundlanders searched for cargo pants, cowboy hats and handguns, but they couldn't out-cowboy Albertans, who had the most searches for bolo ties, butter churns and moonshine stills.
But the wackiest search history might go to Canada's smallest province, P.E.I.
Islanders searched for: glitter, confederate flags, Magic: The Gathering cards, thongs, the Bible, fishing poles, Beanie Babies, bagpipes and snowblowers, just to name a few.
As Estately put it, "the results are either quite fascinating or mildly disturbing."
The company previously blogged about how likely each Canadian province is likely to survive a zombie apocalypse. Ontario fared poorly, which might be why so many Ontarians searched for a zombie survival kit online.
Take a look at a few of the top searches in Estately's map and the slideshow below: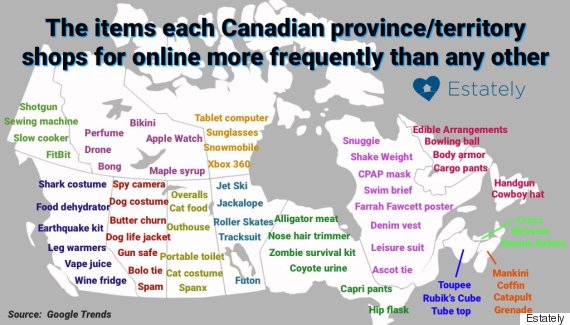 Canada's Weird Online Shopping Habits, By Province
Real estate blog Estately used Google Trends to measure Canadian internet searches over the past five years. They were able to determine which items people in each province and territory searched for online with more frequency than all others. Here are their (often bizarre) findings:

Albertans search for: Dog costumes

Aloha shirts

Horse meat

Butter churns

Florida real estate

Spam

British Columbians search for: Pet rocks

Shark costumes

Boot-cut jeans

Pogo sticks

The Flowbee

Manitobans want to get their hands on: ShamWows

Jackalopes

Ferrets

Shuriken (a.k.a. throwing stars)

Milk frothers

Folks in New Brunswick spend time looking for: Tutus

The Quran

Slingshots

Magic 8-balls

Toe shoes — specifically Vibram Five Finger shoes.

In the Northwest Territories people are after: Maple syrup

Bikinis

Bongs

And in Nunavut they're searching for: Sunglasses

Snowmobiles

Nova Scotians need to get their hands on: Mankinis

Coffins

Gas masks

Chia pets

Unicycles

In Ontario, there's a lot of interest in: Zombie survival kits

Velour tracksuits

Garden gnomes

Plaid pants

Alligator meat

Snow cone machines

People on P.E.I. search for: Glitter

Crocs

Thongs

Bagpipes

Beanie Babies

In Quebec, people search for: Connect Four

Farrah Fawcett posters

Snuggies

Ascot ties

Catheters

Spearguns

Only in Saskatchewan are people most interested in: Dentures

Roombas

Outhouses

George Foreman grills

Metal detectors

In the Yukon people are after: Sewing machines

Shotguns

Electronic cigarettes
Follow The Huffington Post Canada on Facebook, Twitter, and Instagram.