Oops: Canada's New Mortgage Rules May Have Hit Wrong Parts Of Country
The federal Liberals' tougher new mortgage rules, meant to cool down Canada's more overheated housing markets and ensure borrowers can afford their mortgages, seem to have had little impact in the housing market so far.
And to the extent that they did impact the markets, they seem to have impacted the wrong ones.
"The resale market evidence does not point to an impact from the mortgage insurance changes," wrote economist Will Dunning in a new report.
"But, looking into the details, we can see that sales have fallen in many areas that already had the weakest economies and weakest housing markets."
Dunning is the chief economist for Mortgage Professionals Canada, but released this report through his independent consultancy.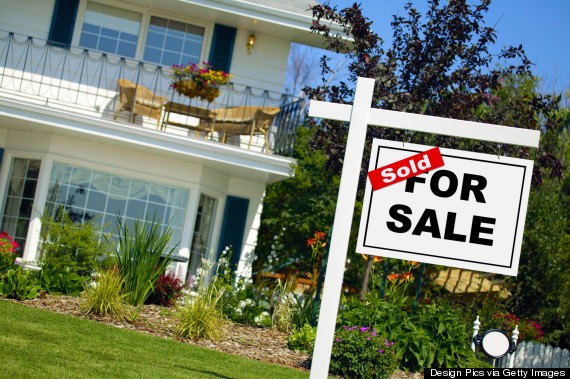 The new mortgage rules introduced last October were meant to stabilize Toronto and Vancouver's housing markets while ensuring mortgage payers can handle higher interest rates.
The rules include a "stress test" that requires borrowers of insured mortgages to qualify at the Bank of Canada's posted rate. That rate is almost two percentage points higher than the fixed-rate mortgages being offered by the banks today.
Most market experts predicted a softening in the market as a result of the rule changes. But Dunning's analysis of home resales found they actually jumped 9.1 per cent in Ontario in the four most recent months, compared to the 12 months before the new rules.
Meanwhile, Newfoundland, Nova Scotia, P.E.I. and Saskatchewan all saw home sales fall in the four months following the new rules.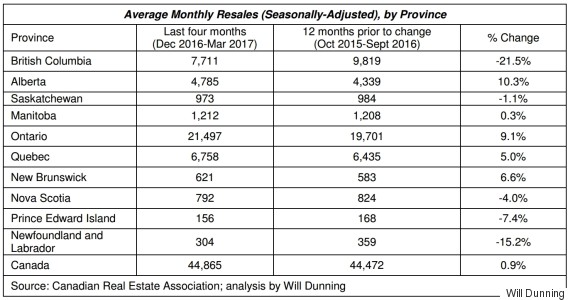 It's not just the new rules. "In the weak-performing regions, there are negative factors, including prolonged weak job markets (which) added to the policy change," Dunning wrote in an email to HuffPost.
British Columbia saw the largest decline in sales, down 21.5 per cent, but Greater Vancouver's housing market was already in the midst of a slowdown when the rules were announced.
Coming Soon: The Home Stretch

Get the news and analysis you need on Canada's housing market with our weekly newsletter (launching soon). Sign up below and don't miss the first issue.
Many in the mortgage industry warned at the time the new rules would harm home affordability, and could damage weaker housing markets more than the strong ones.
Mortgage site Ratehub estimated that first-time homebuyers will need at least 20 per cent more income to afford the same house as before the rules.
But Dunning says the effects of the rule changes are being "masked" in stronger markets.
There is "some panic-buying in Toronto and environs," Dunning said, while in Alberta sales are rising thanks to "improving confidence in oil-producing regions."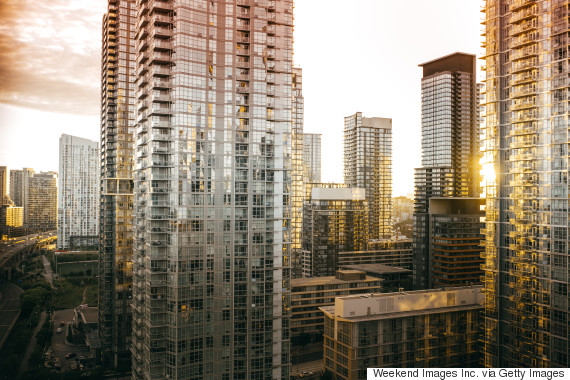 Economist Will Dunning sees evidence of "some panic-buying" in Toronto's housing market. (Photo: Weekend Images via Getty Images)
Home affordability in Toronto is at its worst level in a quarter century, according to various affordability indices, but that hasn't stopped prices from rising at a rapid 24.5-per-cent clip in April, compared to a year earlier.
Like some other economists, Dunning suggested move-up buyers — those upgrading to a bigger home — are playing more of a role in the market, "which is offsetting reduced first-time buyer activity."
Finally, he suggested that expectations interest rates will go up may have prompted homebuyers to accelerate their purchases in the months following the new rules.
But with mortgage rates on the decline in the past few months, that may come to an end.
"It will be interesting to see if that contributes to slower sales in the next while," Dunning wrote.
However, other factors could also slow sales in the coming months. Chief among them are the Ontario government's new rules, which include a 15-per-cent foreign buyers' tax, an expansion of Ontario's rent controls, and the ability for municipalities to tax vacant homes.
Some market experts have suggested the Greater Toronto buyers and sellers could "take a breather" to see how the new rules will impact the market.