The Sun Is Setting On Whale And Dolphin Captivity In Canada
Over the last few years, we've been watching the sun set on the practice of keeping whales, dolphins and porpoises -- or cetaceans -- in captive displays.
In Canada, there are only two facilities that still undertake this cruel practice: Marineland -- a for-profit amusement park currently in court answering to 11 animal cruelty charges and no longer accredited within the industry -- and Vancouver Aquarium, whose landlord has voted 6-1 to ban the import and display of cetaceans on its land.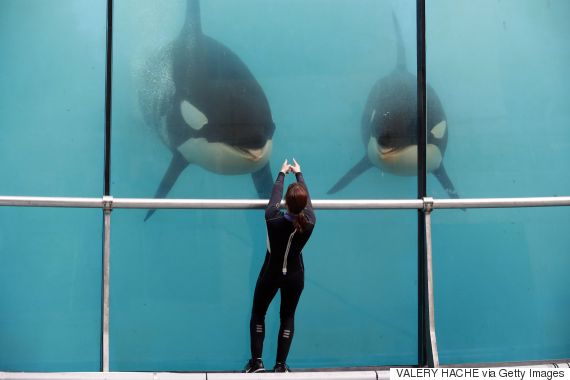 (Photo: Valery Hache/AFP/Getty Images)
This bylaw goes into effect immediately, preventing the Vancouver Aquarium from bringing any new cetaceans to its facility, foiling their plans to repatriate animals for a new captive display after a mother and daughter beluga died in their care last year.
John Nightingale, president and CEO of the Vancouver Aquarium, says that the Vancouver Park Board's decision is based on the opinion of "the vocal few" rather than listening to the scientific community.
But the scientific community is clear in its stance against cetacean captivity. During the second reading of Bill S-203 in November 2016, the world's leading marine mammal experts went on record to say the practice cannot be justified in the face of a growing body of scientific knowledge about their biological needs. I also recently weighed in on what science says about this issue.
The irony is that the Vancouver Aquarium had already decided to stop displaying cetaceans for public entertainment by 2029. If that's their intent, why resist this move by the Park Board to accomplish it sooner?
"Claims that research performed on captive animals is for their benefit are specious, at best."
-- Dr. Sidney J. Holt
When John Nightingale recently testified before the Senate Standing Committee on Fisheries and Oceans about Bill S-203 on May 4, he said adopting Bill S-203 would actually harm cetaceans because it would curtail the Vancouver Aquarium's supposed contributions to research and conservation.
But when Senator Éric Forest (Quebec) pressed Nightingale about where he could find the Aquarium's research -- so that Forest could share such critical scientific knowledge with marine mammal conservation groups -- Nightingale admitted that his organization hasn't published any research related to cetaceans in the last 10 years.
What he didn't tell the Senate Committee is that most of the (unpublished) research that aquaria do on captive cetaceans relates to husbandry practices (i.e. breeding and care of captive animals) and does little to benefit wild animals or their conservation.
The value of these "contributions" to research and conservation have been thoroughly debunked over the years. Dr. Sidney J. Holt, a renowned marine scientist with 50 years of research experience says: "Claims that research performed on captive animals is for their benefit are specious, at best."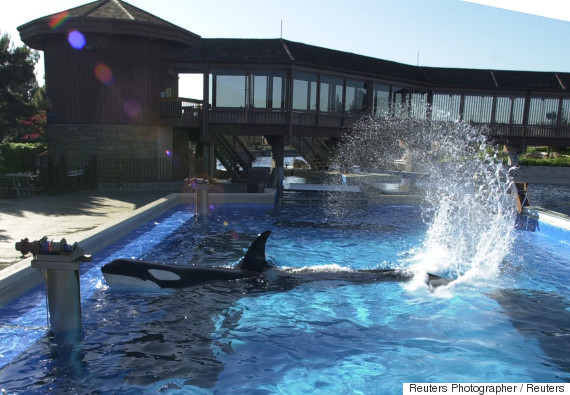 Vancouver Aquarium, splashes in a medical holding tank after being transferred to Sea World in San Diego, April 22, 2001. (Photo: Reuters)
Instead, let's work to support ethical and useful research on cetaceans: research that takes place in the wild. Unlike in captive displays, research in an animal's habitat affords us a realistic view of the natural behaviours of these animals without causing a lifetime of pain and suffering.
It says something that the head veterinarian at Vancouver Aquarium, Dr. Martin Haulena, admitted during his testimony to the Senate Standing Committee on Fisheries and Oceans he can't outright deny that captivity causes harm to cetaceans.
As Bill S-203 winds its way through the Senate, let's show this cruel industry that using cetaceans for entertainment and profit is an abhorrent practice that Canadians no longer support. If passed, this bill would ban the import, export, display and captive breeding of cetaceans -- protections that these animals desperately need.
Do your part by reaching out to all of Canada's Senators to let them know that you support Bill S-203 -- and that they should, too.
Click here to download contact info for the Senate of Canada.
Follow HuffPost Canada Blogs on Facebook
Also on HuffPost:
Whale and Dolphin Deaths at Vancouver Aquarium
After a Vancouver Aquarium contractor's attempt to kill a killer whale with a harpoon failed, Moby Doll as he was called, became the first orca to live, and die, in captivity. He lasted only 87 days in captivity, succumbing to skin disease and fungal disease of the lungs, but started an entire industry of captive orca entertainment. Photo: Vancouver Public Library, Accession Number 8693

Although it isn't discussed often, Vancouver Aquarium was the first to attempt, and fail, to keep narwhals in captivity. Whether it was captures gone wrong or conditions from transport or the captive environment, at least 7 narwhals died in the aquarium's attempts to keep these tusked creatures in their tanks. Photo: Kristin Laidre, NOAA

She was a whale that changed the world. Orca 'Skana' was only six years old when her entire pod was captured in Puget Sound, WA. She would pass away in 1980, at the tender age of 19. But in her short time at Vancouver Aquarium, she would inspire Dr. Paul Spong and Robert Hunter to save the whales, a series of campaigns that turned Greenpeace into one of the world's most influential conservation organizations. Photo: Rex Weyler/Greenpeace

Vancouver Aquarium's Icelandic female orca Bjossa lost her first captive born baby in 1988 after only 22 days. K'yosha, her second was born in 1991, but Bjossa was unable to produce enough milk for her calf. Despite tube-feeding, K'yosha died at only 3 months old due to a brain infection. Bjossa would lose a third calf, aged 3 days, in 1995. Bjossa herself, the last of Vancouver Aquarium's captive orcas, died in 2001 at only 25 years of age. Photo:www.orcahome.de user Vaentin666

Captured in the Pacific Ocean in 1971, Pacific whitesided dolphin Whitewings died in 2002 during a 'routine medical procedure' to remove debris from her stomach, such as stones, pine cones and seashells. It is not uncommon for captive whales and dolphins to become sick or die after ingesting debris that finds its way into their tanks. Photo: Rob Harrison

'Laverne,' another Pacific white-sided dolphin came to Vancouver Aquarium in 2005 from SeaWorld. She would survive less than 4 years in her Stanley Park tank, her death caused by 'intestinal torsion'. At about 31 years old, she was considered 'geriatric' by aquarium standards, although in the wild the species can live upwards of 46 years. Photo © Remedy-Kiua

Beluga Aurora's first calf born at Vancouver Aquarium, Tuvaq, died at only age 3. Her second, Nala, would last only a year, after two stones and a penny became lodged in her airway. Photo: Wikipedia

Just over a year after 1 year-old Nala died, three year-old beluga Tiqa died of pneumonia. Three of the four belugas bred in captivity at Vancouver Aquarium have died before age three, the eighth beluga to die there. The aquarium claims that industry-wide, captive bred belugas have a (dismal) survival rate of only 40-50% in their first year, yet captive breeding continues. Photo: flickr user scazon

The star of many Vancouver Aquarium shows, 'Spinnaker' died in March 2011. The middle-aged Pacific white-sided dolphin was only 26 when he suffered what aquarium staff believe was a stroke. Photo: wikipedia

Imported from a Japanese aquarium with ties to the brutal dolphin 'drive hunts', dolphin Hana was held by Vancouver Aquarium from 2005 until her death in 2015. She died two days after what was called 'groundbreaking surgery' for intestinal torsion (the same fate that took 'Laverne') at the age of only 21. She say both of her two captive-born babies die along the way. Photo: flickr user abdallahh

Beluga whale Qila died Nov. 16, according to CBC News. She was 21. She was the first beluga to be conceived and born in a Canadian aquarium. She gave birth herself in 2008, but her calf Tiqa died at age three of pneumonia, according to Metro News Vancouver. CORRECTION: A previous version of this slide stated that Qila was the first beluga whale born in a Canadian aquarium. This version has been corrected.
Follow Barbara Cartwright on Twitter: www.twitter.com/CFHS