#KimExposedTaylorParty: What Celebrating Taylor Swift's 'Downfall' Says About Us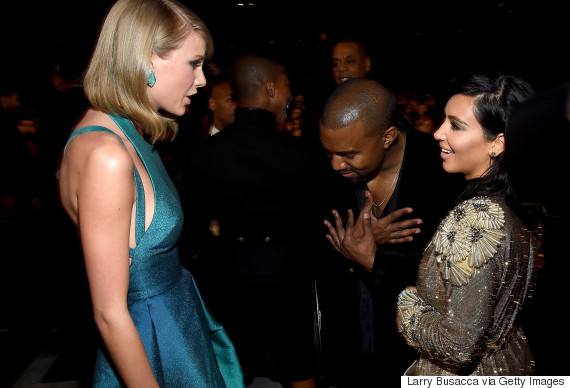 Taylor Swift, Kanye West and Kim Kardashian at the GRAMMY Awards on February 8, 2015. (Photo by Larry Busacca/Getty Images)
When I woke up this morning and checked Facebook, my whole newsfeed was devoted to #KimExposedTaylorParty.
To recap: Kanye West wrote lyrics in his song "Famous" calling Taylor Swift a "bitch" and that he would have sex with her. Kanye said that Taylor approved of the lyrics in a phone call. Taylor denied this, calling the lyrics misogynistic. Then, Kim Kardashian revealed in a recent GQ story that Swift was lying and she had video of the phone call, backing up Kanye's version of events.
Sunday night, Kim told Twitter to follow her on Snapchat, and shit hit the proverbial fan. Her snaps showed the phone conversation between Taylor and Kanye, seeming to prove what Kanye had been saying all along. And the reaction was gleefully (and scarily) vicious.
Now, I'm a huge fan of celebrity gossip, especially when celebs get into hissy fits with one another. (See: Taylor and Katy Perry, Mariah Carey and Nicki Minaj, Miley Cyrus and Nicki Minaj, Gwyneth Paltrow and Martha Stewart.)
But the vitriol that I'm seeing against Taylor Swift is misguided. Did anyone make a hashtag about taking down Chris Brown after he beat up Rihanna? (Or how he went on to make successful albums afterwards?) Where was the hashtag demanding Woody Allen stop earning Oscar nominations after his daughter penned a letter claiming he allegedly molested her? Where were the fans calling for Justin Bieber to grow up after he allegedly spit on a fan and egged someone's house?
Many people have been trying to "take down" Swift for a while, and those feelings of animosity have only increased since she started dating actor Tom Hiddleston a month ago.
What is it about Taylor Swift that people love to hate?
Headlines such as, "Why Taylor Swift's Parties Look Like Utter Hell," "Taylor Swift's Reign Comes Crashing Down: Has She Caught A Case Of The Anne Hathaways?", "Has Tom Hiddleston's 'Showmance' With Taylor Swift Ruined His Chances of Being Bond?" and "Taylor Swift-Tom Hiddleston Relationship is Fake, Actor Regrets Agreeing to PR Stunt" prove that there's an insatiable appetite for Taylor hating.
What is it about Taylor Swift that people love to hate?
There is definitely her narrow (a.k.a. white) view on feminism, which of course, is something she should be challenged on. But there are other problematic things people don't like about her: she's an unapologetically successful female, she's really happy with her success (and likes you to know that she's happy about it) and she doesn't show her "flaws" like other celebrities. (Sound like someone else you know?)
But there's just something about successful women that we love to tear down, especially when they're revealed to not be as perfect as they present themselves to be. So, Taylor lied about discussing a few lyrics. BURN HER TO THE GROUND. Chris Brown beat up Rihanna. BUY MILLIONS OF HIS ALBUMS. Woody Allen allegedly molested his young daughter. GIVE HIM ALL THE OSCARS.
The fact of the matter is, celebrities lie to protect themselves all the time. This isn't new. But when a successful woman lies? Oof. We better take her down a peg or two and try to ruin her career.
There's just something about successful women that we love to tear down, especially when they're revealed to not be as perfect as they present themselves to be
The headlines also reveal a lot about us. They reveal that we love to blame women; they reveal that we think women can "ruin men" and they reveal that we think men have no agency in their own relationships.
Since photos of Taylor and Tom Hiddleston kissing on a rock in Rhode Island were released, the public has had a grand ol' time spewing hateful commentary about their apparent "fake" relationship.
Yes, they want to be seen -- that Fourth of July Instagram photo and "I (heart) T.S." shirt make it obvious -- but it's Taylor who's been attacked for it. As if Hiddleston -- the so-called "Internet's Boyfriend" -- has no say in his relationship. (Erm, remember when he gave an interview to The Hollywood Reporter confirming their relationship?)
"Tom was prepared to go along with it because he believed that he and Taylor would be able to find something in common with each other," reported The Hollywood Gossip.
"There's the possibility that he's head over heels, so there's the question of why her, why this average (though wildly successful, beautiful and obviously smart) A-lister? What do they have in common?" wrote E! News.
Vox dissected this outrageous (and sexist) reaction thusly:
"Somehow, as many angry observers implied, Hiddleston, and his smooth-as-silk British accent, was supposed to be better than this ... and, by proxy, deserving of someone better than Swift."
Last week, Taylor's ex-boyfriend Calvin Harris went on a Twitter rant accusing Swift or making him look bad because she revealed that she wrote his hit song "This Is What You Came For." Instead of celebrating Swift for her hit making writing skills, Swift haters flooded her Instagram with a snake emoji and sided with Harris' childish temper tantrum.
The problem is the way we look at and talk about successful women.
Do I think Taylor Swift has her faults? Yes, she has plenty, which deserve to be called out on. Does she manipulate the media? Yes, as do plenty of other celebs, including the Kardashians, the Jolie-Pitts, the Afflecks etc. Did Kanye West make her famous? He certainly helped. (Although you can't deny Swift is an extremely talented songwriter, savvy businesswoman and image-maker.)
Taylor Swift And Kanye West: A Timeline Of Their Relationship
It all began in 2009, when Kanye West made headlines all over the world by he interrupting Taylor Swift's acceptance speech at the MTV VMAs. S he was collecting a prize for her 'You Belong With Me' music video, but 'Ye clearly thought Beyoncé's 'You Belong With Me' was a more worthy winner. The worst of it is, he famously told her 'Imma let you finish', and then didn't let her finish.

The backlash started almost immediately, with singer P!nk declaring he was the "biggest piece of shit on earth" and Katy Perry - who would later have her own beef with Taylor, and collaborate with Yeezy on the song 'E.T.' - tweeting simply "fuck Kanye". The most surprising Taylor supporter, though, was Barack Obama, who called Kanye a "jackass" during an off-the-record moment, which raised eyebrows.

The worst part of the Kanye backlash was when Lady Gaga chose to cancel their scheduled joint world jaunt, the 'Fame Kills' tour, allegedly due to "creative differences". Gaga later went on her highly successful 'The Fame Monster' world tour solo, while Kanye chose to take "a break".

In the ensuing months, Kanye's attitude towards the incident switched between apologetic and defiant, posting - and then deleting - a remorseful blog post on his website. However, he later suggested that Taylor had "ridden the wave" of publicity that he claimed to have created for her with his interruption, while not sticking up for him in any ensuing interview.

Far from sticking up for Kanye, a year after the incident she performed the song 'Innocent' at the VMAs, which alluded to the 'Dark Fantasy' rapper in a number of ways, a move that was praised by some critics, but branded "bitter" and "petty" by others.

In May 2011, Kanye and Taylor came face to face for the first time at a fashion show, where it was reported that they shared a casual high-five, seemingly putting the past behind them.

Indeed, by 2015, Taylor was on top of the world, following the release of her first purely pop album, '1989', and happily posed for a photo with Kanye at the Grammys (where, at the same ceremony, he jokingly took to the stage when Beck was awarded Album Of The Year over - you guessed it! - Beyoncé).

Speaking about their reconciliation that summer, she explained: "I feel like I wasn't ready to be friends with him until I felt like he had some sort of respect for me, and he wasn't ready to be friends with me until he had some sort of respect for me - so it was the same issue, and we both reached the same place at the same time."

On the sixth anniversary of Kanye's infamous stage invasion, Taylor took to the stage to introduce him at the 2015 VMAs, where she alluded to the incident before he collected his Michael Jackson Video Vanguard Award.

What we weren't expecting was for Kanye to then defend the incident, explaining: "I often think back to the first day I met you also. You know I think about when I'm in the grocery store with my daughter and I have a really great conversation about fresh juice… and at the end they say, 'Oh, you're not that bad after all!' And like I think about it sometimes. … It crosses my mind a little bit like when I go to a baseball game and 60,000 people boo me. Crosses my mind a little bit."

Still, Taylor was adamant things between them hadn't turned sour, sharing this snap of flowers that her "BFF" had sent her, along with the hashtag #KanTay2020, referencing Yeezy's vow to run for the next presidential election

And then… things took an unfortunate turn, when in 2016, Kanye unveiled his song, 'Famous'. Debuted at his 'Yeezy Season 3' fashion show, he's heard rapping: "I feel like me and Taylor might still have sex. Why? I made that bitch famous, I made that bitch famous."

Taylor initially kept schtum about his remarks, though her friends and family were quick to slam Kanye, including her brother, who uploaded a video of himself through his Yeezy trainers in the bin. Kanye, meanwhile, was adamant that he contacted Taylor about the lyrics, insisting she gave him the thumbs up.

However, a representative for the 'Shake It Off' singer was quick to dispel his claims, saying that she would never approve a "misogynist" rap such as Kanye's.

Taylor eventually discussed the controversy herself during her acceptance speech at the 2016 Grammys, telling her young fans not to let any man take credit for their accomplishments or, more crucially, their "fame".

Shortly afterwards, Page Six published leaked audio of Kanye backstage at 'Saturday Night Live', claiming that "fake ass" Taylor had left him feeling "bummed". The feud rolls on...
Yep, it sucks for Swift fans that she was caught in a boldfaced lie. But just because she lied, doesn't mean she deserves this amount of pure hatred.
The problem is the way we look at and talk about successful women. They can't have too many partners (Taylor has been slut-shamed many times for the amount of boyfriends she's had); they can't say how proud they are of their success; they're "control freaks" and "bitches."
All of these stories calling Taylor "controlling," "promiscuous" and "annoying" teach women that they shouldn't be proud of their success or be sexual. In fact, just don't enjoy yourself, period.
Taylor Swift must be torn down because she doesn't like the way Kanye West wrote about her in a song, because she's really cheerful and likes to humble-brag and because she's dating a really nice British dude. What a horrible person.
She's not the only woman to be unfairly criticized for not being likeable enough. There's a long line of women who have come before her who have taken a huge dollop of hate for being successful and "flawed."
Although it's a good day for gossip, it's a bad day for women.
And yet. Chris Brown still makes music. A-listers continue to sign on to star in Woody Allen movies. Terry Richardson is still hired by major fashion magazines.
Taylor Swift is one of the most successful women in music. She's the only woman to win the Grammy award for album of the year twice; she's the first artist to release three albums that sold one million or more copies in a single week and her album "1989" was so well-received that other artists made cover albums of it.
But no. Let's shit on her and ignore all her achievements because she got caught in a lie.
I'm not worried about Taylor. She will be fine. She will go on to have a successful career, sell millions of albums and date many gorgeous boyfriends. But I'm anxious about how young girls will see how we treat our successful women. And I'm worried that they'll be too afraid to take ownership of their future success. So, although it's a good day for gossip, it's a bad day for women.
ALSO ON HUFFPOST:
Follow HuffPost Canada Blogs on Facebook
Follow Chloe Tejada on Twitter: www.twitter.com/cylonchloe