Social Media Is This Generation's Guerrilla Marketing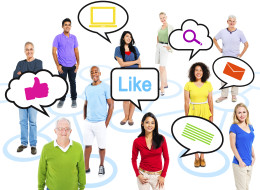 Recently, I had my first Huffington Post blog article posted. While the content focused on Man's love affair with fantasy sports, I also intentionally explained one the reasons why I had begun writing within social environments like the Huffington Post. It was in part, to help build my own online brand identity as an aspiring novelist.
However, what I found interesting in the days after the article was posted, is how many other people I know who are also utilizing social media as a platform, to help unearth their own online audience, outside their existing social network.
The first example is a fellow writer, Michael Croucher. Michael is using social media to build momentum for his upcoming book launch later this spring. On top of his blog, he has been tasked to create a Facebook page for his novel, and maintain an active Twitter and Instagram account.
Another instance is Simon Allard; a 30-something Torontonian who decided last year to leave his comfortable position at a corporate travel firm, in order to pursue his passion. Simon had embarked down a path that he hoped would lead him to a career he could be proud of, rather than just working a desk job that paid the bills. His dream was to become a fully licensed barber and, within the next couple of years, open his own full-service barber shop in downtown Toronto. Simon actively engages with social media not only to keep up with industry-related trends and to let his family, friends and followers know how he is faring, but to also pro-actively attract new clients.
So while Simon's end-goal may be quite different from both mine and Michael's, it stems from a similar motivation to build out his own robust online brand.
Here are four helpful tips anyone can employ, to take advantage of the power of social media for more than just selfies and vacation updates.
1) Contribute actively to like-minded communities. While maintaining your own blog is a great idea, you should also consider contributing to other, more-established, online communities within your industry or field of interest. The value lies in the fact that every piece of content you contribute -- which has your name attached -- may reach hundreds or even thousands of new people. All of whom can find their way back to your website or Facebook page. That community most likely also has a Twitter following. Don't be surprised if in exchange for your active participation with other community brands, that they scratch your back and tweet your message out to their followers.
2) Follow the followers, of people you follow. (A tongue twister, I know). Margaret Atwood, for instance has over 725,000 Twitter followers. That means she is bound to be followed by influential people from all corners of the literary field. And while you shouldn't expect everyone you add on Twitter will necessarily follow you back, don't be surprised if a few do. If you have something interesting to say, they may just take notice.
3) Don't be afraid to ask for help on Twitter. I have seen on countless occasions where normal, everyday people have successfully reached out to celebrities and people of influence, to have their message or cause re-tweeted. It never hurts to ask. But please, don't harass anyone.
4) Strive for more than just 'Facebook Likes'. Sure, it feels great if you convince 500 friends and family members to 'like' your Facebook page but, realistically, how many of these people will ever come back unless you give them a reason to? Engage your audience, instead of just asking for their help or support. Personally, I would be much prouder to receive 20 or 30 comments on on an article I posted, or even two or three comments from total strangers, than I would be if I generated a bunch of 'likes' for a Facebook initiative.
To demonstrate the power of social media, below is a graph that shows the spike in page visits, my own website received, from visitors who first engaged with my online brand via my Huffington Post blog posting. Not only did it get tweeted out to other Huffington Post twitter followers, but one of my friends also re-posted it on her Facebook News Feed. (And not because I asked her too, either.) It was simply something she wanted to do, so that she could share what I was doing with our mutual friends.
The end result was that I received over 150 page views within 24 hour -- all from an 800 word article that only took a few hours to write and submit.
To put this into context, since my website launched earlier this year, my average blog posting generates 10-20 visits; a little more if I re-post it to my own Facebook account. I believe this new success came about because my friend's unsolicited posting offered not only a different kind of credibility to my existing network, but also introduced my work to a whole new audience.
My advice is simply having a Facebook or Twitter account isn't enough. You have to offer your audiences something that will entice both new and existing fans to continue to follow and support you.
Social media is this generation's version Guerrilla Marketing. You get out of it, what you put into it.
ALSO ON HUFFPOST:
11 Women Who Made A Difference Using Social Media
An incident of a six-year-old raped at an Indian private school in Bengaluru last year shocked the country. In retaliation, Mavis Mendonca Smith who has lived in the city all her life, started Win Bangalore Back (on Facebook) with a few friends. The group aimed at bringing vital issues to the forefront, and ensure necessary action was being taken to keep the city and its residents safe particularly women. In just a few days, the group gained 20,000 members (it stands today at over 25,000 members). Smith along with other co-founders went on to organise a demonstration – Red Brigade – where 2000 people showed up to fight for women's rights against violence. The group has established a strong relationship with Bengaluru's police commissioner's office, and works as a platform where women can (and do) report harassment incidents.

An Iranian journalist, Masih Alinejad started the My Stealthy Freedom campaign in 2014, in an attempt to free Iranian women forcibly being made to wear a head covering, and instead leave the decision up to them. Alinejad, who grew up in Iran was coerced into wearing a hijab at the age of seven. She even revealed that a few years ago, she was almost attacked while reporting from the Parliament, because of a few spare strands of hair that escaped her cover. The New York-based journalist posted a photo of herself without her hijab, and asked other women to share their own "moments of stealthy freedom". Hundreds of photos of women with uncovered hair poured in from Iran and across the world, Alinejad created a Facebook page dedicated to these women who had risked their lives and reputations. The page currently boasts 777,759 likes. Alinejad is currently reporting on Iranian politics and is an avid supporter on women's rights and equality. This year, her efforts were inaugurated with The Women's Rights Award at the Geneva Summit for Human Rights and Democracy.

The first transgender woman to star in a major film in 2011, Tamilian actress, writer, filmmaker Kalki Subramaniam has established a strong transgender rights community with a global reach. In spite of being a common target for bullies in school, Subramaniam went on to earn two master's degrees, and encourages transgender students to stay in school through her organisation, Sahodari Foundation, that supports transgender education. She also employs Facebook to find employment opportunities for educated and qualified transgender people, and helps create workplaces where transgender employees feel safe and accepted.

In 2009 at the University of North Carolina, Chapel Hill, Annie Clark started a blind reporting box system for rape survivors after being assaulted. Three years later, Andrea Pino used the same system to report her own attack. The duo connected on Facebook, and realised that rape in universities were more common than perceived. After filing a federal complaint against the university, they used Facebook to provide support and resources to several other women in colleges, and eventually founded End Rape On Campus as an organised online forum that operates out of California.

After struggling to establish her own profession, Gioia Gottini realised how hard it was for women in Italy to start their own companies. In March 2013, the career coach reached out to self-made female entrepreneurs in Turin through Facebook. Gottini used the group to set up monthly meetings and daily online support for women. Last year, she was invited to speak about her efforts at a TedXWomen talk, after which she expanded the group to other Italian cities. Today this organisation is collectively known as Rete al Femminile: it features 30 groups across Italy that helped several women start their own ventures to achieve financial independence.

When a woman in Nairobi, Kenya was stripped in public for wearing a skirt on the grounds that she was indecently dressed, a group of women started a campaign called #MyDressMyChoice. Their work (a peaceful protest, and a petition) helped change the law to register stripping as an illegal sexual offence. Following this success, eight of the founders registered Her Voice, an organisation that dedicates its efforts to fighting gender-based violence and providing support to victims via Facebook. The NGO helps victims in taking legal action against assaulters as well as relocation. It also visits courtrooms to advocate for justice in cases of gender violence, and seeks to promote more positive attitudes toward women by bringing male role models to speak to boys in Nairobi schools.

Last year, after observing how Ebola-induced panic was leading to a bias against Africans in the US, Shoana Solomon started a movement to fight the discrimination. A student teased the Liberian-American entrepreneur's nine-year-old daughter on her first day of school (Solomon's family had recently relocated from Monrovia, Liberia to Delaware), saying she was carrying a disease. Solomon realised that this was only a small example of judgments that others were facing. After viewing a Facebook post that talked about doing something to disperse such opinions, Solomon along with three Liberian women started a campaign #IAmALiberianNotAVirus. What started simply as a photo with a signboard quickly became one of the top 15 campaigns in 2014. Eventually a Facebook page was formed to share the campaign's impact that not only helped disperse some of the stereotypes, but also brought a community together during a hard time.

For those women looking to enter the largely male-dominated profession of astronauts, Samantha Cristoforetti's Facebook page is well worth a visit: this Italian flight engineer – the first Italian woman in space, she orbits around the Earth every 92 minutes! And she shares her experiences on Facebook to motivate more women to join the field. In 2009, Cristoforetti was one of the six people chosen out of 8,000 applicants to join the European Space Agency as an astronaut, after which she spent five rigorous years training across the world to finally launch from the Baikonur Cosmodrome in Kazakhstan. Cristoforetti, who is aboard the International Space Station till May, this year aims to make her experience more relatable to women across the world by telling them how 'normal' it can be. She is conducting science and technology research in weightlessness as part of her mission, which she calls 'Futura' to honour the pursuit of building a future in space for human beings.

An associate professor at Osaka International University for international law on women's rights and gender law, Mayumi Taniguchi is also the founder of All Japan Obachan Party, a group advocating for more women in Japanese government and other gender equality causes. Two years ago, Taniguchi wrote a Facebook post about 'old men' dominating Japanese politics, and received an incredible response. Frustrated by the lack of women in major political positions in the country, and spurred by the likes, she created a Facebook group for her unofficial political party, the All Japan Obachan Party. The word 'obachan' is used to refer to middle-aged or elderly women in a derogatory way, and Taniguchi decided to spin a twist to it to empower women's voices in Japanese politics. Though her campaign was not taken seriously at the start, today it has developed into a full-fledged initiative for women to share their political opinions (something Japanese women are not generally encouraged to do) with close to 5,000 members. Local meetings are held to check women's representation across districts and candidates are questioned on key women's issues. Taniguchi will also participate in the Commission on the Status of Women at the United Nations in New York, and plans to organise an international conference to be held next year with other members from her group.

Over 200,000 people subscribe to Carol Rossetti's Facebook page to view her illustrations (in Portuguese, Spanish and English) of issues faced by women across the globe. Rossetti who would post one drawing on Facebook every day to attract work was appalled, last year, by plus-size women being shamed for their bodies in Brazil. The 26-year-old from Belo Horizonte then created a character called Marina to spread the message of "wearing what you feel like to feel comfortable in your own body." After putting up several gender-focused sketches, her project 'Women' was born. Rossetti's work showcases real-life stories of women, and continues to be inspired by people visiting her page to view a drawing they can relate to. This year, the illustrator shall be publishing a book of her works, also titled 'Women'.

Earlier this year, Sukki Singapora became the first woman to legally perform burlesque in Singapore following the success of her Facebook page, The Singapore Burlesque Society. Singapora who hails from East Singapore started out with ballet as a child, but fell in love with burlesque only to be dismayed that this form of dance was banned in her home country. She shifted to London to pursue her passion, and eventually landed a job at a local comedy club where she gave herself the name 'Singapura'. After receiving questions from women, particularly ones based out of Singapore, on burlesque, she created a closed group on FB. The group allowed women to openly discuss burlesque, how it made them feel and gave them more confidence to express themselves and control their own bodies better. Eventually, Sukki used Facebook to reach out to politicians of Singapore – This year in February; the ban was successfully lifted after four years of Sukki's efforts. The burlesque dancer is also an ambassador for the Sharan Project, and supports South Asian women through domestic issues. Her own page has approximately 24,000 likes.
Follow Jason Meller on Twitter: www.twitter.com/jasonmeller