My Canada Is Defined By Homemade Pasta, Not Tim Horton's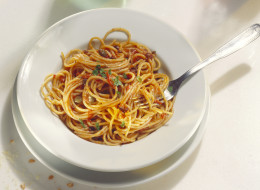 I am Canadian. No wait, I'm Italian. On second thought I was born in Toronto, so I'm most certainly Canadian. No, no, no .. I was born to Italian immigrant parents and I only spoke Italian until the age of four. So, I must be Italian. Let's call it a draw, I'm Canadian-Italian or Italian-Canadian? Is this a personal crisis?

Like many first generation Canadians, being born in this country, but raised by parents who are landed immigrants is complex and completely identity distorting. You grow up in a home ecosystem immersed in your parents country of origin. For me, my upbringing was firmly structured in Italian culture. I got the entire gamut of Italian essence. My mother was born in Southern Italy but raised in Rome. My father hailed from the Italian Alpine region, best known for its skiing and polenta. In fact, his home town was so far north that only a few kilometres away, the closest town spoke German. So you could say I got the best of both ends of the boot!
Italian style and traditions permeated through our house: we spoke only Italian in the home, mom insisted in making any sauce from scratch, no soft white lunch bread allowed (I envied those Wonder Bread kids at school) and she ensured our furniture was properly protected with durable non aerated plastic. And I'm pretty sure we never recycled!
We only attended mass if the priest conducted it in Italian (Latin was acceptable), we had a vegetable garden that grew radicchio and arugula (I thought iceberg lettuce was a delicacy imported from Alaska) and ceramic tile was laid everywhere, except the driveway. We had a second kitchen in the basement, a clothesline outside and watched Italian soccer every Sunday no matter what team was playing. At the local theatre, we only went to Italian language movies, we never drank drip coffee, and my parents' explicit Italian rules and Catholic values was the basis of our upbringing.
Even our family games were Italian inspired: Bingo was Tomboloa, bowling was bocce and there was no playing "Go Fish" -- we played games called Scopa and Briscola with funny little playing cards!

It gets better. My parents had the real Italian "weapons of mass destruction" which consisted of a wooden spoon, leather belt, and the notorious heat seeking leather slipper that when hurled at you, was just as effective as "Oddjob's" iconic decapitating hat in the James Bond flick, Goldfinger. These primitive weapons were only used in moderation to assert parental guidance and to discipline unruly children. And frankly, it worked. I respect authority and to this very day, I always make my bed.

Rooms were adorned with a crucifix, Mother Mary hovering over my head on the bedroom wall, and at least a few Pope and Saint pictures strewn on top of our clunker Zenith TV. My dad made his own wine, sausages, aged mouthwatering rounds of cheese and when my uncle got the illegal still, well, we produced the best grappa outside of Veneto. Even the local cops dropped by for a bottle at Christmas time. Every night we ate dinner at the table at exactly 6 p.m. with no T.V. on. We spoke passionately and loudly. We always kissed and hugged each other good night.

I grew up in Canada raised by parents who were staunchly Italian. They raised me and my brother in the only manner they knew. Being a Canadian to them was foreign and just slowly being explored. They were not immersed in a Canadian centric way of life, instead they found comfort and acceptance in a predominately Italian neighbourhood and working alongside other Italian immigrants. It worked for all of us. Canada is a mosaic after all!

So for the longest time if anyone asked me where I was from I responded, "I was born in Canada," but quickly added, "I'm actually Italian." I always clarified my roots, as if to add a footnote in a book or a clause to a contract. I needed to assert my rightful identity. Being raised by immigrant parents was like being swaddled in a foreign country's culture without ever visiting it.

My parents raised me with an Italian paintbrush against a stark blank Canadian canvas which we discovered together slowly and willingly as a family, and on my own life's journey through school, work, marriage and raising a family.
I've lived in Canada all my life and I don't have an identity crisis anymore. My parents may have raised me in the cultural sensitivities of their homeland, but they were the ones who educated me as to what Canada truly stands for.
My Canada is not defined by a national donut chain restaurant, a petulant adolescent tatted up entertainer, a tech company or an absurd politician. My Canada represents freedom, tolerance and beauty which is what brought my parents here more than 50 years ago and why they became Canadian citizens.
Where am I from? I can answer that easily. I'm from Canada. I'm Canadian, first and foremost. And proud of it.
As for my Italian heritage...I wouldn't be who I am without that.
Happy Canada Day long weekend!
MORE ON HUFFPOST:
Guest Code: Italian Weddings
Italian weddings can have 250 to 350 guests, and sometimes up to 1,000. Because Italian weddings are heavily focused around family, the bride and groom are expected to invite all of their siblings, cousins, great aunts, and great uncles — and their children. "Parents often have a say in the guest list as they most often foot a large portion of the bill," says Lynzie Kent, a Toronto-based wedding and event planner of Love by Lynzie.

If their ceremony is Catholic, it can last anywhere from 60 to 75 minutes, Kent says. Italian ceremonies usually take place in the mornings (around 10 a.m.) to leave a huge gap of time before the reception. If you're planning to go to both events, make sure you're available for the whole day.

Traditional couples with a large guest count will have their wedding ceremony take place at their families' church. Receptions are usually hosted at banquet halls, but Kent says she is seeingmore couples try outdoor or urban venues as well.

Term to know: Boosta Almost all couples expect a cash gift at their wedding. Each wedding will have a boosta box, a box where guests can leave their gifts. "At many Italian weddings, the parents and bridal party form a receiving line as guests enter. At the end of the line, you'll greet the couple and leave your envelope in the Boosta Box next to them. This is their opportunity to thank you for your gift," Kent says. In terms of how much to give, this can be anywhere from $100 to $250 per person or $250 to $400 per couple to be safe.

If you're attending an Italian wedding, expect a lot of food. And we mean a lot. Italian weddings usually serve antipasto, seafood, espresso, pasta and a meat course during the reception. Traditional Italian sweets are also served, along with pastries, candy, and wedding cake.

Most weddings tend to be black-tie affairs. As a guest, it is considered rude to wear white and slightly taboo to wear all black, Kent says. However, Kent says the latter is changing and more female guests are coming to weddings dressed in all black.

Here's a cool tradition: On the night before the wedding, the groom must deliver flowers to his fiancée's house. These flowers can be used as the bride's bouquet, and represent the last gift she receives as a "single" person. "Last fall, one of my grooms surprised his bride by singing a traditional Italian song to her with guitar, and then giving her the flowers," Kent says.

Term to know: Bombonieres Bombonieres, or favours, are always given at Italian weddings. Traditionally, these bags are filled with at lease five (a lucky number) pieces of confetti (white candy-coated almonds). These days, couples give out wrapped cookies, Christmas tree ornaments, or give a donation to charity.

If the wedding you go to just happens to be on a rainy day, start dancing ... and bring your umbrella. Italians consider rain on your wedding day to be a sign of good luck, and a happy marriage in the long run.

Traditionally, Italian receptions go out with a bang. Kent says in ancient Roman law, it's said there needed to be at least 10 witnesses at a wedding. For this reason, many Italian brides and grooms have several bridesmaids and groomsmen. "The witnesses would all dress very similar to the bride and groom to ward off and confuse evil spirits who could curse the happiness of the bride and groom," she adds.

NEXT: 12 things you should know about Hindu weddings

Terms to know: pooja/puja Sometimes, families send out two separate invitations (one for the groom's side of the family and one for the bride's side). The invitation is basically the road map for the wedding. Since Hindu weddings can take up three to five days of events, the invitation has times and locations of every event you're invited to. A lot of the time, guests may only be invited to a few events — things like the puja (prayer) and henna party are usually for close family and friends.

Term to know: Mandir/mandhir, mandap Typically, Hindu weddings are held at banquet halls or Hindu temples (mandirs). At both venues, seats are usually set up facing the main stage with the mandap — a gazebo made with four pillars decorated with flowers and colourful drapes. At some temples, however, guests may be expected to sit on the floor. At all temples, shoes are not allowed to be worn during the ceremony.

If you see a few seats in the front that are empty, don't approach them. The first few rows of the ceremony are usually saved for immediate family members and the bridal party. Often, you won't see a "reserved" sign. Other times, friends and family of the bride sit on one side, while the groom's family and friends sit on the opposite end.

Most guests attend weddings in traditional Indian sarees and suits. If you're wearing a dress, choose something conservative. In terms of colours, avoid black, white and red. The first two colours have negative meanings in Hindu culture (death), and red is often worn by the bride.

Most couples expect monetary gifts. When you get to the venue, you'll see a family member with a money box. If you don't, you can give your card and money (always add an extra dollar for good luck, so $101, $201, etc.), directly to the bride and groom during picture time.

Terms to know: Saptapadi Once the prayers and rituals begin, it is best to refrain from talking loudly or eating in your seat. The ceremony itself has several parts that differ depending on the country you're from, but most commonly, couples take seven steps around the holy fire, called the saptapadi. Each step represents a promise and vow.

Terms to know: Agni, pandit ji Speaking of the holy fire, this is called an agni. Not only does the couple walk around it, but it is also used for several other religious rituals. During the wedding, the priest (the pandit ji) ensures the flame doesn't go out.

Terms to know: Red sindoor, mangal sutra Besides exchanging wedding rings (which is actually a Western tradition), the bride usually gets a line of red powder on the part of her hair and a black and gold bridal necklace called the mangal sutra. These two gifts from the groom basically symbolize a woman's commitment to her partner.

You will see a lot of gold jewelry, red clothing pieces and dark maroon henna. Brides usually decorate their arms and legs the night before the wedding, and often each woman's hand or leg tells a love story. During the ceremony, you will also smell and see many incense sticks.

Once the ceremony is over, families will go up and give their blessings to the newlyweds and take pictures. This can take a long time — sometimes guests lists can include 1,000 people. If you come with a group of friends or with your family, make sure you all go up at the same time.

Term to know: Thali At some Hindu weddings (especially at the temple), expect to have lunch or dinner in a steel plate called a thali. Food at Hindu weddings is almost always vegetarian and includes a variety of salads, curries, rice and roti. Alcohol is also not permitted. Pro tip: Taste before you take, food tends to be spicy.

Hindu weddings are followed by huge buffet feast and dance party at the reception. This is when the bride and groom finally get to wind down after a week of rituals and events. Let loose, get some booze and dance the night away with the newlyweds!

NEXT: Guest Code: 8 Etiquette Tips For Chinese Weddings

Traditional Chinese weddings are held at Chinese restaurants or banquet halls, decorated in red and gold for good luck. For dinner, Chinese banquet meals have about 10 or 12 courses. As a guest, make sure you come hungry. Meals are typically eaten within the course of three hours, interspersed with activities and games for the bride, groom and guests.

Don't be shy to talk to other people or servers at your table. If you're sitting with the bride and groom's family members or friends, ask about the significance of dishes being eaten. Each dish during the 10 to 12-part course represents something important for the couple. For example, the word for "fish" is a homonym for riches or abundance, and is usually served whole with the head and tail, symbolizing a good start and finish to the year. Long noodles are symbolic of longevity, so they usually appear near the end of the meal. Lobster, shark fin soup (or a replica), chicken and a lot of seafood, for example, are common dishes found in traditional Chinese wedding dinners.

During dinner, the bride and groom will come up to each table to toast guests as a sign of respect for coming to their celebration. When they approach your table, make sure you stand up with your glass and give them one unified table toast in celebration. Cheers!

Besides a variety of seafood and chicken dishes, a full roast suckling pig — feet, head and all — is a common sight and dish during cocktail hour. If you're a vegetarian or vegan, be polite and don't stare. You can easily offend family members by looking grossed out. And if you're a meat eater who has never eaten it, just try it — suckling pig is delicious.

It is common and customary to lift your bowl and use chopsticks to push rice or noodles into your mouth at the dinner table. If you're not comfortable using chopsticks, ask your server for a fork and spoon.

Don't wear red or white at a Chinese wedding — you don't want to steal the bride's thunder or bring bad luck. Brides often change into red dresses in the evening portion of the wedding, while white symbolizes death and mourning.

If you stuff your face with a delicious meal and still want some to go, it's not considered rude to ask for containers for leftovers. In fact, asking for leftovers is considered a sign of appreciation during a Chinese wedding.

While some weddings require boxed gifts for the couple, cash gifts are customary in Chinese weddings. Simply place the cash or cheque into a nice card or red envelope (a hong bao) and leave it in a guest box upon your arrival. The amount you give is entirely up to you, however it is best to avoid the number four, which is associated with death. Alternatively, anything with the number eight is auspicious because it symbolizes fortune.

NEXT: Guest Code: 11 Things You Need To Know Before You Go To A Sikh Wedding

Term to know: The Baraat The Baraat is the groom's procession: A portion of singing and dancing that happens right before the wedding ceremony. At this time, the groom — often decked out in gold and sometimes in a luxury car or on a horse — is followed by his closest friends and family.

Term to know: The Milni The milni is the official meeting of both families. Key male family members from both sides exchange garlands and greet each other, symbolizing the acceptance of two families into one.

Term to know: Gurdwara Before you enter the main hall of the Gurdwara (a Sikh place of worship), take off your shoes.

When you're at the wedding ceremony, cover your head with a head scarf if you're a woman, or a bandana if you're a man. The Gurdwara or the couples' family will provide you with head coverings.. Also, if you're not wearing an Indian suit or saree, dress conservatively — avoid low-cut tops or short skirts and dresses.

Term to know: Guru Granth Sahib You may see some of the guests walk up to the front of the hall and bow their heads in front of the Guru Granth Sahib, a religious text of holy scriptures. For non-Sikh guests, this is not mandatory.

Men and women are often seated on opposite sides of the hall. Close family members or the bridal party make up the first few rows.

At a Sikh wedding ceremony, guests are expected to sit on the floor. You can sit comfortably with your legs crossed but do not point your feet in the direction of the holy scriptures book located in the front.

A Sikh wedding ceremony usually last 45 minutes and wraps up before noon. During this time, guests should not be chit-chatting or talking in the hall.

Term to know: kara parshad At the end of the ceremony, a sweet pudding called kara parshad is passed around to all of the guests. This dessert is made with whole wheat flour, butter and sugar. You can learn how to make your own here.

After the ceremony is complete and the bride and the groom are officially married, guests are invited to congratulate the couple and take pictures.

Term to know: Bhangra Sikh weddings are all about close-knit communities and having fun. Everyone eats, drinks and dances to bhangra (a genre of Punjabi music) together. Sikh weddings are also very large and average around 600 to 1,000 guests.
Follow Julie Rusciolelli on Twitter: www.twitter.com/MAVERICK_POV