How Eating Treats Can Help You Manage Your Weight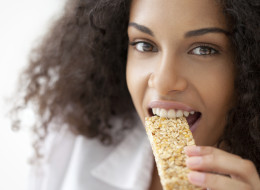 "This is the last time I'm going to eat a treat. Tomorrow, I'm back on the diet wagon!"
Does this sound familiar?
Bouncing between overeating and dieting (which usually means undereating) is very common and ultimately frustrating. The way to nip it in the bud? Cut out the undereating and restrictive eating.
Yo-yoing between "perfect" eating and going overboard with forbidden foods is so common in fact, that studies have proven their relationship.
There is something called the cognitive behavioural theory of eating disorders. To summarize, this theory suggests that binge eating is due to attempts to restrict eating. It is important to note that this attempt at restricting eating may or may not be accompanied by actual undereating. You can see where dieting fits into the "schema" of eating disorders using this graphic: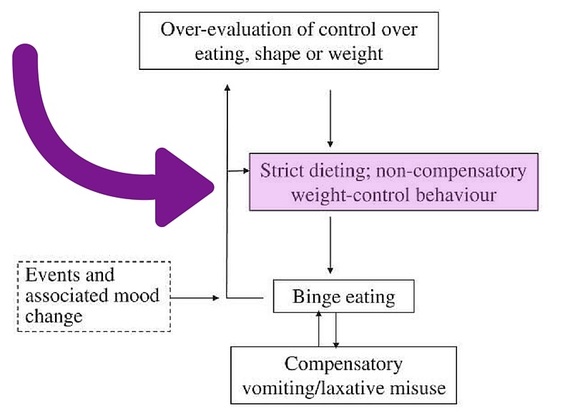 There are many other studies that have also found a connection between dieting and overeating.
One study states that trying to control what you eat (in other words, dieting or trying to restrict what you eat as a way to regulate your weight) increases your vulnerability to uncontrolled eating when you are not able to follow all the restrictions you set for yourself.
Another study suggests that having rigid food rules and dieting are associated with elevated eating pathology (this can mean binge eating or other disordered eating). It also states that rigid food rules do not contribute substantially to decreased weight. It found that restrained eating was associated with increased concern for eating and weight as well as body image disturbances.
One way to avoid eating too restrictively is to plan to eat a treat once in a while. This plans gives you something to look forward to -- which can motivate you to eat better on a regular basis AND help you avoid feeling deprived.
One important key to this planned treat is to think of it as a TREAT NOT A CHEAT.
Eating your treat with attention and with intention helps your mind and body get satisfaction from the experience. Eating this treat while standing at the kitchen counter or while watching TV does not allow the brain to fully experience the taste and pleasure.
Most people plan to eat healthy -- to eat more veggies, less meat, eat more homemade food, etc. Having a plan helps us stay on track with our goals for eating well. One thing we often forget to do is plan to eat treats. Most people try to avoid them as much as possible however doing this can backfire. This is because everyone eventually eats something delish so never allowing yourself enjoy a treat can lead to thinking you've ruined everything (The "what the heck!" effect) .
So, next time you find yourself overeating your favourite food, you may want to consider planning to eat a small portion of it more often!
MORE ON HUFFPOST:
10 Healthy Snacks For The Office
A teaspoon of butter spread over a cracker or crispbread is a great to nip stodge and salt cravings in the bud - perfect for hangover days and when you're feeling stressed or tired.

Packed with chickpeas, hummus is great for a healthy protein fix. Unlike sugar and refined carbs, protein will also keep you full for longer. A good afternoon snack if you're heading to the gym after work and need something to keep you going until evening. As it is pretty moreish, don't bring a whole tub into work - decant some into a small plastic container and serve it with crudites, olives or a couple of mini pitta breads.

There are times when only something crunchy will do. Seeds are a healthier alternative than crisps and lower in calories than nuts. But let's face it, on their own they can be pretty boring. Give them a Bombay Mix-style makeover by spreading them on a baking sheet, sprinkling with a selection of your favourite spices and a drizzle of rapeseed oil and toasting them in the oven.

Cut them into chunks, wedges or thin crisps, drizzle with oil and plenty of salt and cracked black pepper and roast in the oven. They'll not only fill the gap when you've got a hunger pang, they'll take the edge over your sweet craving, too - especially if you allow them to caramelise in the oven.

When you've got a hankering for biscuits, it's time to call in the oat cakes. They're pretty tasty on their own but they're not exactly Chocolate Hobnobs. For a sweet hit, smear with cream cheese and top with fruit.

Olives are the perfect solution when you're feeling bored or stressed and you just want something to pick at. They also pack a salty punch so make a good alternative to crisps.

Yet again protein-packed chickpeas come to the rescue. But check the pack before you buy and make sure they're baked, not fried. Even better, make your own.

The bean of choice for supermodels and Victoria Beckham. Surely that's all you need to know.

Staff kitchen got a microwave? You could do worse than keep a stash of pine kernels in your desk drawer. A cupful of plain popcorn with a teaspoon of oil will only cost you a measly 55 calories. Once you pop you can't stop.

Salad? In a jar? Yes, that's what we thought at first. But you know how you can't take salad to work unless you take the dressing in a separate container because it all goes soggy? Well, think about it - if you put your dressing in the bottom of a jar, pile all your salad on top, your salad stays fresh and crisp until you shake the jar to 'toss' it. Genius.
Follow Lisa Rutledge, Dt.P on Twitter: www.twitter.com/lisarutledgeRD