Moderation Is The Only Secret Ingredient You Will Need This Year
I have an amazing recipe I'd like to share with you that has been inspired by my recent social feeds. It contains a secret ingredient that helps squash food cravings and cut down on portions, both of which help with weight management!
But first, a little background on what I saw on my feeds that stirred up some emotions and motivation to share this secret ingredient.
First I scrolled past what looked like a dessert, but the description indicated it was a protein cake mixed with protein whip cream topped with protein pudding for someone's breakfast. Then I saw a gorgeous picture of artisanal donuts that contained no authentic doughnut ingredients (gluten free, sugar free, oil free...?). And then when I saw an ad for algae oil (what the what?) in a pancake recipe, I kind of lost it. Lost faith in humanity and lost my cool.
Is this what is considered food? Worse, is this what is considered healthy food?

From the same people who post that they love to eat real food that is good for the body and soul, I can't help but see the irony (and sponsorship) in these posts.
What happened to toast and peanut butter for breakfast and saving the (real) cake and pudding for dessert?
Why can't we just eat donuts the way they were originally invented? (Assuming we aren't talking about gluten and dairy allergies, of course.)
And what is wrong with versatile, healthy, cheap canola oil!?
Obviously, I've been too keen to add accounts to my social networks and it is time to clean them out. There certainly are mega benefits in clearing out the crazy diet cobwebs and you can read more about that here
But I find it important and fascinating (albeit frustrating) to see what new products are out there in the land of quasi-food.
But I digress. I have a recipe to share with you. The good news is that it contains easy to find ingredients that you likely already have in your house.
But wait, there is even BETTER news! It contains a bit of salt, fat and gluten. These boost the flavor of the resulting recipe and leave your mind and body feeling satisfied and full.
There is even a secret ingredient! It's not sexy or glamorous, but it works. The secret ingredient? Moderation. Eat a normal portion once in a while and it not only satisfies your desire for pasta with creamy sauce (which is a normal part of living) but it also has the super powers of staving off binges and feelings of deprivation from good food. What is this amazing recipe I speak of?
Quick and Easy Alfredo Sauce
Makes six servings.
This alfredo recipe is simple and so satisfying. You can whip it up in under 10 minutes.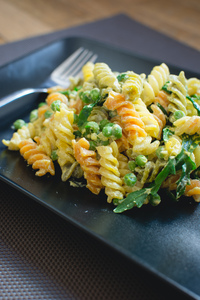 1 container (227g) of cream cheese
1 tbsp oil
1 cup of milk (you may need more to thin out the sauce)
1 cup shredded Parmesan cheese
pinch of salt and pepper
1/2 cup white wine
~6 cups of cooked pasta (any kind you like)
+
6 cups cooked broccoli
6 portions of 75g of cooked protein rich food (fish, chicken, pork, etc)
1. Heat the fat in a pan over medium heat.
2. Add the cream cheese, milk and wine. Stir to melt the cheese and create a creamy sauce. Add more milk, if too thick.
3. Add the Parmesan cheese and salt and pepper. Stir to mix.
4. Either add the pasta to the pan or top the pasta (1 cup per person) with the sauce.
5. Pair with a serving of meat and a serving (1 cup) of broccoli.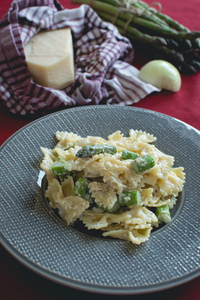 When the pasta is paired with a protein-rich food (say, grilled salmon) and some vegetables (we like broccoli), it is a balanced meal that is full of omega 3 and fibre.
Each serving contains two servings of vegetables, two servings of grain products, one serving of meat and alternatives, and one serving of milk and alternatives.
Take any of your favorite recipes, apply this equation to turn your recipe into a super power recipe like the one above:
(Favourite special recipe + cooked with love and care - guilt and shame) x moderation = happiness and healthiness
*where moderation = normal portion size eaten once in a while

Follow HuffPost Canada Blogs on Facebook
MORE ON HUFFPOST:
"Portion control is your secret weapon, especially when it comes to a big spread," says Weight Watchers Leader Claire Keyes. She recommends making everything smaller when prepping your dishes – cut the chicken breasts in half, slice the bread thinner and make bite-sized cupcakes. Your guests won't even notice the difference.

"Don't be sucked into the easy, last-minute deep-fried spring rolls," notes Keyes. "Simple prepping will lead you to just-as-tasty twists on classic appetizers." She suggests a Weight Watchers recipe for rice-paper wrapped summer rolls, or grilled chicken satay.

Power Foods is a Weight Watchers term for a list of foods that are both nutritious and satisfying due to their low energy density and healthfulness. Some examples include whole-wheat couscous, avocados and luncheon meats with reduced sodium.

"When putting out chips and dips, go for a fresh mango salsa or guacamole and leave out the rich asiago and onion dips," says Keyes. "If you're looking to add one creamy dip, make it a Greek-yogurt based spinach dip surrounded by a plate of colourful veggies."

"Instead of sugary mix, make sure to have fresh mint, berries and limes on-hand to add flavour to your drinks," advises Keyes. "Your guests won't even realize they are sipping something good for them."

Everyone might be there for the turkey, but that doesn't mean they don't want to eat their vegetables too. Spruce up your salad with ingredients like celery root, pomegranate seeds or cabbage slaw (shown).

"Instead of heavy lasagna, make a ratatouille or baked eggplant parmesan," suggests Keyes. "Also, try substituting the mashed potatoes for sweet potatoes, cauliflower or squash."

Keyes says you shouldn't opt out of dessert entirely, but instead, provide options that use fruits or vegetables, or other lower fat cooking methods. "Use applesauce instead of oil to moisten your brownies and consider cakes that incorporate vegetables like sweet potato Bundt cake, chocolate beet cake or zucchini bread," she suggests.

"Insist that everyone goes home with leftovers so they can enjoy the treats all week – especially the ones you know you'll be tempted to revisit the next day!" says Keyes.

When you're starting to feel full, put down the fork for a few minutes. Keyes recommends drinking a big glass of water, and then, if you're still feeling peckish, pick the fork back up!

"Nuts are the perfect snack for mingling," says Keyes. "Put out a few all-natural mixes for guests to munch on in between courses, or as an alternative to hors d'oeuvres."

"It's a fact: the more choices one is faced with, the more one will eat," notes Keyes. So avoid serving a big buffet or cooking twelve different starches. Make a few smart selections instead of giving in to overzealous sampling.

"When you are tempted by Christmas cookies, make sure to ask yourself, 'Are these good enough to spend this many Points [the Weight Watchers method of counting calories, fat, etc. per day] on?' If you make educated decisions you can still have your cake… and eat it too," says Keyes.

Don't forget, there are more ways to spend time with family over the holidays than just sitting around and eating. "Why not go for a walk with your guests after supper, or get a game of touch football going in the afternoon?" asks Keyes. "Whip out the karaoke machine, go caroling around the neighborhood or take a toboggan out with the kids. If you fill your days with great, family-friendly activities, you and your guests won't have time to overindulge."

"If you're preparing a big dinner, why not use half-fat ingredients whenever possible?" says Keyes. "It is often difficult to tell the difference where taste and flavour are concerned. By swapping regular ingredients, foods and drinks for their half-fat alternatives, you can make a big cut-back on fat and calorie consumption."

To stay healthy, be aware of the amount of cheese, gravies, sauces, butter, and whipped cream, which can be easily pared down.

"Place a variety of dressings on the side, and let your guests decide what to use and how much to put on," says Keyes.

"If you're tempted to eat while cooking, take a break and enjoy a low-calorie but fulfilling snack instead," recommends Keyes.

Make sure you put any leftovers directly in the freezer. "By getting the excess food out of sight, you will avoid the temptation of eating it in the days (or moments) immediately following your guests' departures," notes Keyes.

"Often, we serve a recipe because that's the way it has always been done," says Keyes. "Make sure you consider how important that tradition is and try and make some new, healthy memories too."
Follow Lisa Rutledge, Dt.P on Twitter: www.twitter.com/lisarutledgeRD