Canada's Booze Is Still Under Prohibition-Era Government Control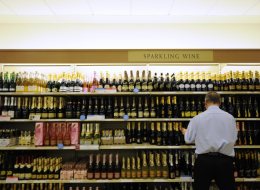 Much of Canada's current approach to liquor retailing has its roots in prohibition-era attitudes towards wine, beer and spirits.
But anyone who thinks that era ended should consider the anti-competition rhetoric that emanates from government liquor stores across Canada or Ontario's government-approved private sector beer cartel, The Beer Store (owned by international brewers, Molson-Coors, AB InBev and Sapporo).
The Beer Store recently aired television advertisements "warning" of what disasters will befall Ontarians should corner stores be allowed to sell beer.
But that company and other self-interested opponents of competition in the sale of beer, wine and spirits (i.e. employees of government liquor stores) have a tendency to spread myths. The tales are directly related to their interest in what full competition would do to government liquor stores and The Beer Store chain.
As an antidote to the fables, here's a reality check.
Reality Number One: Governments do not lose revenues if they do not own and operate government liquor stores.
In Alberta, the last government liquor stores were privatized in early 1994. Since then, the province has reaped $11.7-billion in revenues from the sale of beer, wine and spirits and will take in another $745 million this year alone. Governments can grab as much revenue as they want from the sale of such products because markups and taxes exist independently of who owns and runs a retail store.
Reality Number Two: Bottles get recycled regardless of whether some entity -- hello, Beer Store -- is tasked with recycling empties.
In February, The Beer Store president Ted Moroz bragged that his recycling program is the best in North America. But in British Columbia and Alberta, for example, all bottles and cans have a deposit applied to them. That encourages recycling. The Ontario government is in make-believe mode when it pretends that the province must contract with one chain for the sake of the environment.
Reality Number Three: Retail prices are a function of wholesale prices, competition and taxes. To get a sense of whether competition and privatization works, one must do a wide and deep comparison on pre-tax prices.
For instance, a Consumers' Association of Canada study once proclaimed cheaper prices in B.C. But the study surveyed just 53 products and used median prices (not the lowest prices available in Alberta). Other groups have made the same mistake.
In contrast, I once conducted a more comprehensive review of prices between B.C. and Alberta using pre-tax and pre-markup prices. I made both "deep" and "wide" comparisons and looked for the lowest available price, not some "median" measurement.
On the deep comparison, I contrasted 1,845 products available at B.C. government stores with two chain stores in Alberta; 83 per cent of beer, wine and spirits were cheaper in Alberta, even including much of the wine produced in B.C. (something I still find true in personal shopping).
On the "wide" comparison, I compared 166 products available at both B.C. government stores and 100 Alberta stores; 90 per cent were cheaper in Alberta.
Reality Number Four: Social ills are not related to whether a government or private sector employee swipes your credit card at the till.
A 2009 Frontier Centre study found that Saskatchewan showed (among the 10 provinces) the "highest, second-highest or third-highest rates of alcohol-related harm with respect to friendships, marriage, work, studies, employment, finances, legal problems and physical violence." That occurred in a province with plenty of government-run liquor stores and even comparatively low overall sales and alcohol consumption rates.
Moreover, as the report's author noted, "in all these categories, the likelihood of harm in Saskatchewan was higher than in Alberta, which has private retailing."
Reality Number Five: Competition and privatization creates choices and opportunities. The selection of beer, wine and spirits in Alberta today stands at 18,782 products compared with 2,200 in 1993; the numbers of stores has jumped to 1,332 fully private stores from 208 government liquor stores and 65 private stores in 1993.
Now some history: In many provinces, prohibition's end arrived courtesy of plebiscites or political decisions whereby liquor sales were made legal if they were restricted to government stores. That is what created the government liquor stores still ubiquitous in nine of 10 Canadian provinces.
But that era's politics also created vested interests: Government liquor stores and private chains, in the case of Ontario's The Beer Store, which in its first incarnation originated in 1927, at the end of Ontario's Prohibition era.
Thus, it's no surprise that those same interests fiercely oppose competition and privatization. These days, the prohibition on full competition in wine, beer and spirits is related not to prohibition's social mores but to self-interest created by political compromises dating back to the 1920s.
ALSO ON HUFFPOST:
Where To Get Booze Outside The LCBO
Canada is a beer nation, so it's a relief that those symbolic 2-4's will still be available for Victoria Day. The Beer Store duly obliges in offering customers over 350 types of beer, and some select locations will have extended hours on Sunday. (Check your local store for details.)

Several branches of the Vineyard Estates have now converted their name under the banner of the Wine Shop., and some locations will be open through Monday, so check the stores near you.

Dial-A-Bottle delivers everything from beer to liquor to cigarettes and pop to people's doorsteps in various locations across Southern Ontario, but LCBO spokeswoman Heather MacGregor said those service providers also get supplies from places like the LCBO. "What that looks like, what type of product is available, what types of lines they'll encounter will be the same for them as it will be for everyone else," she said.

With more than 160 stores mainly in Southern Ontario and other outlets located in North Bay, Sudbury, Thunder Bay and Sault Ste. Marie, the Wine Rack announced that it would remain open leading up to and during the labour strike. Thirty Wine Rack locations will be open on Monday in tourism designated locations across the province.

While the Steam Whistle brewery is located in the heart of the downtown Toronto, customers from Hamilton to Oshawa, and as far north as Aurora and Whitchurch-Stouffville can get home delivery of bottles, cans, and draught kegs made all week long. The Toronto brewery remains open from 11 a.m. to 6 p.m. on Friday and Saturday, while closing at 5 p.m. on Sunday. Free complimentary beers are still available through the weekend and on Monday when the brewery is open from 12 p.m. to 6 p.m. with tours offered every half hour.

Mill St. Brewery underwent an expansion of its Toronto Distillery district location earlier this year and added The Beer Hall. Customers can go to its retail store at the same location this weekend, open from 11 a.m. to 10 p.m. on Friday and Saturday, 12 p.m. to 6 p.m. on Sunday and 11 a.m. to 8 p.m. on Monday. The Brew Pub remains open until late for those looking to come back for more later on in the night. The Brew Pub also has an Ottawa location, which is also open through Monday.

Situated near the U.S. border, the Taps Brewing Company in Niagara Falls brews on site and offers a variety of natural beers starting at only $4.65 a pint. They are open throughout Victoria Day weekend, from 12 p.m. to midnight on Sunday, and from 12 p.m. to 2 a.m. on Monday.

The Old Credit Brewing Co. Ltd in Mississauga crafts three distinct beers — Amber Ale, Pale Pilsner and Holiday Honey — in small batches and is open on Sunday and Monday from 12 pm. to 5 p.m. On Tuesdays to Saturdays, the brewery at 6 Queen St. West is open from 10 a.m. to 7 p.m.

Amsterdam Brewery was recently presented with six trophies, including the Gold award, and Beer of the Year for its Spring Bock brew, at the 10th Annual Ontario Brewing Awards. Its retail operations will remain open over the course of the weekend, from 11 a.m. to 11 p.m. on Friday and Saturday, 11 a.m. to 6 p.m. on Sunday, and 11 a.m. to 9 p.m. on Monday.

The Clocktower Brewhouse consists of a main brewery and four restaurants around Ottawa that are all open over the weekend holiday, from 10:00 a.m. to 2 a.m. on the weekend and 11:30 a.m. to 2 a.m. throughout the week and on Victoria Day. However, a spokesman says that the hours could extend later.

Another brewery located on the U.S. border — this one with Detroit — the Walkerville Brewery's retail outlets in Windsor are open from Thursdays to Saturday from 11 a.m to 7 p.m. On Sundays, they will be open from 11 a.m. to 6 p.m. The brewers are legally allowed to open from 9 a.m. and operate until 11 p.m. because they are located in a tourism-heavy district, but they have yet to decide whether to open on Victoria Day.
Follow Mark Milke on Twitter: www.twitter.com/milkemark