My Safari Adventure Through an Indian Wildlife Sanctuary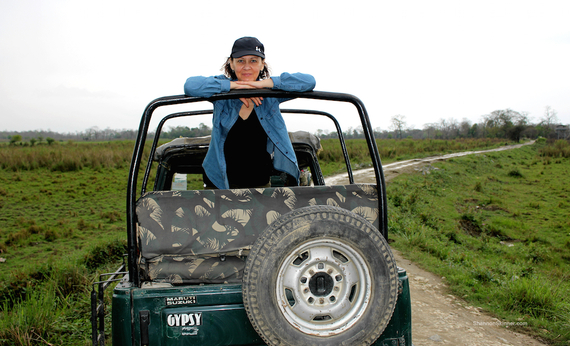 I am bouncing in the back seat of an open Jeep as it meanders through India's Kaziranga National Park, a wildlife sanctuary and UNESCO World Heritage site located in the northeastern state of Assam. Despite the spitting rain, I am grateful to experience my first-ever safari. It's April and the monsoon season is approaching. Just not yet.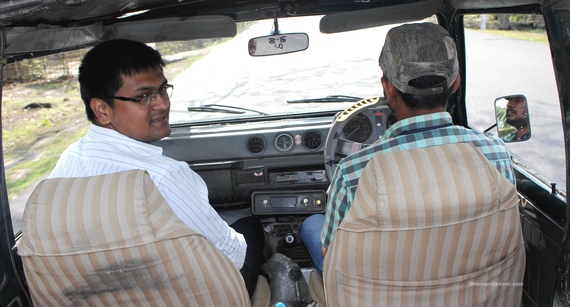 Guide and ranger at wheel
My guide, Dipankar Borkakati, has accompanied me since landing in Guwahati, Assam's capital where I attended a cultural festival, Rongali. Even after a hair-raising five-hour drive together through the state's fertile land, villages and tea plantations to reach Kaziranga, we are thankfully still friendly. Driving our Jeep is an experienced and friendly ranger. I hope he has a gun, you know, in case we get chased by crazed pelicans. There's none in sight.
Safari arrangements including my guides, transportation and accommodations have been provided by Vasco Travel, whose team in Delhi took good care of me, even checking-in with me daily by phone. Considering they are the experts in travel to India, I know I'm in good hands.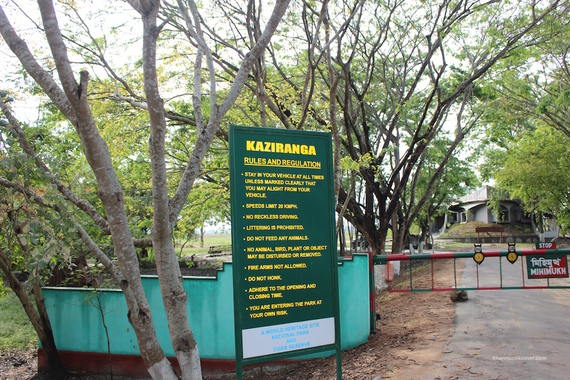 Park rules
Living amongst Kaziranga's grasslands, tropical forests, lakes and swamps that surround us are several species of mammals, including the once endangered one-horned Indian rhinoceros, elephants, water buffalo, swamp and barking deer, pelicans, Ganges dolphins, leopards, fishing cats and the Royal Bengal Tiger, and more. Many are endangered.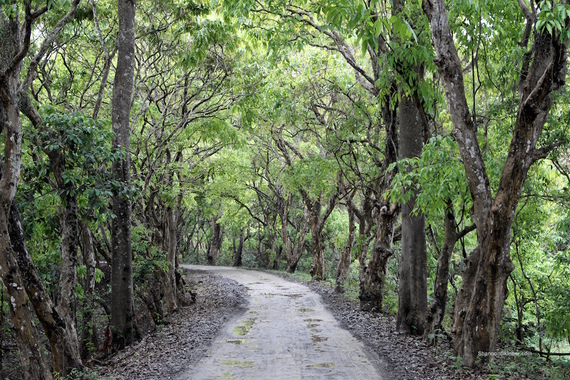 Park road

Kaziranga lies in the flood plains of the Brahmaputra. Most of the area gets flooded from the river during the Monsoon, forcing the elephants and other animals to migrate to higher ground.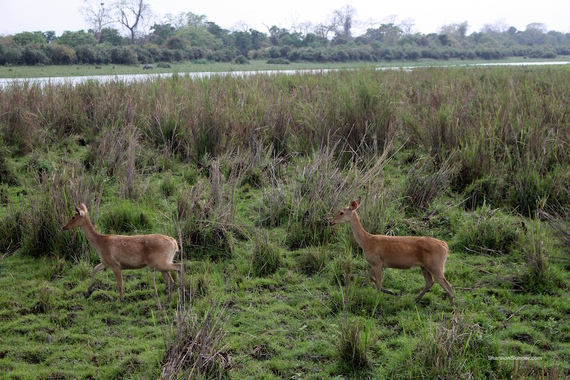 Deer with rhinos in the distance
My guide points to something in the distance. Tiger? In the grasslands ahead is a lone elephant with a man riding -- actually, standing -- on its back as they saunter across the plains. I am amazed at the man's balance riding this massive, awkward creature.

We continue. Bumpity-bump. I am glad I went to the washroom before leaving my villa at Infinity Resort. It is late afternoon, the sun will soon set and we must leave shortly. The silence is deafening, save the occasional jeep of tourists travelling the same road.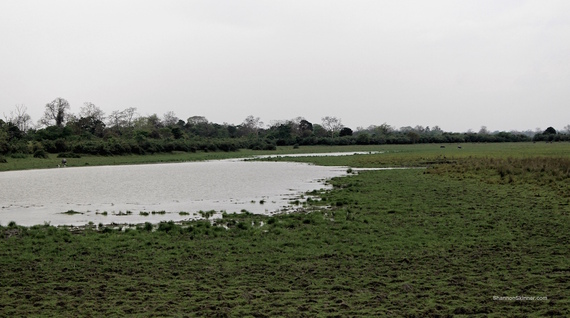 Rhinos at water's edge

My guide points again. Tiger? Poking though the tall grass and not more than a few meters from us appears one of India's most prized possessions: the one-horned rhinoceros. Given rhinos are known to run fast, really fast, my heart skips. My guide whistles to get its attention. It sees us. It most definitely sees us. I grab my camera, it turns around and it...
...snap...
...drops a load.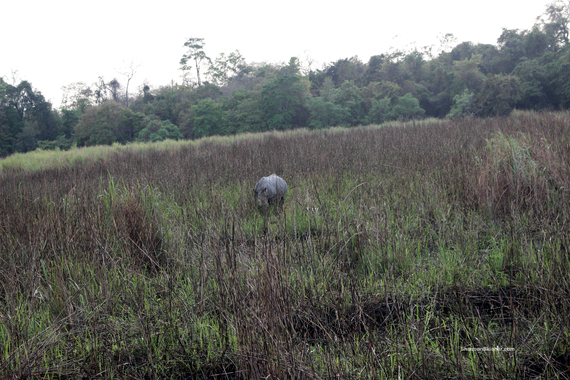 A dignified view of the rhino
Behind it, in the distance, are more rhinos, elephants, water buffalo and deer.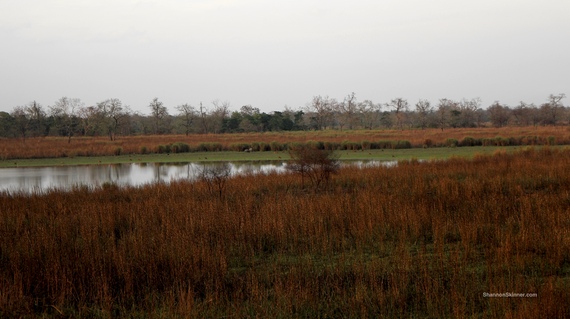 But no Royal Bengal Tiger. Yet. Tigers are often seen here. The ranger says the population is more than 100 and they are "very shy." Part of me wants to see one, and part of me doesn't because it means if I see it, the likelihood is it would see me, too. I think of Yann Martel's Life of Pi.

Another jeep of tourists stop to inform us they just spotted the legs of a tiger in the foliage alongside our road, but got scared off by a truck. I am fully wide-awake.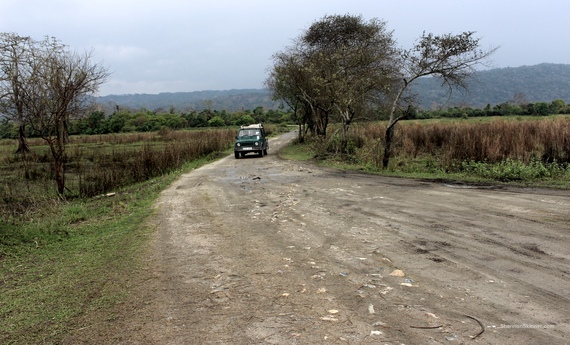 Ahead, I hear deer barking. I'm told they bark as a warning to the rest of the herd that a tiger is near.
A tiger is near.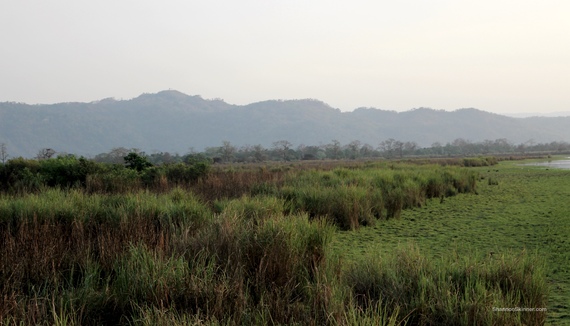 Grasslands and hills in background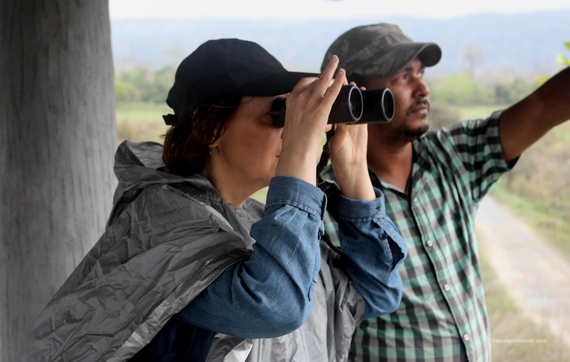 Ranger Nekib explains park life. Where's the tiger?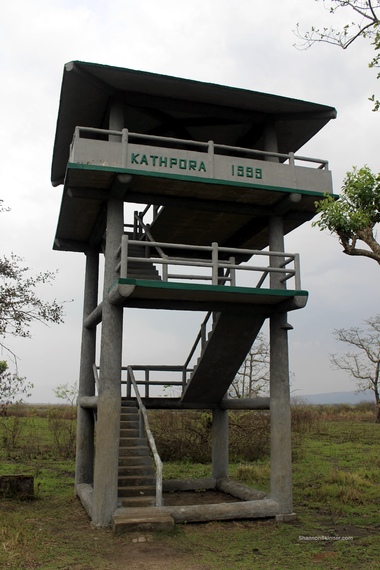 We climb a watchtower and with binoculars scan the grasslands and lake below. Pelicans are resting. The sun is rapidly falling, washing the plains with "Bengal Tiger" orange.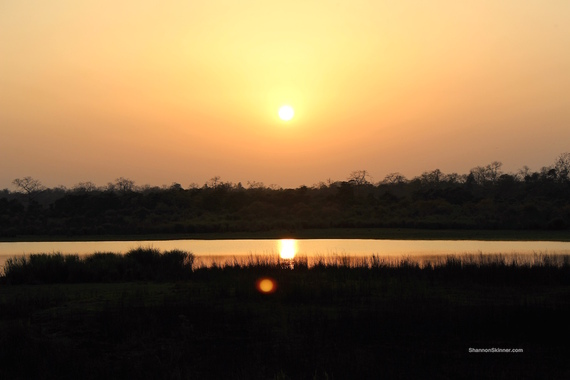 Sunset in Kaziranga National Park


I take one last scan for the shy tiger. But, alas...

After a 90-minute adventure, it is time for us to leave or trouble awaits. As we ramble out of the park, my guide, Dipankar, leans back and says: "You have to return to Kaziranga. The tiger is calling you back."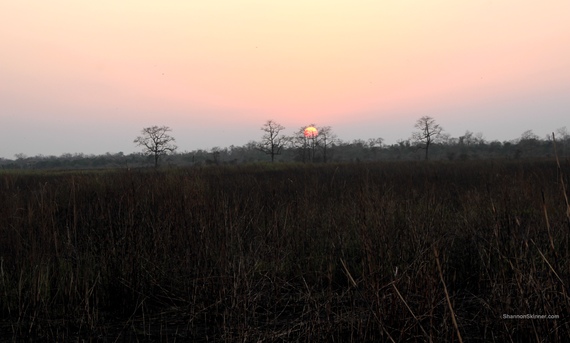 A few minutes later
Shannon Skinner is a television host, speaker and writer. Read more of her travel stories at Shannon's Travel Bag .
This article originally appeared at ShannonSkinner.com.
ALSO ON HUFFPOST:
15 Gorgeous Trekking Trails Across India You Must Make It To At Least Once
The second highest peak (at 1712 metres) in Kodagu, Kumara Parvatha is a popular peak to climb. However, the 15-kilometre trek is no cake walk, although it does offer some scenic views. The starting point is on temple road, approximately a quarter of a kilometre from the Kukke Subramanya temple. While water and food is available at Battara Mane (the second pitstop), there are no washrooms. October to February is the best time to trek.

For those who enjoy slightly more macabre experiences, this trek presents an opportunity to view Roopkund's famous Mystery Lake. The glacial lake is also known as Skeleton lake on account of the skeletons that reside at the bottom of the lake. Trekking can take anywhere from a week to 9 days, and the best time to visit is between May and October. This challenging trek requires one to be in decent shape, given that is situated at a high altitude (4,800 mts). There are three trekking routes: via Mundoli, Kathgodam or Lohjang.

Located 2,100 metres above sea level, Chembra in Wayanad is the tallest peak in Kerala. It's an easy climb, though the initial gradient can prove a little steep. Best to visit during September - February, the trek extends across 9 kilometres, and can easily be completed within a day. However, visitors can opt to extend their trip by a couple of days: the combination of exploring Wayanad's grassy meadows and then residing by the heart-shaped lake (Hridaya Saras) at the top is an experience to be savoured.

If you're a rookie trekker with a hankering for excellent coffee, Araku Valley situated in scenic Vizag is a must-visit. It is something of a tourist spot - the Borra caves, tribal museum and Katiki waterfalls have made it pretty popular, so serious trekkers can afford to give it a miss.

Possibly one of the most beautiful treks in India, the name 'Valley of Flowers' holds true: this exotic valley is transformed into a colourful kaleidoscope stuffed with wild flowers such as zinnias, petunias, poppies. It also hosts several species of butterflies and endangered animals such as the mountain leopard and blue sheep. A moderately challenging climb (the entire trek can take a week), the 10-kilometre valley is situated at approximately over 3,600 metres (above sea level), and is ideal to visit from between June - September.

If you have eight days or a fortnight to spare, a trek to Dzongri will grant you some spectacular views of Mount Kanchenjunga (the third highest peak in the world). A tough climb by any standards, the trek commences from Yuksom (a popular base for Mt Everest trekkers), and is best undertaken between September to November or March and April. Dzongri sits at 4,000 metres.

The Rajmachi fort, thanks to the efforts of the Maharashtra Tourism Board is developing quickly as a tourist spot. The beauty of this trekking destination is not just its panoramic view of lush rolling hills: it also presents two trekking options both of which can be completed within one day. There is a plain 15-kilometre walk from Lonavala or a rugged 2,000 foot climb from Kondivade village where one can also view the Kondana caves. The best time to visit is between June and September.

The beauty of this trek is how much elusive Ladhaki/ Tibetan culture one comes across on the way. The local tribes with their yaks make for picturesque settings against the multi-coloured Tibetan flags, clear blue skies and barren ground, as you trek along the Markha River through Little Tibet. Set at an altitude of 5,200 metres, the 80-kilometre trek is best undertaken in August or September, and can extend from 10 days to two weeks.

If you've had enough of trekking over rolling glades or mountainous peaks, try walking over a frozen river next January. The frozen river Zanskar (also called Chadar that literally means sheet) situated in the Zanskar Valley presents an intriguing, yet challenging trek, extending across 105 kilometres at extremely low temperatures (-25 degrees at night). The swiftly flowing river freezes over only in the months of January to February, and can prove an arduous obstacle to cross: one has to climb over icy rocks, and sleep in caves at night. The view combined with ice sheets that constantly change colour however, erases any reluctance to undertake this journey.

Playing host to one of the oldest monastries in Ladakh, Gompa (built in the 11th century), Lamayuru at over 5,000 metres holds a certain mystic allure. It has become one of the more popular treks in Ladhak commencing from Zanskar. Situated between Kargil and Leh, it is one of the tougher treks and requires at three weeks to undertake. Trekking season commences from June till mid-October.

Covering 90 kilometres over 11 days doesn't sound like the toughest deal, but don't underestimate this trek, beautiful as it is. Best to visit between April and September, the trek passes through Kanchenjunga National Park (a photographer's delight). Samiti Lake is another visual delight that props up on the trek.

A mountain pass in the Dhauladhar range, this is located close to Dharamsala at approximately 4,300 metres, and attracts a large trekking crowd between April and October. The trek starts from Bhagsu or Dharamkot, near Mcleod Ganj, and can take from 4-10 days to complete.

Deoriatal combined with visiting Tungnath and Chandrashila makes for an ideal weekend trek. Situated at a distance of approximately 3 kilometres from Sari village, Deoriatal's clear waters provide a beautiful reflection of the Chaumkhamba and Kedar peaks at sunset.

Between October and January, trekking enthusiasts can head to Kodachadri that rests at an altitude of 1343m, opting from three different routes. The Hindlumane Falls make for a refreshing pitstop during the two-day trek that only involves a six-hour journey.

It's romantic name (literally translated, Lake of the Moon) matched with its easy journey setting makes for an amorous vacation. Situated in Spiti valley, at a height of approximately 4,300 metres, this one-kilometre long lake is a popular destination for campers, and should be visited between May to October. Trekking enthusiasts headed to the Hampta Pass, can also plan their route to spend a day here.
Follow Shannon Skinner on Twitter: www.twitter.com/Shannon_Skinner