Trudeau Should Shuffle His PMO, Too

Prime Minister Justin Trudeau (C) takes part in a news conference on Parliament Hill following a cabinet shuffle in Ottawa, Ontario, Canada, Jan. 10, 2017. (Photo: Chris Wattie/Reuters)
Justin Trudeau just shuffled his cabinet. It was needed and timely, and not just because self-confessed "pussy grabber," liar, racist, misogynist, xenophobe and bully billionaire president-elect, Donald Trump, is set to take the reins of the United States.
There were other legitimate reasons obvious for anyone to see, such as rookie ministers screwing up simple or not-so-simple issues and damaging the Trudeau brand. The shuffle, while staunching the bleeding on the electoral reform and other files, also prepares Canada for a fast-changing world with violent turmoil in the Middle East and parts of Africa; the insurgent radical right in Europe; Brexit; as well as the Trump upheaval causing tremors in the politics and economy of our next-door neighbour and the rest of world.
Chrystia Freeland moved from trade to foreign affairs, and veterans such as John McCallum and Stephane Dion (who both served Canada with dedication and distinction) are gone from the cabinet table. Maryam Monsef has been shifted from the difficult electoral reform file to the status of women. There are some new faces, including Ahmed Hussen in immigration.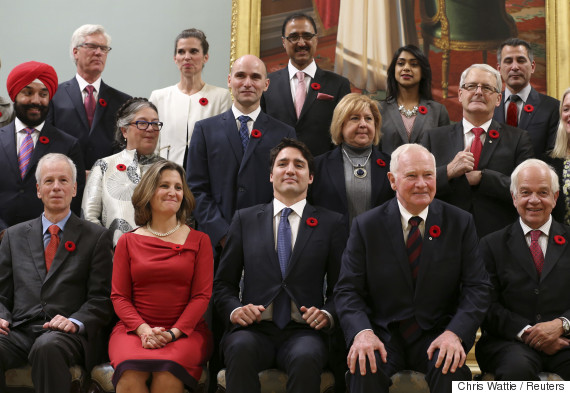 Prime Minister Justin Trudeau (bottom row C) poses with members of his pr-shuffle cabinet after their swearing-in ceremony at Rideau Hall in Ottawa Nov. 4, 2015. (Photo: Chris Wattie/Reuters)
Beyond that, the Trudeau shuffle is already old news and business as usual, Ottawa-style, is likely to take over in Ottawa.
But Trudeau needs another shuffle -- no, not a cabinet shuffle, but a shuffle nonetheless -- to shake up the PMO that has brought him so much grief over the past several months. In his heart of hearts, Trudeau probably knows he needs it. Those in the PMO around him may not yet or ever see the need for one; they may be willfully blind because, if ever the prime minister so decided, it could be some of them who would be next to be shuffled out or dumped.
Who deserves to be fired or demoted from Trudeau's PMO? Some of the powerful political appointees who are the architects of government policies, strategies and tactics comes to mind -- those who advise the prime minister and his cabinet on matters of ever-evolving policy and the shifting sands of question period.
In his heart of hearts, Trudeau probably knows he needs it.
The powerful men and women in the PMO who send forth ministers armed with questionable pronouncements clad in what they deem clever words to perform impossible somersaults, twists and turns in the House on serious issues had obviously crafted the scripts for MP Maryam Monsef and House Leader Bardish Chagger -- something they do for most ministers.
Monsef was a rookie minister and clearly didn't remember that her brief was not to lecture colleagues, but to shepherd electoral reform through the House. Only a rookie minister armed with talking points from the PMO and its wordsmiths would have publicly reasoned that public consultations were superior to public referendums as a way of deciding what kind of an electoral system Canadians prefer.
Chagger, also a rookie obviously guided by the PMO, spoke endlessly about how the "cash for access" being granted by the prime minister and his ministers was all well and good -- all within the ambit of the law -- while she and her boss the PM must have known all along that the original ministerial mandates were being grossly and blatantly violated.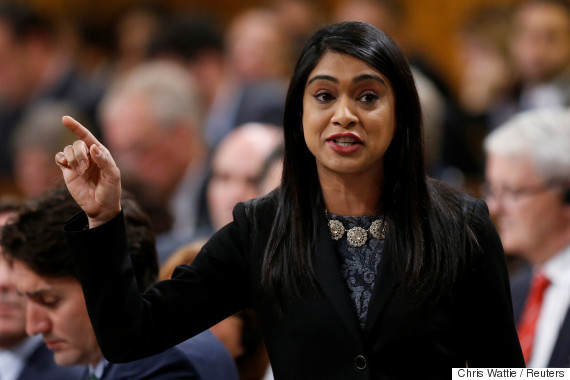 Government House Leader Bardish Chagger speaks during Question Period in the House of Commons on Parliament Hill in Ottawa, Ontario, Canada, Oct. 25, 2016. (Photo: Chris Wattie/Reuters)
It was also the PMO that advised and/or insisted that Trudeau's inadvisable, secret and ultimately not-so-secret vacation on Aga Khan's private island didn't raise any conflict of interest or ethical questions. The advisers must have been willfully blind to the clear but awful optics of the prime minister -- and a champion of middle-class Canadians, no less -- spending secret time at a private island of a billionaire.
Even more troubling is the fact that the prime minister or no one around him saw any ethical concerns in the fact that said billionaire's charitable foundations have received and may continue to receive money from the government that Trudeau now heads. How could they bungle things so badly -- and how could the PM allow them to?
As a consequence of PMO's bad advice and /or untimely silence, when speaking truth to the prime ministerial power may have been warranted, Trudeau has had to embark on a hastily scheduled Canadian "listening tour." To do the "listening," he is even giving the Trump inauguration a miss.
Trudeau's inner circle/PMO is mainly responsible for the mess he faces.
Talking to Canadians is always important for any prime minister. However it is not responsible for Trudeau to skip Trump's swearing-in. Despite most Canadians' dislike of what Trump stands for, the U.S.-Canada relationship is the most important among Canada's country-to-country relationships.
In sum, Trudeau's inner circle/PMO is mainly responsible for the mess he faces. His PMO team requires strengthening, whether by addition or subtraction. It certainly needs overhauling substantially, if not fully. If Trudeau doesn't do it soon, he may have to be on permanent standby for even more hurriedly scheduled listening tours across the country.
Prime minister! Happy listening (and shuffling) in 2017.
CORRECTION: An earlier version of this story indicated that Prime Minister Justin Trudeau shuffled his cabinet on Nov. 10, 2016. The shuffle took place Jan. 10, 2017.
Follow HuffPost Canada Blogs on Facebook
Also on HuffPost:
Trudeau Cabinet's Order Of Precedence
Prime Minister Justin Trudeau's gender-balanced cabinet does not include a deputy prime minister or clear second-in-command. The official order of precedence is instead determined by length of time in the Privy Council, and the order by which ministers were sworn into the ministry. Here's the official order...

Minister of Public Safety and Emergency Preparedness The finance minister under Paul Martin's government, Goodale is the only Liberal elected from Saskatchewan.

Minister of Agriculture and Agri-Food An MP since 1988, MacAulay has served as solicitor general of Canada, minister of labour, secretary of state for veterans and secretary of state for the Atlantic Canada Opportunities Agency. In the last Parliament, MacAulay was the critic for fisheries and oceans.

Minister of Indigenous and Northern Affairs A family physician who has been an MP since 1997, Bennett was Canada's first minister of state for public health and oversaw the 2003 response to the SARS epidemic. In recent years, Bennett has served as the party's vocal critic on aboriginal affairs.

President of the Treasury Board An MP since 1997, Brison was the public works minister and receiver general of Canada in Paul Martin's government. He had been the Liberal spokesman on economic issues and the vice-chair of the Commons' committee on finance.

Minister of Fisheries, Oceans, and the Canadian Coast Guard LeBlanc served as the Government House leader until August 2016, when he was replaced by Bardish Chagger. LeBlanc was sworn in as a privy councillor in 2004 when, under Paul Martin, he served as parliamentary secretary to the leader of the government in the House and deputy government whip. He is a childhood friend of Trudeau's.

Minister of Innovation, Science, and Economic Development An MP from 2004 to 2011, Bains regained his seat this year. In addition to being a certified management accountant, holding an MBA, and teaching at Ryerson University, Bains was an important Trudeau organizer and also served on the Liberals' national election readiness committee.

Minister of Finance Morneau is the former executive chair of Morneau Shepell, one of Canada's largest human resources firms.

Minister of Justice and Attorney General of Canada Wilson-Raybould is a former Crown prosecutor and regional chief of the B.C. Assembly of First Nations.

Minister of Public Services and Procurement An MP since 2008 and the party whip, Foote previously held several cabinet portfolios in Brian Tobin's provincial government.

Minister of Foreign Affairs An MP since 2013, Freeland was courted by Trudeau's team when she was a senior editor at Thomson Reuters in New York City.A Rhodes scholar, she is a well-known author and journalist. She was part of Trudeau's team of economic advisers.

Minister of Health Philpott is a family physician, associate professor at the University of Toronto, and former chief of the department of family medicine at Markham Stouffville Hospital.

Minister of Families, Children, and Social Development Duclos is a renowned economist who taught at at Laval University.

Minister of Transport The former astronaut, navy engineer, president of the Canadian Space Agency and Liberal leadership contender was first elected in 2008. He has served as an industry and foreign affairs critic.

Minister of International Development and La Francophonie Bibeau worked for the Canadian International Development Agency (CIDA) in Ottawa, Montréal, Morocco and Benin, Africa, before settling and launching her own business in her riding.

Minister of Natural Resources Carr, a former Manitoba MLA and deputy leader of the Manitoba Liberal Party, served as president of the Business Council of Manitoba from 1998 to 2014.

Minister of Canadian Heritage Joly made a name for herself by finishing second to ex-Liberal cabinet minister Denis Coderre in the Montreal mayoral race in 2013. She's a lawyer and communications expert.

Minister of National Revenue A small business owner who has been an elected warden for the Regional County Municipality of Rocher Percé since 2010, Lebouthillier won a seat in Gaspé that the Liberals haven't held in more than a decade.

Minister of Veterans Affairs and Associate Minister of National Defence Hehr was an Alberta MLA from 2008 to 2015, was one of just two Liberals elected in Calgary. In 1991, he was the victim of a drive-by shooting that left him confined to a wheelchair.

Minister of the Environment and Climate Change McKenna was a former legal adviser for the United Nations peacekeeping mission in East Timor and founded Canadian Lawyers Abroad (now known as Level), a charity focused on global justice issues.

Minister of National Defence Sajjan is a retired lieutenant colonel who served in Afghanistan and was the first Sikh to command a Canadian Army regiment. He also served as a Vancouver police officer for 11 years.

Minister of Infrastructure and Communities An Edmonton city councillor since 2007, Sohi immigrated to Canada from India 35 years ago. He spent time as a political prisoner in India in the late 1980s.

Minister of Status of Women Monsef, a community organizer, fled the Taliban in Afghanistan and came to Canada as a refugee with her widowed mother and sisters in 1996. She was shuffled out of the democratic institutions portfolio in Jan. 2017.

Minister of Sport and Persons with Disabilities Qualtrough is a lawyer and former Paralympian. Legally blind, she won three Paralympic and four World Championship medals for Canada in swimming and was president of the Canadian Paralympic Committee.

Minister of Science Elected in 2008, Duncan taught meteorology, climatology, climate change, and medical geography at the university level.

Minister of Status of Women Hajdu was executive director of Shelter House, Thunder Bay's largest homeless shelter.

Leader of the Government in the House of Commons and Minister of Small Business and Tourism Chagger, 35, worked for the Kitchener-Waterloo Multicultural Centre. She also worked on Trudeau's leadership campaign.

Minister of International Trade Champagne had a hugely successful international business and law career, living in Europe for many years before running for office. The World Economic Forum dubbed him a "young global leader" in 2009.

Minister of Democratic Institutions Sworn in at 29, Gould is the youngest female Canadian cabinet minister in history. She previously worked as a trade and investment specialist for the Mexican Trade Commission.

Minister of Immigration, Refugees, and Citizenship The first Somali-Canadian elected to Parliament, Hussen came to Canada alone as a 16-year-old refugee from Mogadishu. He was a successful lawyer and president of the Canadian Somali Congress before running for office.
Follow Ujjal Dosanjh on Twitter: www.twitter.com/ujjaldosanjh