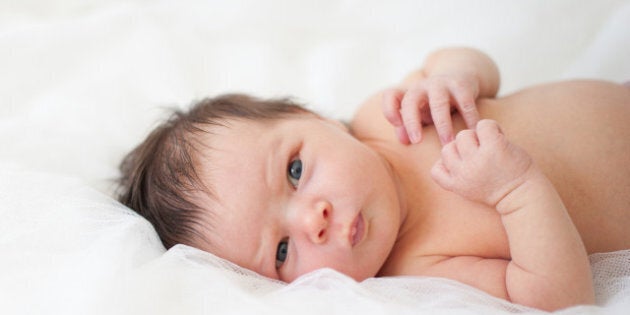 Forget about public school versus private, or breastfeeding versus forumula. The biggest – and one of the earliest – decisions facing parents-to-be is what to name their pending mini-me's.
Choosing a non-traditional name can be difficult. A great place to start in the decision-making process is the time of year your child will be born, which gives you some obvious and not-so-obvious starting points.
More Baby Name Ideas From HuffPost Canada
Try some of these unusual names that you're unlikely to come across on the playground. (And if you're afraid your child will resent you if they can't find their name inscribed on a mug at Disney World, trust that they'll get over it.) 47 Unique Baby Names For 2013
The new year brings with it new resolutions, particularly if you're trying to shed the baby weight. But while Garmin is a fine name for a fancy runner's wristwatch, you can do much better. Try a name that signifies new beginnings: For a girl, the Latin name Nova, or the Scandanavian name Dagny. For a boy, try Jeevan, an Indian name meaning "life"; or Ordell, a Latin name meaning "beginning".
All thoughts turn to love, and there's no shortage of names inspired by Valentine's Day. Quick tip: if you hope to produce a future prime minister, you probably don't want to name your daugher "Admire". For girls, try Morna, an Irish word meaning "affection"; or Freya, who according to Norse mythology was the goddess of love and fertility. For boys, Carwyn is a name meaning "love" of Welsh origins; or Erasmus, a Greek name meaning "worthy of love".
St. Patrick's Day is upon us, but remember that this is a child, not a pub crawl. Naming your St. Patty's Day son Guinness, or daughter Bailey, puts a certain spin on the circumstances of their conception. Ireland is a bounty of baby names, with unique options like Cleona ("shapely") or Sorcha ("radiant") for girls, and Lorcan ("fierce") or Tierney ("lord") for boys.
Spring has sprung! Nature has long been a source of name inspiration, but one must not assume an Earthy moniker will keep a child forever grounded. Look at the Phoenix family alone: Joaquin used to go by "Leaf", and became a media-troll-slash-failed-rapper; and River, well… we all know what happened there. Aim for less-obvious salute to the environment. Amaya (Arabic) means "night rain", and the Greek Bryony (or Brioni) is a climbing plant. For a boy, the Hebrew name Tivon means "nature lover", and Faunus is the Roman god of nature.
Just because the meaning of "pick up a two-four" will soon mean diapers instead of beer, you can still celebrate the long weekend's namesake with some regal inspiration. If you think Victoria is too mainstream a name for a girl, try something that simply means "royal": for a girl, the Hawaiian name Keilani, or the Greek name Basilia; or for boys, the English names Elroy or Kenrik.
The Summer Solstice means plenty of brightness, and there's no better inspiration for the newest ray of sunshine in your life. Unless you want a '90s Shawn Colvin hit stuck in your head for the next 18 years, consider options other than "Sunny". For girls, there's Chasca, the Inca goddess of the dawn; or Zelia, a Spanish name meaning "sunshine". For boys, there's Nikko, a Japanese name meaning "sunlight". And Dayton, a unisex English name meaning "bright and sunny town".
July is all about Canada Day, and there's plenty to celebrate about our country, besides the fact that your delivery isn't costing you much under a universal health care system. Rather than honouring your home and native land with names of your favourite NHL players ("Sakic" is a little obvious), aim for the characteristics that make us great. For girls, Adiba is an Arabic name meaning "cultured and polite", and Safia means "clean and pure" in Swahili. For boys, Norris means "from the north", and Roden is a Gaelic name meaning "hearty and lively".
Even though a good night's sleep is about to become a thing of the past for you, August is still the time when everyone tries to make the most of those last relaxing weekends at the cottage and soak in what's left of summer. Trust the Hawaiians to come up with perfectly serene names: For girls, Alania means "like calm waters", and Luana means "relaxed one". For boys, the French surname Destan means "by the still waters", and can certainly work as a given name; and Noa, also French, means "restful".
If you're going into labour around Labour Day, there's nothing wrong with using the theme as inspiration (keeping in mind that "Jeeves" can conjure up a lifetime in the service industry). Unique names that mean hard worker: for a girl, Idalis (English) and Emelia (Latin); for a boy, Errikos (Greek), or Kazi (African).
At Halloween, all thoughts turn to mimicry. What's more fun than trying to be someone else, especially a celebrity? But understand this: there should only be one Blue Ivy, one Apple, and one Pilot Inspektor (though an argument can certainly be made for zero Pilot Inspektors). Avoid the A-list copycats, and instead choose a baby name that's a more subtle nod to the limelight: For girls, Khyati is an Indian name meaning "reputation" or "fame", while the American-invented name Darena means "great". For boys, the English name Hopkin is derived from Hob, meaning "famous"; and the Marathi name Aakhya means "fame".
Remembrance Day is certainly worthy of honouring with your child's name. Many would be partial to Poppy for a girl, but more unusual choices include Una, a Native American name meaning "remember"; and the Hawaiian name Halia, which means "remembrance of a loved one". For boys, Gunnar is a Scandanavian name meaning "brave soldier", and Ayanti is a unisex Nigerian name meaning "will you remember me".
Having a baby in December can evoke lots of sentimental feelings about the holidays, but when your baby grows up, they might not appreciate having a birthday so close to Christmas, so try to stay away from names like Noel or Nicholas. Giving birth in the month can also mean putting your holiday shopping on hold for the richest gift of all. Dhanvi is a Gujarati girl's name meaning "money". Kaufman is a solid boy's name of German origin, meaning "merchant" or "trader". Mercer, suitable for both genders, is a French name meaning "merchant".