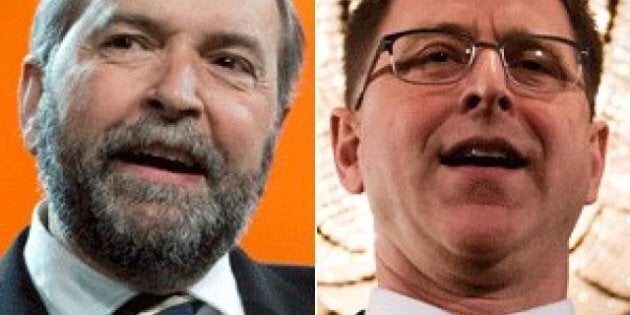 MONTREAL — NDP Leader Thomas Mulcair may find himself challenged at the next federal election not only by Justin Trudeau, the newly minted Liberal leader, but also, for the first time, by the records of several NDP provincial governments.
With British Columbia poised to elect an NDP government in an election that starts Tuesday, New Democratic governments in Nova Scotia and Manitoba and the party making gains in provinces like Ontario and Newfoundland and Labrador, Mulcair could find himself wearing any unpopular decisions made by his provincial cousins who face huge deficits and a staggering economy.
"When the NDP has come to power, it has come at a time when the economy has not been doing well, and it has had no choice but to make cuts, and because expectations are so high among union members, disappointment tends to be very high," Carleton University political scientist Bruce Hicks said. "That is why Bob Rae's New Democrat government is resented so much in Ontario."
If several NDP governments across the country are sinking in the polls, the federal NDP risks becoming a lightning rod of voter discontent in 2015, Hicks said.
"That could hurt Thomas Mulcair," he said, pointing out that the NDP base overlaps federally and provincially.
"(It's) the same members who are expected to go out and campaign for him, and if they are dissatisfied with what is going on at the provincial level, like, for example, in Nova Scotia, there is a lot of dissatisfaction there in the very first New Democratic government that that province has ever elected, that could come back to hurt him, because it eliminates the motivation of the rank and file membership."
Mulcair, however, sees things differently.
In an interview with the Huffington Post Canada at his party's convention in Montreal, the New Democrats' leader said more provincial successes will only mean more Canadians trust the party to govern.
"If the message that people are sending by electing NDP governments provincially is that they know us to be good competent public administrators, then that carries over favourably to us federally," he said.
"I have three priorities for the spring session," Mulcair added. "The first is to get Adrian Dix and the NDP elected in B.C., the second is to get Adrian Dix and the NDP elected in B.C., and the third is to get Adrian Dix and his party elected in B.C."
If Dix gets elected, Mulcair said, he will have two years to show how the NDP would govern federally. "He's going to be really able to show what we are capable of in terms of public administration."
In British Columbia, NDP Leader Adrian Dix will hit the campaign trail Tuesday in an election that pundits expect he'll win easily. In Ontario, polls suggest Andrea Horwarth is the most popular party leader in the province although the Liberal party is enjoying renewed support. And in Newfoundland and Labrador, Lorraine Michael is also riding a wave of support.
In Manitoba, Premier Greg Selinger won the party's fourth consecutive mandate in 2011. In Nova Scotia, Darrell Dexter won his party's first mandate in 2009 but is now at risk of losing office. The Nova Scotia NDP has been criticized for being too close to big business. It spent hundreds of millions on tax breaks and forgivable loans to companies to save jobs and create new ones, but the unemployment rate remains higher than the national average.
Blaming the Liberal and the Progressive Conservative parties in Nova Scotia for the province's "vexing problems," Mulcair says Dexter is doing his best to deal with them.
As for Manitoba, he points out that the small business tax rate is zero per cent and that the province has one of the lowest overall tax rates in Canada. (The 12 per cent business tax rate is actually about average).
Unlike other political parties in Canada – the Liberals or the Conservative and Progressive Conservative parties – the New Democratic Party's federal and provincial branches are more integrated. Provincial party members are automatically federal members, membership lists are shared and the organizations work together much more closely.
Yet the provincial parties and federal NDP do not always sing from the same hymn book.
Public disagreements with provincial parties could make the road a bit bumpy for Mulcair, Queens University political scientist Ned Franks told HuffPost.
"Sometimes the government's worst enemies are parties with the same name in the provinces," he said.
In British Columbia, for example, Dix has come out firmly against the federal NDP's position on the Clarity Act. Dix told the Vancouver Sun he is strongly opposed to Mulcair's position that a bare majority in a Quebec referendum would be enough to break up the country – and he thinks that many British Columbians would also dispute that 50 per cent plus one would be enough to trigger negotiations on separation.
Mulcair says he expects he will have disagreements with whatever provincial party is in power and says that happens all the time between federal and provincial parties.
"There is nothing new there," he said. "Sometimes the justice minister in Manitoba will have a completely different take than the federal party on some of the so-called law and order legislation coming out of the Conservatives. That is normal … and it's a good thing, because we are coming at these issues from a very different perspective."
Mulcair told HuffPost that he expects the next election to be fought over the question of trust.
Over the years, Mulcair said, Canadians have been disappointed with alternating Conservative and Liberal governments that pledged action on climate change but did nothing. The NDP, he suggested, is the only party that can be trusted to safeguard labour rights and protect Canada's public universal health-care system.
"The NDP will look at Canadians and do something that we haven't tried in Canada. We are going to put a certain number of ideas on the table, and, once we are elected we are going to carry through with what we promised. It has never been tried in Canada; we'll see how that works out."
Faced with a popular opponent in Justin Trudeau who most likely will promote the same message of hope and change, Mulcair said he will not only argue that the Liberals can't be trusted to protect and promote a progressive Canada but the federal NDP leader will also play up his team and the experience he offers.
"We are convinced that we have the vision, the experience and the expertise on our team to form a Canadian government, to (do) a really good job of running the federal government in the public interest."
Like Huffington Post Canada's Ottawa Bureau Chief Althia Raj's reporter page on Facebook and follow her on Twitter for all the latest news from Parliament Hill.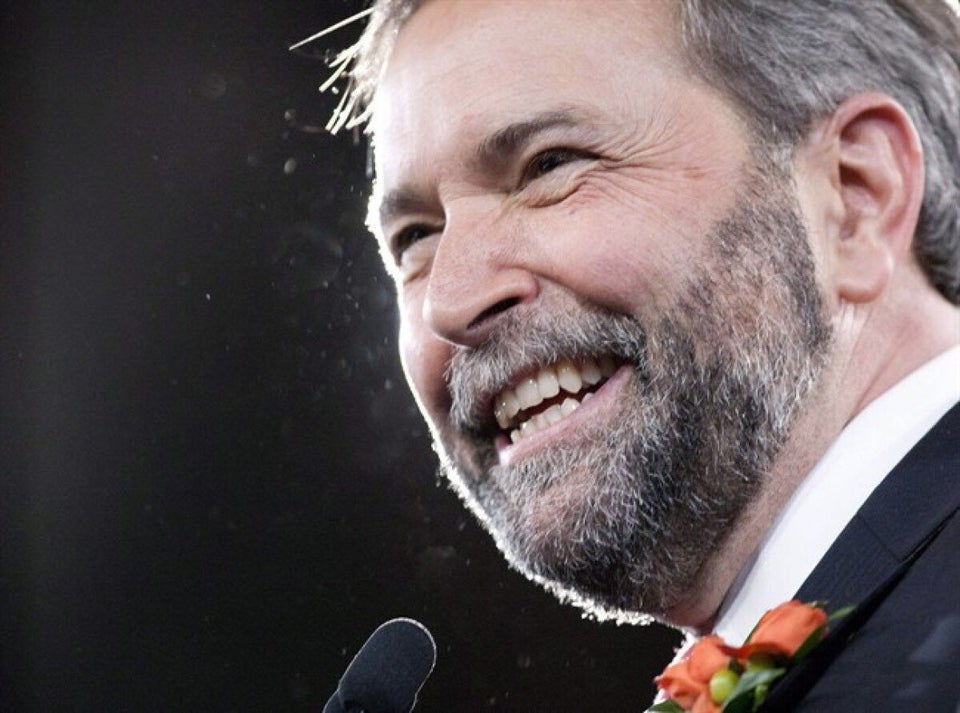 10 Little-Known Mulcair Facts