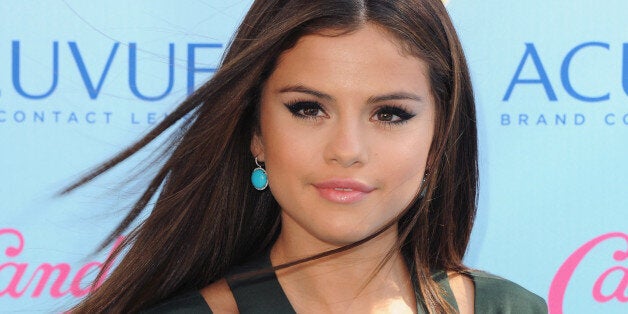 We all make mistakes, especially in terms of style. But fashion isn't supposed to be about right and wrong, it's about self-expression – even so, you might look back on your style choices and think, "I would probably have done it differently." (We're looking at you, Selena Gomez and Miley Cyrus!)
So that's what we've rounded up here: Ten instances where that if we were this celebrity, we would have done it differently. And not only that, but what we would've worn instead inspired by fall fashion 2013 trends.
Story continues below the slideshow: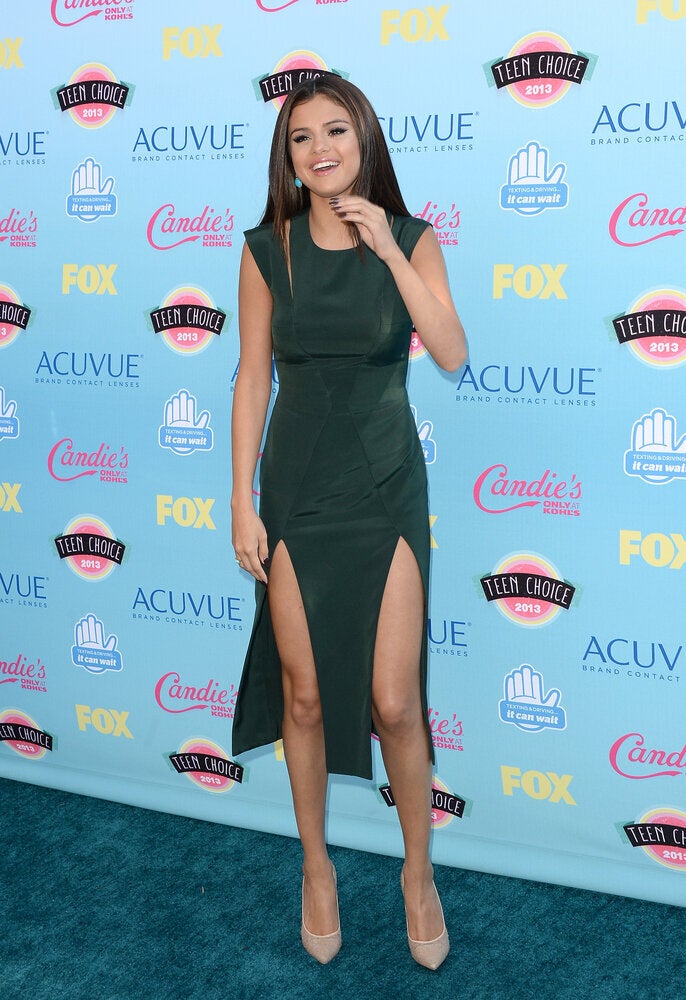 Celebrity Fall Fashion Don'ts
1) Selena Gomez at the Teen Choice Awards
Instead of using the awards as a safe route, Selena Gomez took a chance, opting for a cutout dress with high slights up each thigh. It fits her perfectly, yes, but the length of the skirt doesn't necessitate slits, so they look a little misplaced. Instead, pairing a knee-length skirt (or higher) with a cutout blouse (of the same style and colour) would've made the outfit more youthful. This dress does the opposite, which isn't fair since Justin Bieber's ex is of the age (only 21!) where she can try almost anything.
She's just being Miley, you guys. Every day, she is being Miley more and more. And that's her call – we're not critiquing her style evolution. We commend her for breaking from the Disney image and trying her hand at cutouts, sheer fabrics and leather (a huge fall trend.) However, balancing that "break" is essential, and instead of pairing the sheer top (with bikini cut out) with the industrial leather mini, she should've opted for a top with a little more cover -- like a chiffon button-up paired with a bandeau.
3) Lily Collins at the Seventeen September issue Launch
4) Abigail Breslin At Variety's Power Of Youth Event
5) Zosia Mamet At The Hollywood Reporter Spectacular Now Event
Let's get one thing out of the way right now: those red satin shorts are fantastic. So is the top/jacket set. However, the mix of strictly red, white, and blue makes for an overly Americana aesthetic – particularly, a type of uniform. To break it up, Mamet need only lose the long sleeves, and wear the tank top solo. Or she could scrap the patterned shirt completely and opt for a black t-shirt or simple tank. The '70s can still be channeled (see Marc Jacobs' '70s-inspired fall 2013 collection) – just not so many elements simultaneously.
6) Lady Gaga At The 20th Annual Watermill Center Summer Benefit
The thing about Gaga is that prior to this year, her clothing was daring, experimental, and incredibly interesting (see: meat dress, kermit outfit, etc). However, we seem to be entering a new phase, which has been signaled by her July 26 appearance in Water Mill, New York. Gone are the costumes and theatrics: now, we see leather, texture and cutouts (which are a fall 2013 staple), which, while all work on their own, are not working together. Unfortunately, the cut-outs and lack of structure make the dress seem sloppy, as does the length skirt in itself. So instead, she could pair a leather skirt with a black halter or tank (embellished leather), and use feather accessories like necklaces or a hairpiece so add a little more interest. Lots of feathers! Tons. She's Lady Gaga, after all.
7) Amber Rose At The BET Awards
The model had a baby only months ago and she looks fantastic – so that's why instead of wearing a vintage-inspired Versace Resort 2013 piece, she could've gone the wiggle dress route and embraced something a little more grown up. Unfortunately for the dress, the colour combination is tricky to pull off, and the dramatic A-line doesn't give Rose the drama she normally embraces in pieces. Instead, she could've chosen a yellow hourglass-hugging style (think Joan in "Mad Men") to combine summer playfulness with a clean, commanding look that transitions nicely into fall.
8) Ke$ha At The MTV Movie Awards
Ke$ha did something we've all done: taken pieces that work amazingly alone and tried to wear them all together. While the pants are reserved for the very daring (and if you're willing to wear them, you earn serious kudos), a style like them could be paired with that vest – provided the vest was an earthier tone. (Remember, fall is the season to wear dark, warm colours.) However, the hat and vest could stay, if the top was an anchor between the pale pants and dark accessories (in a colour like burgundy, forest green, or even a blue). As for her makeup? It's perfect: dark lipstick is big for fall 2013, so Ke$ha has that figured out.
9) Jennifer Lawrence At Christian Dior
We love Jennifer Lawrence too, you guys! But even Katniss Everdeen is allowed to try looks that aren't quite as great as her Dior Oscar dress. Last month, J.Law appeared at a Dior event in pieces from the brand (she's the face of Miss Dior after all), but the athletic-inspired skirt with the matching belly top seemed, like with Lily Collins, almost a little too '90s. While the two are a set, both the tank and the skirt would work well on their own, though the skirt would look best with a simple black or white top. In turn, Lawrence could pair the tank with a solid skirt, pair of pants, shorts, or even denim – though black cropped pants, which are all the rage for fall, would tie the pumps in perfectly.
10) Ginnifer Goodwin At EW's Comic-Con Celebration
The flapper look is everywhere, and dark green is everywhere, so we can all understand why Ginnifer Goodwin opted for this Vionnet dress. However, flapper looks aren't in season anymore and can be tricky: unless there's a well-fitting underlay, the dress can just hang there (and usually does), making it look like you don't have a shape. That doesn't mean any of us (or Ginnifer Goodwin) are lost causes: simply look for a dress that clings a bit, so any embellishments will be welcome. If not, opt for the revived velvet dress – it'll accentuate you just enough so that you don't appear shapeless, while still maintaining that romantic yet sexy vibe.