OTTAWA — The deadline for the NDP to refund the House of Commons $2.7 million in inappropriate satellite office expenses loomed Tuesday with the party saying it has no plans to repay a penny.
The Board of Internal Economy, the secretive committee of MPs with representation from the Conservative, NDP and Liberal parties, found last year that New Democrat MPs had inappropriately used parliamentary resources to hire staff to work in offices outside Ottawa.
The board said 68 MPs had used their office budgets to supplement the NDP research office budget. It held them personally liable and asked them to individually reimburse their part of $2,749,632 in total salary costs incurred between May 2, 2011, and Dec. 31, 2014.
"Since members are responsible for the use of House resources, they bear sole responsibility for any inappropriate use," the board said in a press release on Feb. 3.
In the Commons, Conservative MP Randy Hoback accused the NDP of continuing its pattern of abuse on the taxpayer's dime.
"The rules have always been clear: It is not acceptable to use taxpayer funded constituency offices for partisan purposes," he said.
"Today is the deadline for the NDP to repay that money, but all we get from them is excuses."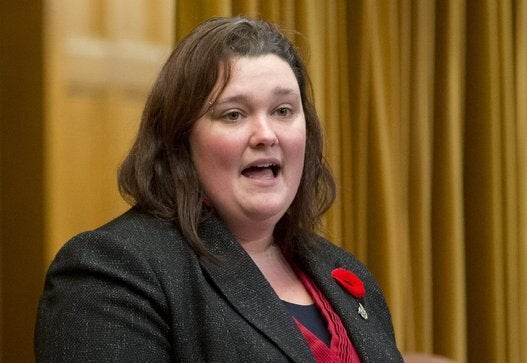 New Democrats Who Owe Most For Satellite Office Costs
A spokesman for NDP Leader Thomas Mulcair said the party and its MPs have no intention of refunding the money.
Mulcair's principal secretary, Karl Bélanger, pointed to a Feb. 27 press release that called the board's ruling "completely arbitrary and contrary to the principles of natural justice."
"We are the victims of a partisan committee — an institution that our political opponents hijacked to seal our fate in advance. It is time that this frivolous attack on members of the official Opposition come to an end," MP Robert Aubin is quoted saying in the release.
The NDP has asked the Federal Court to review the matter and has told the House of Commons administration that it will not pay a cent back until the matter is settled by the court.
NDP insiders privately acknowledge, however, that the court filing is designed to drag the case out until after the federal election this fall. The $2.7 million could make a significant dent in the party's election fund.
Twenty-three NDP MPs are also on the hook for another $36,309 for mailings that were deemed too political and electoral in nature.
It is not clear what the Board of Internal Economy will do to sanction the MPs.
The board is scheduled to discuss at its next meeting on April 21 whether it should garnishee MPs' wages. While most MPs owe from about $20,000 to $30,000, four owe more than $120,000 each – Alexandre Boulerice of Quebec at $122,000; Dan Harris from Ontario at $141,467; Jean Rousseau of Quebec at $142,548; and Isabelle Morin from Quebec at $169,117.
Former House of Commons law clerk Rob Walsh, however, told The Hill Times last month that he believes the board will have to take MPs to court if it wants to recoup the money.
"I don't believe the board can recover funds from a member personally without going through the process of a court action, unless of course the member voluntarily pays," he said.
In 2013, a Senate committee instructed its staff to begin garnishing former Conservative Senator Patrick Brazeau's wages. Brazeau, however, was likely booted out of the Senate before his $48,745 bill for allegedly inappropriate housing expenses was fully repaid, Tory Senator David Tkachuk told HuffPost.
"As far as I know, it began, and it ended after he was suspended," Tkachuk said, adding that he believes the House of Commons is entirely within its rights to do the same thing.
Here is the complete list of refunds the board is seeking from current and former NDP MPs:
- Tyrone Benskin: $31,888
- Denis Blanchette: $31,888
- Lysane Blanchette-Lamothe: $29,842
- Françoise Boivin: $24,498
- Charmaine Borg: $22,807
- Alexandre Boulerice: $122,122
- Marjolaine Boutin-Sweet: $24,259
- Ruth Ellen Brosseau: $30,959
- Sylvain Chicoine: $31,069
- François Choquette: $24,216
- Former MP Olivia Chow: $1,288
- Anne-Marie Day: $35,430
- Pierre Dionne Labelle: $26,812
- Rosane Doré Lefebvre: $29,551
- Pierre-Luc Dusseault: $26,805
- Mylène Freeman: $30,301
- Jonathan Genest-Jourdain: $31,788
- Now Independent MP Sana Hassainia: $26,754
- Matthew Kellway: $1,288
- François Lapointe: $30,364
- Jean-François Larose: $15,299
- Alexandrine Latendresse: $31,888
- Hélène Laverdière: $24,216
- Hélène LeBlanc: $27,866
- Christine Moore: $31,793
- Isabelle Morin: $169,117
- Marc-André Morin: $25,690
- Marie-Claude Morin: $30,023
- Jamie Nicholls: $30,740
- José Nunez-Melo: $31,700
- Annick Papillon: $29,266
- Now Bloc Québécois MP Claude Patry: $14,081
- Now Independent MP Manon Perreault: $22,009
- François Pilon: $31,874
- Anne Minh-Thu Quach: $30,727
- Francine Raynault: $27,952
- Jean Rousseau: $142,548
- Romeo Saganash: $35,600
- Djaouida Sellah: $29,841
- Rathika Sitsabaiesan: $1,288
- Jonathan Tremblay: $30,739
- NDP House Leader: $189,714 (Amount to be shared between Joe Comartin, Nathan Cullen and Peter Julian)
- NDP Party Leader: $408,573 (Amount to be shared between Turmel and Mulcair)
- NDP Whip: $35,633 (Amount to be shared between Chris Charlton and Turmel)