"The greatness of a nation and its moral progress can be judged by the way its animals are treated." ~ Mahatma Gandhi
If, as Gandhi suggested, our moral compass is measured in degrees of animal welfare, Canada certainly has a long way to go.
Indeed, the horrors of factory farming — at least those depravities glimpsed in a spate of undercover videos released recently — demonstrate, perhaps, we're heading in an ever-darker direction.
There's also the unforgettable case of Nicolino Camardi, a Calgary man who exhibited a seemingly infinite capacity to inflict suffering on our fellow beings.
Here's to the good Canadians. The compassionate Canadians, who find kinship and connection with all creatures of this Earth. And reach out to help.
Steve Jenkins and Derek Walter never expected their little piglet to, well, become a pig — telling the Toronto Star they thought they were adopting a 'teacup pig'.
But there was no day the girth stood still. At least, not until this "little" piggy was pushing the scales at nearly 700 pounds. And, as a rapidly expanding "Esther" threatened to overwhelm her adopted parents' 1,000-square-foot Toronto home, the couple reached out on social media.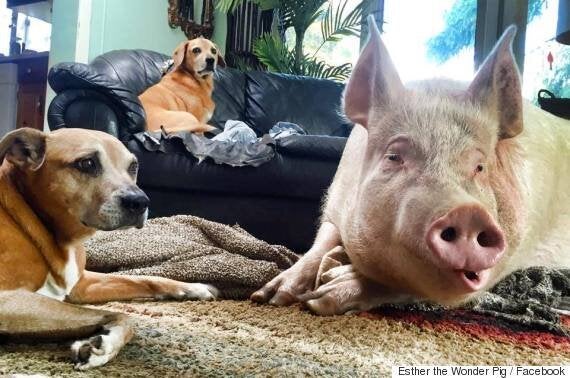 Their plea sparked a rush of support. A crowdfunding campaign to find more spacious digs for Esther brought a spectacular return: a farm in Campbellville, Ontario. But more than a farm — a sanctuary, where Esther, along with other abused and abandoned animals can find their peace.
The farm opens on the first of July. Its name? Happily Ever Esther.
"It's pretty crazy," Jenkins tells the Toronto Star. "We work for a pig."
It takes a mighty heart to bear witness to any creature's grim odyssey to death. Just ask Anita Krajnc. As co-founder of Toronto Pig Save, she has been standing "vigil" at the gates of death for thousands of pigs.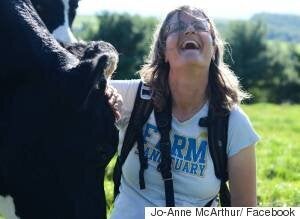 Every Sunday, the animal rights group stands outside of a meat-packing plant in downtown Toronto. They're neither invasive nor antagonistic when the massive trucks pull up to unload their living cargo. Instead, Krajnc and her fellow volunteers hold up signs protesting the various states of misery that a pig finds itself in on the way to the dinner table.
"I agree with Gandhi who said, 'The life of a goat is equal to the life of a man,'" the 45-year-old tells the Toronto Star. "I don't want death camps on Earth."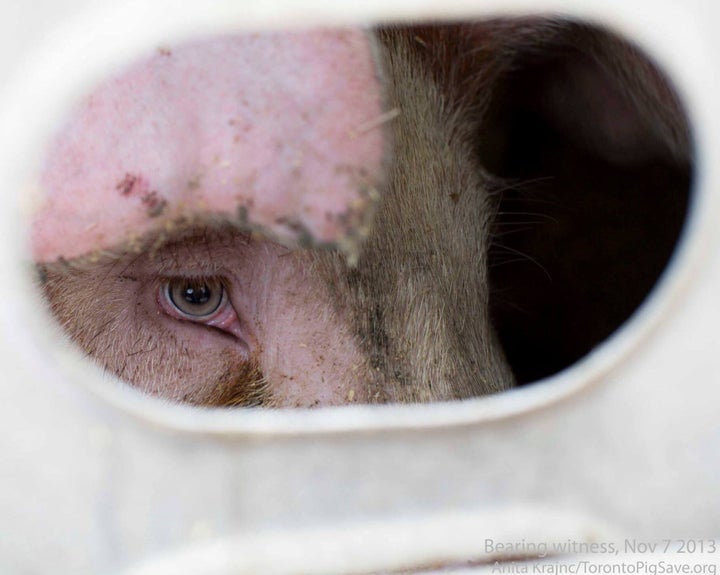 The Moosonee Puppy Rescue fills an unenviable niche. Dedicating their lives to the abandoned, brutalized dogs of Canada's North — from Moose Factory to Fort Albany to Attawapiskat, Sharon and Paul Purdy have an intimate understanding of the human capacity for hurting.
"I must admit that we thought rescuing puppies mostly meant playing with them until we could place them in wonderful homes," Sharon Purdy writes on the organization's website. "We hadn't counted on Parvo Virus, parasites, Kennel Cough, Distemper and more. Nor had we considered severe injuries due to cruelty and abuse.
Indeed, stories about dogs in the North being openly shot or brazenly run down by snowmobiles are all too rife. Some reserves, Purdy tells the Barrie Examiner, put a bounty out on dogs, with those returning a dead animals's tail, claiming a reward.
The rescue was established in May 2003, and since then some 1,400 dogs have been placed in homes.
As Purdy writes on the website, "We are grateful to have known every single one of them."
Here's to the kind and mostly unheralded souls who helped one very unfortunate whale.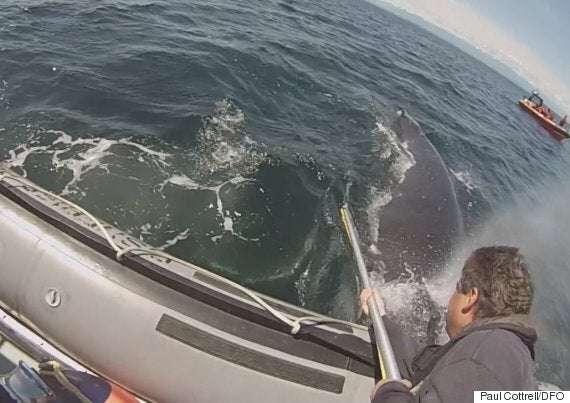 The situation was decidedly bleak for a humpback whale found off the coast of B.C.'s Powell River.
Spotted in late June, the leviathan, measuring some 11 metres (35 feet) long, was a pitiable sight. It was effectively pinned to the sea floor, tightly draped in ropes from prawn traps.
"This animal was in dire straits," said Paul Cottrell, who co-ordinates the B.C. Marine Animal Response Network for the Department of Fisheries and Oceans. "It was at the surface, kind of bent into a U-shape, with only its back sticking out of the water."
Cottrell has seen many a whale in dire straits. But not like this.
"The tail had tremendous amount of tension being pulled by rope," Cottrell told HuffPost B.C. "There were lines all over the body and three lines through the mouth. "It was hog-tied."
Coast guard and fisheries officials got to work, cutting thick tough binds — first, the rope that had become stitched across the behemoth's mouth, until they finally freed its tail.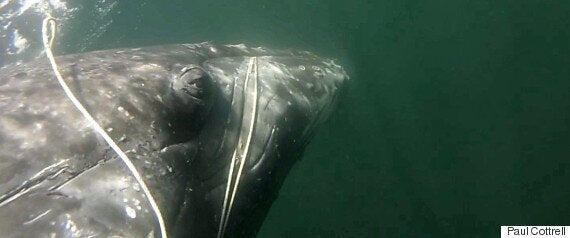 At last, the whale was able to swim away. If not for their efforts, the animal would have likely died an agonizing death, moored to the ocean floor.
"We were so relieved. It was just amazing experience," Cottrell says. "Knowing that that animal is gear-free and it'll be fine going forward — we are overjoyed."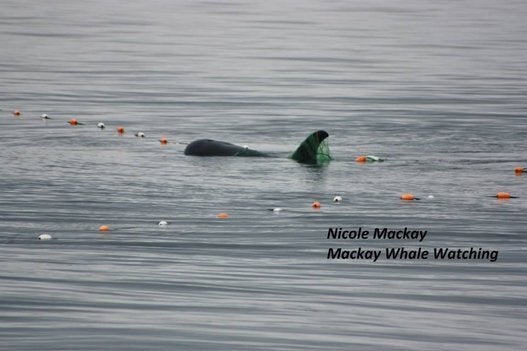 B.C. Killer Whale Caught In Fisherman's Net