Those were Stephen Harper's words to CBC News' Peter Mansbridge in an interview that aired Monday night to kick off the last half of what could be his final campaign.
"I'm not perfect but… I'm dedicated to my country," he said, echoing language used in a new Conservative ad. "I think I've done as good a job as I can do and I lead a great team of people."
The Tory leader rarely sits down for chats with journalists, aside from year-end interviews. And some could argue that, even after nearly 10 years in power, Canadians don't know much about the man in charge.
Harper's wide-ranging conversation with Mansbridge was particularly interesting this time because polls are pointing to the closest, most unpredictable election in decades.
The exchange sparked some thought-provoking moments and, perhaps, insights into the leader.
Here are seven things that stood out.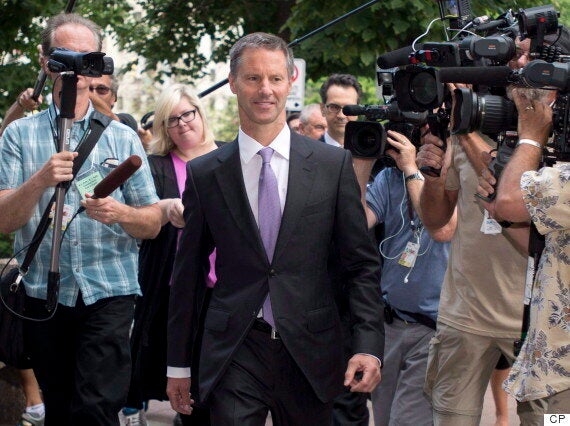 Nigel Wright at the Ottawa courthouse in Ottawa on Aug. 19. Justin Tang/The Canadian Press
The Wright-Duffy affair dominated a large part of the interview, with the Tory leader expressing the anger he once had about the situation. Though evidence given at the trial of Mike Duffy suggests several people in the Prime Minister's Office were aware of Nigel Wright's $90,000 payment to the senator, Harper said he blames only Wright and Duffy.
"There's no person on my staff that I believe deceived me or acted unethically or, or irresponsibly... other than Mr. Wright, yes," Harper said.
Harper's office expressed "full confidence" in Wright, even after the $90,000 cheque was revealed in May 2013. When Wright left the Prime Minister's Office, Harper released a statement saying: "It is with great regret that I have accepted the resignation of Nigel Wright as my Chief of Staff."
However, by October, 2013, Harper told a Halifax radio station he "dismissed" Wright.
When asked by Mansbridge if he has spoken to Wright since he "fired" him, Harper said they had a "brief conversation" in which he wished his former top staffer well as he left for a job in Onex Corp.'s London office.
"Did you fire him or did he quit?" Mansbridge asked.
"Well look, I made a decision," Harper said. "Mr. Wright accepted that decision."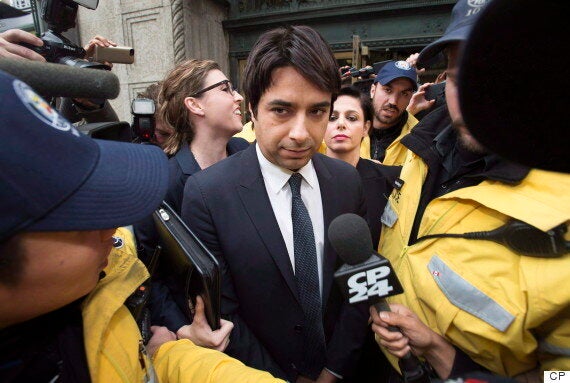 Jian Ghomeshi is escorted by police out of court past members of the media in Toronto on Nov. 26, 2014. Darren Calabrese/The Canadian Press
The Tory leader also made a strange leap while defending his decision not to fire or punish staff members who apparently knew about Wright's plan for Duffy.
Though he wasn't mentioned by name in the interview, Harper's current chief of staff Ray Novak was included on an email detailing the now-infamous cheque. Harper's former legal counsel also testified Novak was well aware of the scheme.
But Harper told Mansbridge that the buck stopped with Wright, and highlighted two recent scandals at the CBC.
"You know, when you have problems with Jian Ghomeshi or Evan Solomon, you don't go around firing everybody who worked for them," he said. "That's not the fair thing to do."
Solomon was fired by CBC in June after the Toronto Star revealed he secretly sold expensive art to people he dealt with in his job.
The Tory leader told Mansbridge that even if he falls short of winning the most seats, he won't attempt to remain prime minister — a significant comment amid pre-election speculation entertaining the possibility of a minority Parliament.
However, his answer may have sowed confusion about Canada's Wesminster system of Parliamentary government.
"My position has always been if we win the most seats, I will expect to form the government and if we don't, I won't," he said.
But the Tory leader also said that under the Westminster system, we don't "elect a bunch of parties who then, as in some countries, get together and decide who will govern."
"We ask people to make a choice of a government," he said. "And so I think that the party that wins the most seats should form the government."
The Canadian system is built on electing members of Parliament, not choosing a government.
The leader with "the support of a majority of the members of the House of Commons" is asked by the Governor General to form government. The prime minister, therefore, is the person who commands the confidence of the House — which can legitimately be accomplished through a coalition.
By convention, the party that wins the most seats typically gets first crack at governing. However, if no party gets a clear majority, the incumbent cabinet can choose to stay in office and attempt to meet the confidence of the newly-elected House.
That's precisely why Mansbridge was asking if Harper would attempt to stay on as PM, even if he falls short in terms of seats.
In 1979, Pierre Trudeau mused about attempting to hold on to power despite narrowly losing to Joe Clark's Progressive Conservatives.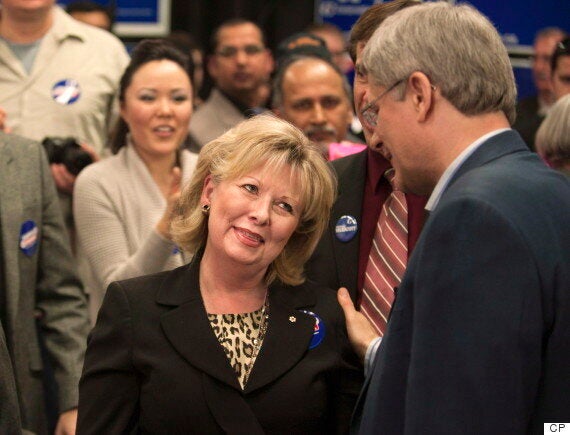 Senator Pamela Wallin speaks with Prime Minister Stephen Harper during a 2011 federal election campaign rally. Liam Richards/The Canadian Press
Mansbridge reminded Harper that the list of troubled appointees goes beyond Duffy.
"You know, there's eight, 10, 12 of them who've either been charged with something, gone to jail because of something or suspicion has been raised surrounding them and investigations are underway into the way they conducted their office," he said.
"Does that reflect on your judgment, seeing as you appointed these people?"
Harper said the real trouble is the upper chamber.
"The Senate has been an unaccountable institution with the vaguest of rules and enforcement," he said. "And I think this is a reflection of that."
The Senate expense scandal spurred a need for clearer rules, he said.
But the Tory leader said that when people look at his government, they "generally can agree that money is being expended on the things it's supposed to be expended on."
That line echoed a similar answer he gave in the first leaders' debate when asked if he owed Canadians an apology for naming Duffy, Pamela Wallin, and Patrick Brazeau to the Senate in the first place.
"I certainly did not name all of the senators that are in trouble," he said at the time. "You know, the Senate has been an institution that has these kinds of problems for 150 years. I'd say for the first time, we actually have a Senate that now has clear rules and is enforcing those rules."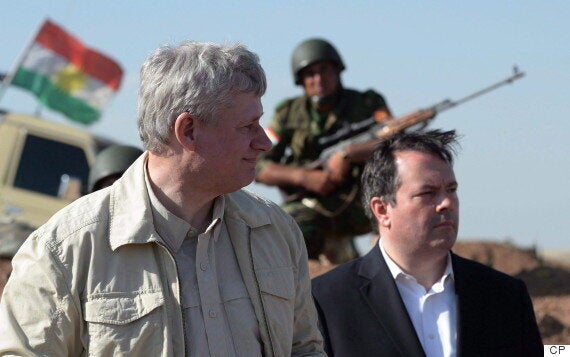 Harper, Jason Kenney visit members of the Advise and Assist mission in Iraq on May 2. Sean Kilpatrick/The Canadian Press
The Tory leader told Mansbridge that an effective ground force would be necessary to defeat ISIL, though there isn't "any desire or willingness" for that to come from Canada.
But he suggested a re-elected Conservative government would be committed to fighting the Islamic State for as long as it takes.
"We cannot just withdraw, allow ISIS to spread the way it was spreading a year ago and use this as a staging area for international terrorist attacks against the world including against us," he said.
"So, we're in for the long haul?" Mansbridge asked.
"We have to be in for the long haul," Harper responded, before criticizing his rivals.
"It's easy for the Liberals or NDP to say we're going to pull out Canadian forces. But I don't think our allies are going to say we could all pull out," he said.
"That would be an absolute catastrophe, not just for the region."
When asked if the West is doing enough to help migrants and refugees in Syria, Harper told Mansbridge he did not think the situation is "fundamentally the responsibility of the West."
But, as a rich and privileged nation, he said Canada has a responsibility to help.
"But are we doing enough?" asked Mansbridge.
"What's enough? What's enough Peter?" he shot back, before saying there are tens of millions whose day to day survival is in jeopardy who cannot be brought out of those regions.
The Tory leader said the problem can't be solved with a "refugee-based solution alone" and lauded Canada's international aid efforts.
The Tory leader balked when Mansbridge asked him to list personal qualities that make him a good prime minister.
"I think we've got the right plan for the country," he said.
"But that's policy," Mansbridge said. "I'm talking about you."
Again, Harper spoke of his "great" team and political organization.
"And I think we've got a pretty good record during a time of incredible challenges," he said.
"I love the job. It's an honour to serve the country," he said. "I'll never have an experience like it again."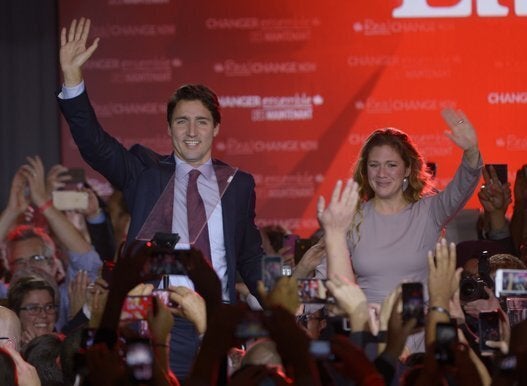 In Photos: Canada Election 2015