Bloomberg via Getty Images
Any Canadian who buys a "Make America Great Again" hat from Donald Trump's campaign risks breaking U.S. law.
The reason? Buying the hat is considered a foreign campaign contribution, Global News reported Tuesday.
Journalist Jackson Proskow reported on the complicated matter of Canadians buying campaign merchandise from any of the U.S. candidates vying to win their parties' presidential nominations.
The U.S. Federal Election Commission (FEC) prohibits foreign nationals from making "any contributions or expenditures in connection with any election in the U.S."
But the red hats with the "Make America Great Again" slogan have proven especially popular as Trump seeks the Republican nod.
And buying that kind of merchandise constitutes as a political donation.
That means any Canadian who shells out the US$25 to buy the hat through his campaign would break the law.
Canadian users seemed disappointed they couldn't purchase it through Trump's site:
I'm trying to make America great again but there are no shipping options to Canada I'M TRYING TO INVEST IN YOUR ONCE-GREAT ECONOMY HERE

— Adrian Lee (@AdrianKLee) October 22, 2015
The hat comes in a variety of colours including orange and camo. However, red has proven to be the most popular.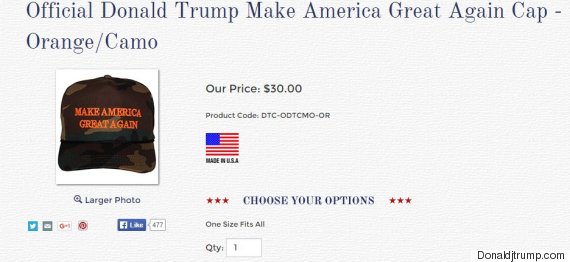 There are, of course, alternative ways for Canadians to buy them.
Online retailer Zazzle is offering the hats for C$28.80 with shipping available to Canada.
There's also nothing stopping Canadians from buying a similar version on Amazon.
But the rules preventing Canadians from buying U.S. campaign-related merchandise only serve as a reminder of regulations that were openly broken by American celebrities during Canada's recent federal election.
Foreign residents are prohibited from endorsing candidates under Section 331 of the Canada Elections Act. People who breach it can face a $5,000 fine or six months in jail, though the law isn't often enforced.
Despite the threatening law, comedian Sarah Silverman endorsed Vancouver NDP candidate Mira Oreck weeks before the election.
And satirist John Oliver openly flouted the law, with $5,000 in hand, when he urged Canadians not to vote for Stephen Harper.
Clearly, people on both sides of the border want to limit how much the other can influence their elections.
Like Us On Facebook

Follow Us On Twitter

Also on HuffPost:
Trump's Face On Movie Characters