It's easy to get overwhelmed by Valentine's Day, especially when it seems like every single storefront is plastered with red, white, and pink merchandise. But while the holiday can sometimes feel insincere, it really is an opportune time to reflect on all the people in your life who you love — especially your girlfriends.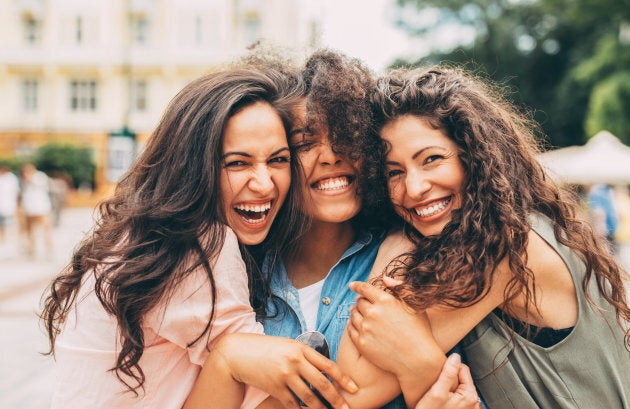 While brunch is fun (and delicious), it can also be tired terrain. This year, take your celebration of ladylove to the next level with one of these eight unique Galentine's Day ideas below.
1. Take a calligraphy class
We've all seen those mesmerizing Instagram posts of people practicing calligraphy. If you've always wanted to learn the art of lettering, now's the time!
Grab your girlfriends and hit up a class, which you can easily find by searching your city on Eventbrite. Embiria hosts classes every month in Toronto, while It Just Flows hosts workshops in Vancouver.
Calligraphy is a mindful activity and is known to be a form of meditation. So what better way to spend Galentine's Day than learning something new with your friends and getting in your daily dose of self-care? It's a win-win in our books.
There's a reason Ashley Graham swears by this workout. Not only does it increase your strength and tone your body, but it's fun too! If you and your girlfriends love trying new workout routines, aerial yoga is for you.
This might seem like an obvious idea, but sometimes you just forget to spoil yourself. A day at the spa with your best girlfriends is ideal if you and your crew just need some R&R and time to catch up with each other.
4. Break some shit at a rage room
This is certainly a unique activity, but if you and your squad need to relieve some stress, this is definitely the way to go! Break anything and everything from plates to printers (while wearing protective gear, of course) at Calgary's Thundrdome, Toronto's Rage Room, or Montreal's Sports De Combats. This activity will definitely help you let off some steam.
Alternatively, if breaking stuff isn't your thing, but you still want to feel like a warrior, try axe-throwing. Head over to Jack Axes in St. John's or any BATL location in Ontario to try your hand.
5. Hit up a winter festival
Just face it — winter isn't even close to being over, so why not embrace it?
Whatever festival you choose, there's sure to be hot chocolate somewhere, and nothing beats cuddling up with a nice hot drink after a long day of gallivanting with your girlfriends.
6. Two words: Netflix marathon
Nothing beats a glass of wine, laying on the couch and pressing play on Netflix. If you're craving some quality time with the girls this Galentine's Day, a marathon of your favourite movies or TV shows may be just the solution.
If you're in the mood for something light and fun, throw on "How To Lose A Guy In 10 Days" or "Hitch." Or if you'd rather binge a show, the Netflix series "Easy" or "Glow" are good options, too.
7. Get your drink on at a brewery
8. Channel your inner Beyoncé at a dance class
This Galentine's Day, why not forgo brunch and hit the dance floor instead? Harbour Dance Centre in Vancouver and City Dance Corps in Toronto both offer drop-in classes for everything from salsa to hip hop and breakdance.
For something a little more unique, check out Stiletto Studio in Winnipeg, which teaches dance routines in heels!