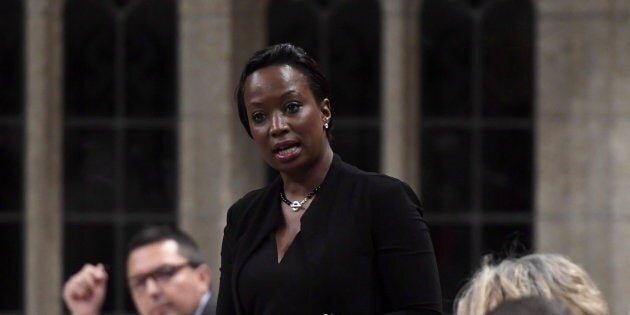 Ontario MP Celina Caesar-Chavannes has left the Liberal caucus and will sit as an Independent for the final months of Parliament.
Prime Minister Justin Trudeau confirmed the news to reporters Wednesday on his way into question period and thanked Caesar-Chavannes for the work she has done for the party.
She later told The Globe and Mail that Trudeau yelled at her in February after she told him that she would not re-offer in the election. A spokesperson for the Prime Minister's Office denied Trudeau yelled at the MP but said they had "emotional" conversations about the matter.
Caesar-Chavannes said in a tweet Wednesday that her Globe interview had "unintended effects" on people that she cares about.
"I no longer want to distract from the great work my caucus colleagues are doing," she said.
"I understand that there's a lot of people that supported me that were disappointed in what I did, doing the interview that I did," she said. "I think that it's important to understand that while I support the values and the principles of the Liberal party, that it might be good, since that message did go out, that I sit as an Independent for the rest of the term that I'm here."
Caesar-Chavannes made headlines in February when she jumped to the defence of Jody Wilson-Raybould over the SNC-Lavalin affair. The MP tweeted that Wilson-Raybould was "fierce, smart, and unapologetic" after unnamed Liberal insiders made unflattering comments about the former attorney general in the media.
"When women speak up and out, they are always going to be labelled. Go ahead. Label away. We are not going anywhere," she said at the time.
When Jane Philpott stepped down as Treasury Board president weeks ago, saying she had lost confidence in how Trudeau has handled the controversy, Caesar-Chavannes threw her support behind the departing minister.
"When you add women, please do not expect the status quo," she tweeted. "Expect us to make correct decisions, stand for what is right and exit when values are compromised."
Both Wilson-Raybould and Philpott remain members of the Liberal caucus and plan to run again under the party banner.
When she announced that she would not seek re-election, Caesar-Chavannes said the decision was not related to the SNC-Lavalin controversy.
"Over the course of the last three and a half years ... I had the opportunity to work with some fantastic colleagues, debate policy, put forward ideas and shape tremendous pieces of legislation that will have a real and positive impact on families across the country," Caesar-Chavannes wrote in a statement at the time.
"It is an honour I never took for granted, and will not soon forget. That is why this announcement is a tremendously difficult one for me to make."
The MP previously served as a parliamentary secretary to both the prime minister and international development minister.
Vocal on mental health, race issues
In 2016, Caesar-Chavannes revealed that she struggles with depression.
"Owning my depression is my therapy. Talking about it, in my opinion, gives others permission to talk about mental health as well," she wrote in a blog for HuffPost Canada.
As one of the few black MPs in the House, Caesar-Chavannes has also been vocal on issues of race, including "microaggressions" she has faced on Parliament Hill.
In 2017, the MP wore "dope" braids to deliver a speech in the Commons denouncing body shaming. In remarks that went viral, Caesar-Chavannes said she was speaking out for "young girls and women who look like me" and those who do not.
"I want them to know that their braids, their dreads, their super-curly afro puffs, their weaves, their hijabs, and their headscarves, and all other variety of hairstyles, belong in schools, in the workplace, in the boardroom and yes, even here on Parliament Hill," she said.
Caesar-Chavannes clashed with former Tory MP Maxime Bernier, now leader of the People's Party of Canada, on social media last year. They had heated exchanges after Bernier criticized the Liberal government's decision to fund programs designed for Canadians with minority backgrounds.
Caesar-Chavannes apologized after telling Bernier to "check your privilege and be quiet."
Months later, Bernier accused Caesar-Chavannes on Twitter of thinking "the world revolves around (her) skin colour."
She fired back by saying that, unlike Bernier, she can focus on matters of public policy "while also shifting the status quo and increasing awareness."
With files from The Canadian Press