Art is Power: A column where Che Kothari, renowned photographer & founding director/chairman of Manifesto, asks artists to succinctly define the power of art.
Va$htie Kola, also known as Downtown's Sweetheart, is widely notorious for being a creative, talented and beautiful tastemaker who occupies several scenes of New York. An overall "It Girl" whose photos you've probably seen all over the Internet, Va$htie dons many titles: designer, director, party promoter and an over-all entrepreneur.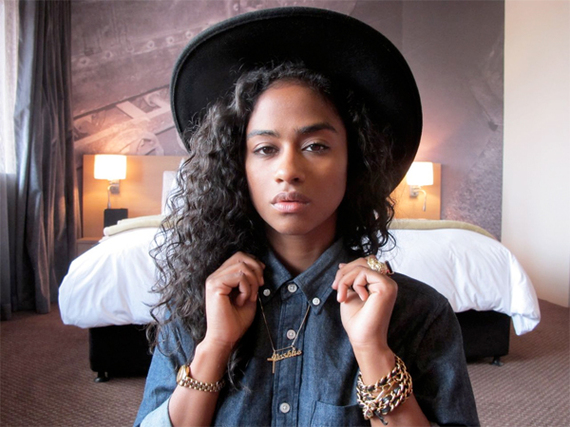 Va$htie began her career as a music video director making videos for artists such as Common, Solange, Kid Cudi, Tony Hussle, Jadakiss, Justin Bieber, Joey Badass and Kendrick Lamar. She's become known for her work with Billionaire Boys Club (as their former designer); her clothing line VIOLETTE; working as a former Creative Director of Def Jam; her 1992 parties (that have been running since 2006) and being the first female to design her own Jordan sneaker. Va$htie has been keeping very busy on her many missions.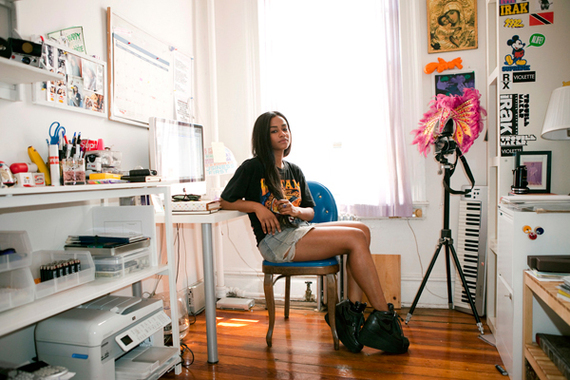 I was first introduced to Va$htie's work a few years ago as we were working on the curation of the 5th year anniversary of the Manifesto Festival in Toronto. Our music director,Wan Luv, brought her to our team's attention as someone unique and special to feature as a keynote speaker and art exhibitor for the festival. As much as we wanted to have Va$htie involved that year, stars did not align and that was not our time. A few years later she re-appeared on my radar after my wife, Mriga Kapadiya, ran into her at Capsule - a fashion tradeshow based in New York. Mriga was there promoting her line NorBlack NorWhite in a booth right across from Va$htie, who was promoting VIOLETTE. They were instantly attracted to one another's vibes and built a relationship.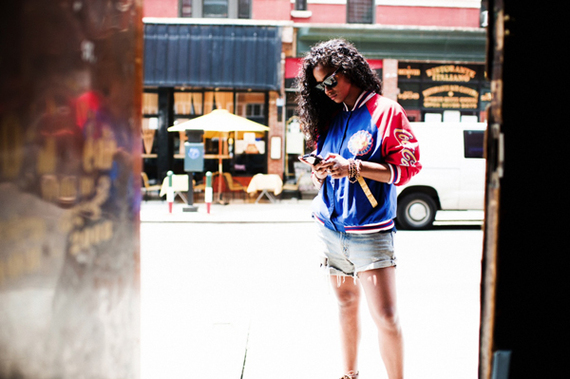 For the past few months I have been preparing for a significant moment in my career. I transitioned my role as Manifesto's Founding Executive Director to the Chair of its Board of Directors to be able to support its growth in new ways and re-focus some of my attention on my career as a photographer/video director/producer and making more art myself. I've been gathering works I've done from the past 12 years and will be releasing a new portfolio site that will centralize and share my work as an artist, instigator and entrepreneur. To celebrate the launch, Va$htie was a perfect guest for us to have bless the occasion and bring her 1992 to Toronto for the first time. The 1992 party in NY is a key gathering space for creatives to get together and jam in a non-pretentious setting. Sounded like the perfect vibe for the website launch and a needed space for Toronto peoples to get down with.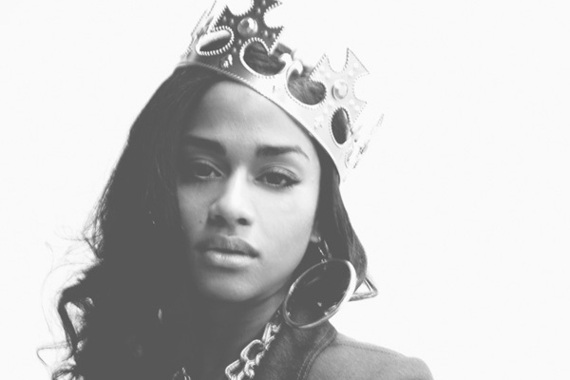 Kicking it on a hammock in Tulum Mexico, I connected with Va$htie over the phone to discuss the 1992 party and to learn more about this multifaceted, interdisciplinary artist and woman. It was dope to connect with such a rare person, someone who is creative, talented, connected and grounded. So many things resonated with me about Va$htie - her Indian roots from Trinidad, her work as an event organizer creating positive vibes, her video directing skills, her style and the artists she chooses to build with - and did I mention she is vegan like me? Wan and I are really blessed to have partnered and be able to introduce her and her energy to Toronto.
Is Va$htie Kola your real name? What does your name mean and what's its lineage?
It is absolutely my real name. My parents are from Trinidad, and my family is ethnically made up of Indian, African and Chinese. My mother always told me that it was the name of a Hindu Goddess so I grew up thinking that. But I recently found it in the Bible - in the book of Esther, and it's mentioned as the name of a Queen - "Queen Vashtie" - who was meant to marry a King that was very power hungry. I might be getting the story wrong because of translations but it described her as very beautiful and graceful, and the king loved to show her off. One night he was having a party with a lot of guests and he sends his guards to bring her to the party to show her off for her beauty. She essentially stands her ground and says "No!" leading her to getting dethroned for objecting the King. From what I understand, she's sort of seen as a heroin; a woman who is comfortable in her own skin, independent, and didn't rely on a man.

The lineage of my last name, Kola, is also interesting. I grew up in upstate New York, Albany, and the community around me was mostly of African descent. The first time I went to Trinidad I was about fifteen and over the years it became a learning voyage for me. I think it was during my second or third trip that I spoke with my aunt and we talked about our family, especially our grandparents, and she explained to me that she recently found out Kola is not our real last name. Back in the day when my grandparents passed away, my dad and aunt were only about 9 and 10, and the British government came around our communities to collect names to file under their system. My dad gave the name "Kola" because that was the name of my grand father, so it eventually became our family name. Many years later, my aunt said she was talking to someone who knew her parents and they pointed out that Kola isn't our last name, it's Anandy.
What was Va$htie at 5 years old like?
My style at five was whatever my brother and sisters handed down to me. Back then I was really into art - I loved painting and playing with different colours. My brother and sister were 7-8 years older than me and I was obsessed with them. My sister used to dress me up and I loved it. My father was pretty abusive, so it was sort of a weird time in the world for us too. We were trying to make sense of the world around us at the time but there was sort of a lot of tension for us as kids.
When did you first fall in love with art?
I think one of my best memories of art was when I went to pre-school and my mom had a part-time job at my school. My parents... I love them very much and for whom they are, but growing up and still to this day, we weren't very close. As a kid, I think you sort of long for that closeness with your parents especially when you don't have it.

Anyway, one of the closest bonding memories I have of my mom is her making little drawings for me and handing them to my teachers and then me being in class and having my teacher pass me a note that was folded by my mom, opening them up and finding these drawings she would make for me. It would always be very random, like a rabbit or a house, and it was fascinating because for me it was my mom and I communicating through art. As someone who wanted a parent to love, it really felt like I was given love by sharing and communicating with someone I really wanted to be close with in the form of art. Recently I told my mom how much I love that memory and she mailed me a drawing of dresses. She knew I was working on my brand so she sent me a picture that said, "Look at my fall collection!" It was really funny.
How has art changed your life?
For me art has changed my life profoundly because it has been my way to create my own destiny. As a kid, growing up in a hood in Albany NY, I was religiously at magazine shops, flipping through magazines, especially culture magazines. It helped me survive my childhood and all my rough points. That's what art does. When you're a kid and you have nobody else, art kind of has the ability to take you to another world or to another feeling and that's what art has done for me - it helped me create my own world. Art has also put me where I am now. I live in New York City and I grew up dreaming of living in New York City, working with famous people, and now to be able to live the life that I dreamed... it's amazing.
Who coined the phrase "Downtown's Sweetheart" for you?
It was my friend Dave who was the only white boy in my neighborhood (laughs). One time he was complaining about walking with me down the street and said he can't walk with me without us stopping every five minutes for me to say hi to somebody or without recognizing somebody. So the name sort of came out of that...
You seem very health-conscious and eco-friendly. Do you ever see yourself moving out of New York to a farm or something, and becoming a recluse?
It's possible. I love San Francisco. I also just went to Vancouver, which is actually a really amazing city. But I don't know - I like routine. So it would take something big for me to move somewhere. I do love cities that are on the map, forward thinking, friendly or known for its food. And New York has those options. I don't know. I guess I might consider it...
Tell me about Oscar and the origins of the 1992 party.
In the summer of 2006, Oscar and I were talking about how many parties in New York sucked. I guess I shouldn't say they sucked, but they weren't fun. It felt like every party had a vibe that focused on who you are, what do you wear, who do you think you are, you know? A lot of cities have that vibe but we were the types of people who weren't like that - we weren't judging people based off of what they were wearing and deciding, "Ok, I'm not talking to you." We also felt like we weren't going to parties that were playing the music we wanted to hear, which happens to be 80's and 90's. So we decided to throw our own parties.
Where have you taken 1992?
We've taken it to Paris, Amsterdam, Miami, Vancouver and soon Toronto. I think the people who have come to our parties, no matter where, are sort of like-minded so it's cool. The people who attend are normally in the same mind frame.
If you had one thing you could put in your portfolio, with all the work you've done so far - what would that be? I know this must be a tough question for you.
It's so hard because they're all so different and I get different feelings from all the work I do. For DJ'ing, I love it because it's so solitary - I get to control what happens in a room. I get an instant reaction to what I'm doing for the crowd. But then there's directing, which has definitely brought me to New York and film has been my introduction to the world - so I love it. Sometimes it's harder to love it because there are so many people involved. It's also commercial art because I'm being funding by a record label or artist. It sort of becomes a difficult journey. It takes longer to see how an audience receives it because you're not there when they do. But there's so much more work involved which also makes it more special.

I don't know... I guess I would have to pick the Kendrick Lamar video because up until that point a lot of the videos I directed had a lot of accommodation of what my vision was. In earlier work, it doesn't really feel like it's me. The Kendrick Lamar video, I feel like the mood and the tone of the video is really me. Even the mannerisms of the girl are me because I directed her to do it. For me it felt real and it felt like me, which is why it's something I love.
If you could pick one super power, what would it be?
I always wanted to be able to be invisible but then there's the issue of your clothes because your clothes can't really be invisible too! Stopping time would be really cool too.
What does Art is Power mean to you?
To me, art is power because it is an influence. It has the ability to make you feel a certain way; to change someone's perspective; the ability to start a conversation, and to me that's extremely powerful. I think it's important in life, no matter what we do, that we create dialogue and change and that we move people. And art is that - it's that power. I think it's important to know your abilities and to use them wisely.
If you are in Toronto, please don't miss the opportunity to see Va$htie and experience Toronto's first 1992 party on February 21st.
Check out previous Art Is Power Series Articles:
Scot Sardinha on Why Art Is Power
Melanie Fiona on Why Art Is Power
Crazy Legs on Why Art Is Power
Danilo M. Mccallum on Why Art Is Power
Kardinal Offishall On Why Art Is Power
Check out Va$htie's site: http://www.vashtie.com/
Follow Va$htie on Twitter: https://twitter.com/vashtie
Che Kothari is a renowned photographer and the founding director/chairman of Manifesto Community Projects, whose mission is to unite, inspire and empower diverse communities of young people through arts and culture. chekothari.com | themanifesto.ca