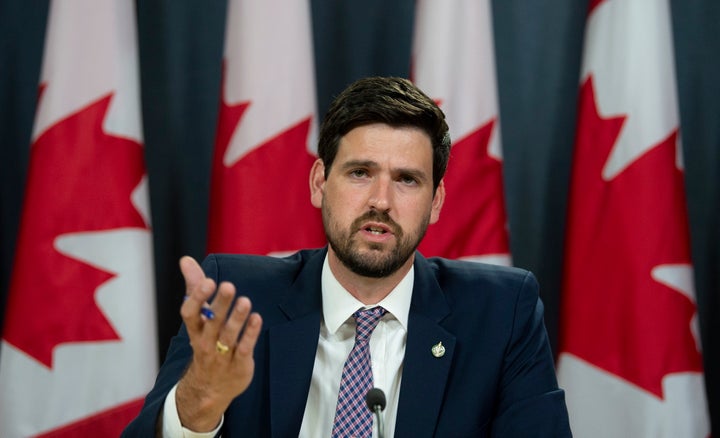 Federal Liberals are urging premiers gathering this week to abandon any legal challenges against Ottawa's carbon pricing system in the wake of two rulings backing the plan as constitutional.
Liberal MPs Sean Fraser and Mona Fortier held a press conference in Ottawa Tuesday to, in the words of Fortier, "set the table" ahead of the annual Council of the Federation conference in Saskatoon. Thirteen provincial and territorial leaders will meet to discuss a range of issues, including health care and interprovincial trade.
Fraser, the parliamentary secretary to Environment Minister Catherine McKenna, called out right-wing premiers who he said are "continuing to waste millions of taxpayers' dollars in court fighting climate action rather than fighting climate change."
'Our government is in the right'
"After two court rulings demonstrating that our government is in the right and has the constitutional authority to put a price on pollution, we've seen conservatives like Doug Ford and Jason Kenney continue to oppose common-sense solutions that we know are the most effective at fighting climate change and the most inexpensive as well," Fraser said.
"The fact is they would rather silence their critics, muzzle scientists as they did under Stephen Harper, and launch lawsuits or smear campaigns rather than actually present opposing views and ideas that will help reduce our emissions in a responsible way."
Fortier said she hoped provincial and territorial leaders will discuss "real" strategies to fight climate change.
Watch: Liberal MPs take aim at Conservative rhetoric on climate policy
Almost two weeks ago, Ontario's top court sided with the federal government's position that imposing a carbon tax on the province is constitutionally sound. Ford has said he will appeal the decision at the Supreme Court of Canada. His government is also spending big on taxpayer-funded ads that bash carbon pricing, and will force gas stations to display anti-carbon tax stickers ahead of the federal election call.
Saskatchewan also lost its legal challenge against the carbon pricing regime before its highest court in May. Premier Scott Moe immediately announced his government would continue its fight at Canada's top court.
In April, the federal government imposed a carbon tax of $20 per tonne on Ontario, Saskatchewan and two other provinces — Manitoba, and New Brunswick — that do not have a carbon price of their own. The price will rise to $50 per tonne by 2022, with rebates to offset costs of higher gas and home heating in those jurisdictions.
Alberta, which scrapped its carbon levy shortly after Kenney's government took office in the spring, will face a federal carbon tax by January, if Liberals are re-elected.
Alberta and Manitoba are both pressing on with legal challenges against the federal policy.
However, N.B. Premier Blaine Higgs announced Monday that while his province will intervene in Saskatchewan's challenge before the Supreme Court — as will governments in Quebec and Prince Edward Island — it will no longer pursue its own separate fight over the tax.
"At this point, without being able to present a different argument, it wouldn't make sense for me to use taxpayer dollars to go and present the same case," Higgs told CBC's "Power & Politics."
Asked by a reporter Tuesday if N.B.'s decision is a "win" for the feds, Fraser said it's a "win for New Brunswickers that their taxpayers' money is not going to be wasted on a fruitless court challenge."
He said there is "frustration" in jurisdictions that are "throwing good money after bad" opposing a plan that Ottawa has the constitutional authority to implement.
"I sense that the premier, who is a decent person, is seeing the writing on the wall that it makes no sense to put money towards a court challenge that has already been asked and answered," he said.
Though a draft of the regulations isn't expected until 2020, Scheer has already dubbed the plan a "secret fuel tax" that he claims will increase the cost of gas by four cents per litre.
Tory environment critic fires back
Tory environment critic Ed Fast released a statement after the press conference, saying the current Liberal plan is not meeting Canada's international obligations under the Paris climate accord.
"The Liberal climate plan has become a massive failure. Canadians no longer trust anything the Liberals have to say about the environment," Fast said.
He called on Liberals to "come clean" about how much clean-fuel standards will cost Canadians.
"Life is already unaffordable for families across our country. Families can't afford to pay this additional secret fuel tax," Fast said in the statement.
With a file from The Canadian Press