Prime Minister Justin Trudeau says he had a "very cordial conversation" with United States Vice-President Mike Pence about Canadian concerns with anti-abortion laws being passed in American states.
At a news conference with Pence in Ottawa Thursday, Trudeau was asked if he broached the topic, as he suggested to reporters he would a day earlier.
Pence was also asked to respond to remarks the prime minister made about a "backsliding" of abortion rights south of the border.
'Significant amount of concern among Canadians'
"I highlighted to the vice-president that there was a significant amount of concern amongst Canadians on the new anti-choice laws being passed in… a number of American states and highlighted that Canadians and indeed this government will always be a staunch defender of women's rights and a woman's right to choose," Trudeau said.
"It was a cordial conversation, but it is one on which we have very different perspectives."
Pence, a devout Christian who is vehemently anti-abortion, agreed the leaders had a "respectful" exchange on the topic, adding the relationship between the U.S. and Canada allows for candid conversations.
"We're able to share our perspective on a broad range of issues and different approaches," Pence said. "But let me be clear, I'm very proud to be a part of a pro-life administration."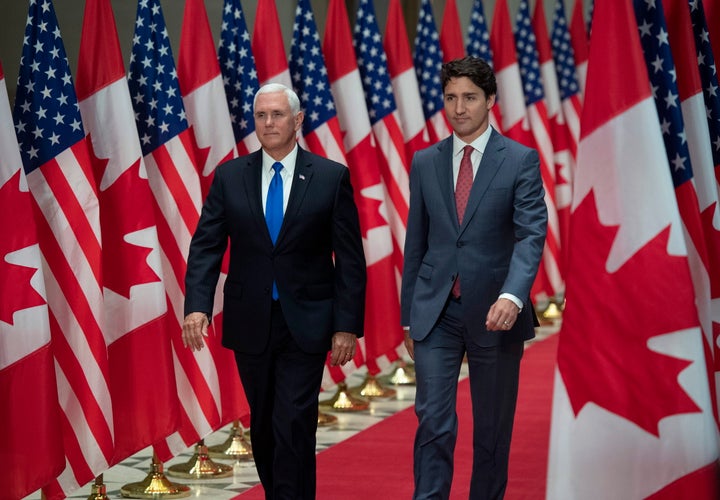 States such as Alabama and Georgia have in recent weeks introduced anti-abortion laws to try to force the U.S. Supreme Court to reconsider its landmark 1973 ruling on Roe vs. Wade. The decision provides constitutional protection for a woman's right to choose.
The vice-president took an inflammatory swipe at the Democratic party, saying it is "troubling" that there are Democrats who support "late-term abortion and even infanticide." His use of a term that describes the killing of an infant echoes the incendiary and misleading rhetoric used by President Donald Trump and other Republicans on abortion rights.
Dr. Leana Wen, the president of Planned Parenthood, told the New York Times this month that Trump is "deliberately conflating infanticide with abortion late in pregnancy."
However, Pence said those are debates to be had within the United States. Canada, he added, will "deal with those issues" in a way Canadians deem most appropriate.
"But for President Trump, for me, for our administration, we'll always stand for the right to life," he said.
Asked if he was angry to hear Trudeau weighing in on the U.S. issue, Pence said that "friends can have differences of opinion and still be friends."
The bulk of the nearly 50-minute news conference dealt with efforts in both countries to ratify the so-called new NAFTA. Liberals introduced legislation Wednesday to ratify the USMCA trade deal.
"The United States today renews our call on the Chinese government to release the two Canadian citizens who have been wrongfully detained for the last six months without due process of law," Pence said. "We stand with Canada in this cause and we will continue to until your citizens are restored."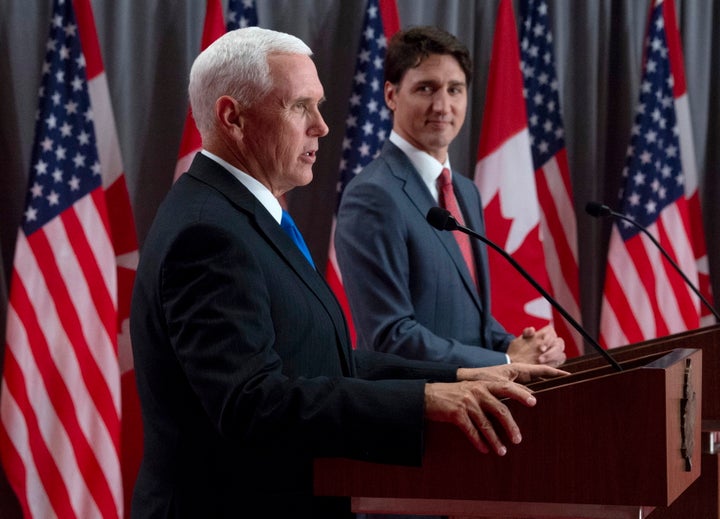 Trudeau told reporters Wednesday that he was concerned about the "backsliding of women's rights that we're seeing from conservative movements here in Canada, in the United States and around the world."
But Trudeau said he anticipated his meetings with Pence to focus on the ratification of the new NAFTA and "making sure we get good jobs for Canadians."
Pence said, more than once, that Trudeau "drove a hard bargain" while negotiating the trade pact.
With files from The Canadian Press