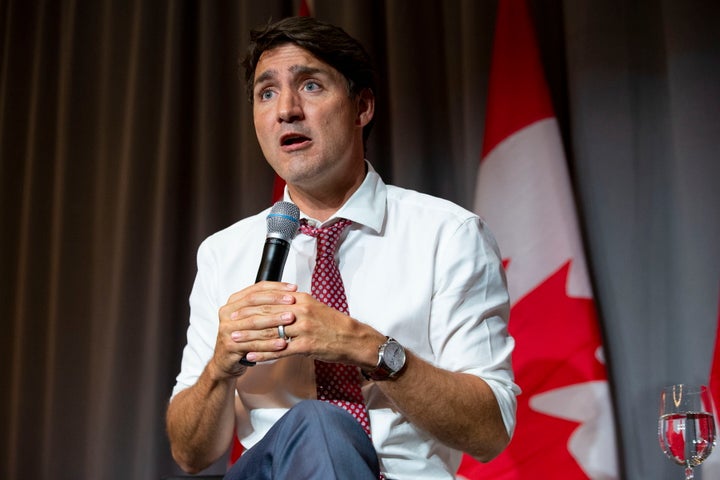 Prime Minister Justin Trudeau will only participate in two debates during the federal election cycle, choosing to forgo other events.
According to Daniel Lauzon, the Liberal party's director of communications and policy, Trudeau will only participate in the debates organized by the Leaders' Debates Commission during the 2019 campaign.
Lauzon's statement confirms that Trudeau will be a no-show at the Maclean's/Citytv debate on Sept. 12 and Munk Debates on Oct. 1.
"The Commission was established after the last election where the governing party tried to game the system and make sure the fewest number of Canadians engaged in the debates," Lauzon said in a statement to HuffPost Canada. "We think that's wrong. The Commission debates will be widely distributed on television, radio, digital and social streaming platforms and reach the largest possible audience."
WATCH: Here are all the party slogans in the 2019 election. Story continues below.
The commission was established in 2018 to make the debates a more reliable and stable element of federal election campaigns, to ensure the debates are as accessible as possible on a variety of platforms.
In May, the commission issued a request for proposal, seeking bidders to produce the English and French debates. Nine media outlets came together to form the Canadian Debate Production Partnership and won the contract to produce the two official events.
The five party leaders invited by the commission to those debates have all confirmed their participation.
Munk organizers express dismay
Conservative Leader Andrew Scheer, NDP Leader Jagmeet Singh and Green Party Leader Elizabeth May have all agreed to participate in the Maclean's event as well as the Munk debate, which focuses on foreign policy.
In a series of tweets, Munk Debates' organizers expressed dismay at the news Trudeau would not be in attendance.
The two official debates overseen by the commission will be held at the Canadian Museum of History in Gatineau, Que.
The English debate on Oct. 7 will be led by Althia Raj from HuffPost Canada, Susan Delacourt from the Toronto Star, Rosemary Barton from CBC News, Dawna Friesen from Global News and Lisa LaFlamme from CTV News.
The French event on Oct. 10 will be moderated by Patrice Roy from Radio-Canada, and will also feature journalists from Le Devoir, Le Soleil, La Presse and L'Actualité.
The partnership producing those two debates includes:
Lauzon said the Liberals are also in communication with French-language television network TVA about involving it in future debates.
"The Campaign team is also in conversations with TVA, as the only major Canadian network not included in the Commission. We hope and encourage TVA to consider participating in the Commission's debates in the next election."