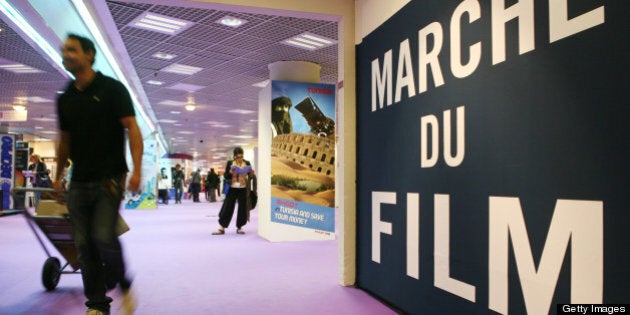 As part of Telefilm Canada's Not Short on Talent project, 40 short-film filmmakers from across Canada are travelling to the 2013 Cannes Film Festival, where their films will be highlighted in the market. The Huffington Post Canada is pleased to share diary entries from a selection of these filmmakers, who describe their experiences at Cannes as Canadians on the rise in the industry. Here is Moira Sauer with the fifth entry in our Cannes Diary series. Also check out previous entries from Moira and from KyleThomas.
Day 8 of Festival de Cannes and I suspect most of the folks here had a sense that we'd seen the last of the crazy weather. Torrential downpours, followed by winds that could have carried us all to the Land of Oz and then, finally, the sweet, sunny Mediterranean weather we all equate with the world's largest film festival.
But as the massive security system begins the daily task of clearing La Croissette in preparation for the nightly parade of red carpet walkers and press, the thunder has rolled in, and brought with it lightning and another downpour.
Which leads me to thinking about the different shades of Cannes. Or rather, the public and perhaps the not-so-public faces of the festival.
The world watches Festival de Cannes through the lens of a camera, and listens to the formal media calls with the famous actors and directors from the feature films that are in Competition. The mega stars of the world, gathered together on that red carpet, the glitz and the glamour, the jewel heists, the dream of so many.
What is not shared is that the other 90% of the festival is happening day and night, in an area behind the red carpet, stretching out on either side down the length of the beaches. This part is called the Marche du Film and Cannes Court Metrage and the International Village. This is where every filmmaker, producer, director, buyer, seller and distributer is spending his/her time.
And there are thousands of us. Thousands upon thousands. For this Yukon gal, the space within the pavilion feels much like a small city -- even a map (now pulpy and overused in my bag) could not aid in making sense of the twisting mini corridors set-up between the booths of every single film company in the world. Cannes is a mega-soup of getting physically, and at times emotionally, lost.
Sitting areas exist, but you cannot sit in them unless you are having a meeting, which leads to this added element of folks perching on stairs or propped against walls (an element reminiscent of university days) to work on their phone or laptop, or dig through the program to find another movie to go see since the one they just stood in line for an hour waiting to enjoy ended up being full.
That oh-so-precious laminate ID badge is the key to it all. It gets us access to everything, while at the same time guaranteeing nothing. Flashing the laminate occurs so many times in a day, it becomes second nature to us. Security gates have been constructed around the entire International Village and the pavilion and every single gate has a few gatekeepers, requiring the laminate ID flash. They are dressed in suits. Tidy. Polite. Standing for hours on end.
Once you get through the gatekeepers, there is another set of gatekeepers mid-gate, just to ensure that the first gatekeepers didn't let anyone slip through. Then you get to the building. Not only are you required, once again, to flash your ID, but bags must be opened and examined, and a security wand a la airport security is zipped across your front and back. (Unless you happen to be wearing a summer dress, then they let you pass through without the wand. Score one for the ladies.)
Two things require forethought and planning when attending this part of Festival de Cannes. They are: food and toilettes.
Neither is easily found. And once discovered, there will be a line-up to endure. This has created a practice of searching in advance notice of hunger and in advance notice of needing to pee. (In that second category, score one for the guys.) I believe there are coveted washrooms on various floors that one can discover. The problem, in my case, is rediscovering them, for I find myself lost down strange hallways and in back dungeon areas with hoards of security in matching beige suits.
Maps, hunger, and a full bladder aside, the actual size of this beast of a festival is something to marvel at. The number of staff alone is mind-boggling. The space it requires to operate seems to extend for miles, and the international gathering of all those within the field of film has completely stunned this bush girl.
Yes, I have made it (for me it is a little black and white movie starring my beloved dogs and my dear friends from home). Yes, I am part of it - here is my laminate.
I have to sit on the beach in the rain and take a moment to take it in.