Musicians Affected By Hurricane Sandy: Flooded Homes, Postponed Concerts, Sad Tweets
As most of North America and the world watched, Hurricane Sandy put a huge dent into the day-to-day life for millions along the Eastern seaboard. While West Virginia was getting hammered with a severe snowstorm, New York City and the surrounding areas were nailed with high winds, heavy rains and high waves which caused devastating flooding and destruction. And some of the musicians in the area were directly affected by what transpired.
According to TMZ, New Kids on the Block member Donnie Wahlberg posted a 43-second video of his apartment was completely flooded. In the video Wahlberg and a friend can be seen sloshing through his apartment picking up items which are floating in the kitchen, including cereal bowls.
"So much for bacon. My entire building is under a foot of water," Wahlberg tweeted as the storm continued overnight. "Awesome neighbors all banding together to help each other! Stay safe!" Later on Wahlberg posted another update via Twitter. "Safe & Sound on Higher Ground! Don't worry about me. Material things are meaningless. Check in with those you know in the storm! Stay safe!!"
Story continues after slideshow
Celebrities React: Hurricane Sandy
Mayor Bloomberg going with zip up neck sweater to fight Sandy. Shows preparedness. Windy: zip it up Storm over: back down #frankenstorm

Flying home from east coast and #Sandy. Wish I could bring all in harms way with me. #StaySafe

Risking my safety at getting to a friends house for a hurricane hunker party bc i am now addicted to downton abbey

Thanks 4 all the good thoughts guys - we r 2gether & prepared to deal with #sandy - stay safe everyone!

Wishing everyone on the east coast a safe and dry weekend! #Sandy

starting to get windy here in #Brooklyn...I hope our shows don't fly away

Jeez, was supposed to go to NYC but frankenstorm put the kabosh on that, instead I dressed up like a cat & drank some tequila.

Waiting for this storm!!! Slumber party with my boys!!!! 💙

RT @nytjim: Mayor Bloomberg says you can bring pets to shelters in evacuation Zone A. #sandy

My dad re: the hurricane: "I have tons of cash and a salad"

In preparation for #Sandy I am downloading 10 more episodes of #FridayNightLights

Oh Frankenstorm. What say you? To play Carnegie hall or not to play Carnegie hall. That is the question.

I keep seeing pictures of the flooding going on and it hasn't even started raining yet. Scary.

"The wind began to switch. The house, to pitch. And suddenly the hinges started to un-hitch..."

Everyone be safe rather than stupid. We're figuring out where we're going to stay.

Praying for everyone on the East. ♥

Nervous about this hurricane sandy coming our way

The calm before the storm. #sandy #hurricane http://t.co/GE1GadYC

Batten down the hatches!! I'm baking macaroons for the duration. Hope it's over before Hulaween!!!! Eeeeeeekkkk!!

The supermarket in #NYC right now. http://t.co/zOecytzd

Maybe I should have stated where I was- Hurricane Sandy doesn't sound so fun...

Back in Miami now. Missed the storm. I'm praying for everyone on the East Coast. I hope everyone is safe!

I'm obsessed with Hurricane Sandy..I just LOVE weather!The eye of the storm is coming straight towards me!!So exciting!Am I insane?I'm ready
Meanwhile, many other artists living in New York City simply stayed indoors for the evening and tried to make the best of a bad situation, including Jesse Malin. "No power but candle light Lincoln style tweets while the batteries last," Malin tweeted with an accompanying photo showing how high the waters became and the message "hunker down!" - "I live by the river".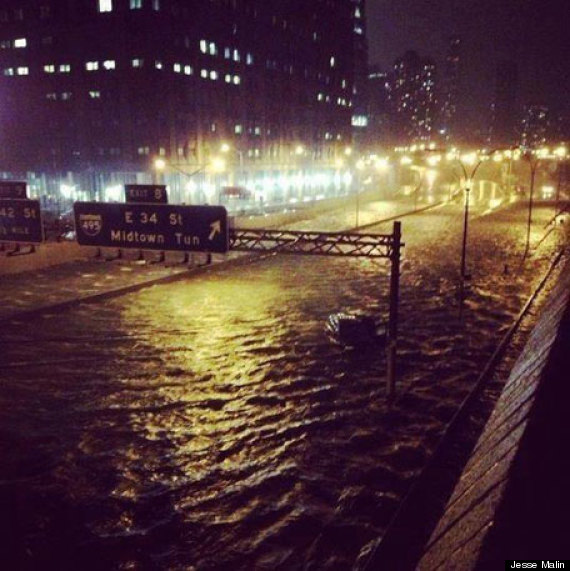 In another area of New York City, singer Rosanne Cash was also tweeting about the storm. "Damp and breezy in Zone C," she said. "Waiting for Sandy. Woke up with my dad's song in my head. Uh oh. #FiveFeetHighAndRising". Cash's abode was also mere blocks away from a building whose facade simply collapsed to the street. "Wow. Building facade in Zone C, few blocks from my home, just fell off. Fell OFF," she tweeted. Cash's home lost power last night and as of early Tuesday morning had yet to return. "Still no power. Freakishly quiet in Zone C except for sirens. Copy," she wrote.
The impact the storm had on musicians is bound to be felt in the coming days as some New York area bands are currently on tour away from home and studios. "New York! Our hearts are with you!" Dirty Projectors tweeted about the situation. The band is currently on a European trek playing a show this evening in Stockholm and one in Copenhagen on Halloween night.
Oddly enough, RNDM -- the trio consisting of Pearl Jam's Jeff Ament and singer-songwriter Joseph Arthur -- released a new video for the song "Walking Through New York" yesterday. The video shows the group in masks walking through a rainy New York City evening and then taking the subway. "Walking through New York premiering today on VEVO," Arthur tweeted. "Take shelter and be safe everyone!"
MORE ON SANDY IN CANADA
New York group The Antlers took a light-hearted approached to the storm. "is it wrong to put canned foie gras in your survival kit?" the band tweeted last night before commenting hours later about Hurricane Sandy's destruction appearing to abate. "Just concluded the entire discography of Air and now the storm seems to be 'over,'" they wrote.
Other musicians from all over showed their concern for those in the storm's path. "Our thoughts are with everyone affected by #Sandy," Jimmy Eat World tweeted "hope for safety and quick relief for all in the area." Meanwhile, Common echoed similar sentiments. "Prayers and love to all those on the east coast dealing with Hurricane Sandy. GOD Bless"
Antibalas -- who have family in the area -- also hoped for the best. "Hope all our fam in NYC is safe," they tweeted. "#Sandy was indeed serious. Thinking of you all."
The storm also caused a slew of concert postponements and cancellations by dozens of musicians. Aimee Mann's show at the Bowery Ballroom was postponed to tomorrow night while The Soft Moon had their show cancelled. Bruce Springsteen put his Rochester, NY concert on hold for one day and the Freedom to Love concert for marriage equality featuring performances by The National, fun., Beth Orton, Rufus Wainwright and They Might Be Giants among others has been postponed.
"With all the goodwill, momentum, and awareness this concert has generated, we are rebuilding the show on a future date, likely in the Spring," a statement on the concert's site said. Journey, Kathleen Edwards and Trey Anastasio were others who postponed concerts.
Finally, and unfortunately, other musicians who might not be household names are in dire circumstances. "Had to leave my house because it almost doesnt exist anymore, im at a friends house safe now but im homeless!" a tweet from musician Mike Montini read. "Its weird to sink in ya know".