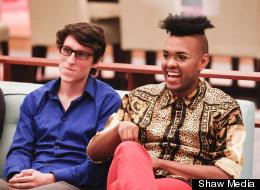 A reality TV show like Big Brother Canada isn't exactly known for its stylish houseguests, but the show has grown in such popularity that the contestants deserve a little recognition for what they choose to wear in the house.
Even if you don't care for the clothes, you can at least enjoy the hilarious antics, unforeseen plot twists and watch alliances form.
Check out the style of the Big Brother Canada contestants
Suzette (right) may be a mother of three, but she hasn't lost her sense of style. From bright pink dresses to gorgeous printed tights, she knows how to make her curves look amazing.

Emmett's a dairy farmer and, well, he basically looks like one. He wore a cowboy hat on his first day in the house and hasn't changed his casual style of plaid or casual dressy shirts and jeans and sneakers.

Gary (right) is the biggest personality in the Big Brother Canada house and his clothes reflect that. From fur hats, tasseled coats, ripped-up jean jackets, dangling earrings and so much glitter and sparkle, he is the most fabulous man in the house.

What a cute dandy! Aneal chooses clothes that match his outgoing and fun personality: pink collared shirts, colourful blazers and fancy bow-ties.

Danielle always looks as if she's ready to party; from floral bustiers, to low-cut shirts and leopard-print bras, the 20-year-old aspiring actress knows how to show off her assets.

The 27-year-old Toronto bartender shows off her athletic, toned body with comfortable tees, sheer mullet skirts and heels. But she's classy, not trashy.

The 27-year-old dental hygienist plays up her beautiful looks with subtle but effective dressing. She tries to outplay the other girls by wearing clingy dresses that show off just enough skin.

A typical jock, Alec, 26, favours button-up shirts, athletic wear and skinny ties. Totally preppy.

Peter has the Mark Zuckerberg look: hoodies, checkered shirts and cardigans. Pure nerd styles. But don't be fooled by his geeky look; he's actually pretty manipulative.

Andrew's clothes reflect his personality: Nice but dull. He's the t-shirt and jeans kind of guy.

The 29-year-old tanning salon owner likes bronzer so much, she may as well not wear anything else. However Big Brother Canada contestants must wear some sort of clothing so she favours business casual clothes as well as wrap dress shirts and jeans. But we know she would prefer to be in a bikini in a tanning bed.

Jillian likes to dress casual (tank tops, cardigans, yoga pants) but can doll it up from time to time with funky necklaces and other accessories.

If you've ever been to a nightclub, then you've met an AJ. The 32-year-old looks like a yacht-club wannabe with popped collars, big sunnies (even indoors) and ties. He's all talk.

Talla, a natural flirt, has fun with her clothes even if she can't walk in them (see the first episode where she had to be helped down a flight of stairs while wearing blue platforms). The 26-year-old favours long, figure-hugging dresses and similar flirty looks.

He may be a bit off-putting but the 25-year-old firefighter (left) cleans up nice with crisp dress shirts and fitted vests.