9 Signs That Alberta Is Really, Truly F***ed Right Now
Dear Alberta,
We know that things don't look too great at the moment.
The economy is tanking and the provincial government is plunging further and further into deficit.
Sure, there are some optimists who see a "flicker of hope" in rising oil prices. But even they admit that most oil producers can't generate a profit at current levels.
And sure, the truth hurts — but sometimes it's important to hear it, if only to figure out how to make a bad situation better.
With that in mind, here's a list of reasons why Alberta is really, truly, f**ked right now.
Downtown Calgary is starting to look like a ghost town
Things have been a little quiet in Calgary's city centre over the past few months.
Commercial real estate vacancies are up 20 per cent and experts say it's only going to get worse.
By 2018 the downtown core could have 11 million square feet of empty offices — the equivalent of about 647 NHL rinks, according to The Canadian Press.
It will be like walking through a downtown ghost town.
The oilsands are set to lose even more jobs
And if you're a construction worker in the oilsands, you might want to think about switching industries.
Construction jobs in the oilsands are expected to virtually disappear in the next four years.
And that's happening as at least one company experiments with driverless trucks.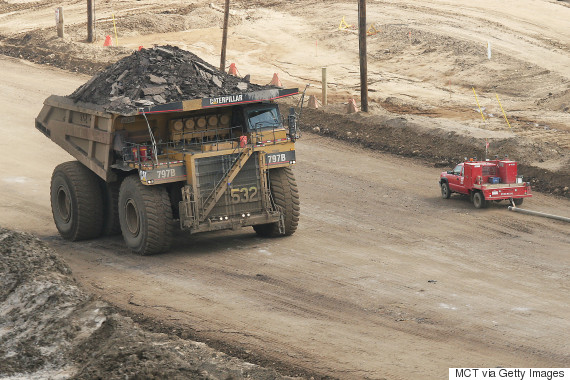 All. This. Stuff. Being. Auctioned.
For companies going out of business, there's no better way to try and recoup some of the costs than selling off your old equipment.
It seems like lots of Alberta companies have the same idea, with the largest ever auction of Canadian industrial equipment taking place this week.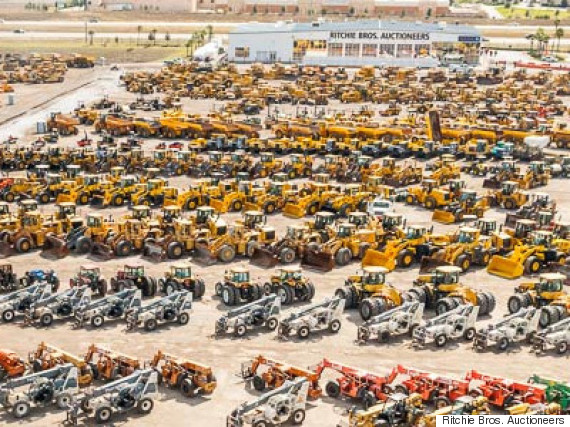 That's a lot of formerly profitable equipment. (Photo: Ritchie Bros. Auctioneers)
"I saw this as an opportunity to get out while I still could, before you start getting the mass exodus," business owner Jeff Ludwig told The Globe and Mail.
Ludwig's company is liquidating all of its assets — 48 remote work-site trailers. It's a mere drop in the bucket of the over 10,000 items up for auction.
Wages are plummeting
If you're looking to make some money, go west — further west, that is.
Because weekly wages have fallen faster in Alberta this year than in any other province, dropping 3.4 per cent to $1,118.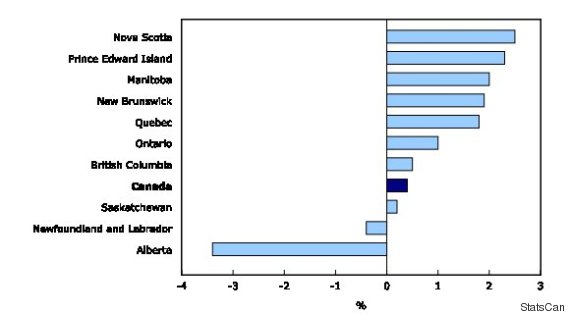 That's not the direction we want to see this chart going in.(Chart: StatsCan)

Need EI? Good luck.
Employment insurance is supposed to be there when you need it.
That sounds great when you're not stuck at the end of a line with the other 60,000 Albertans hoping to sort out their claims.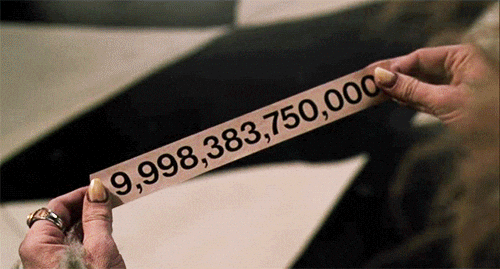 Thank goodness the government extended EI benefits ... unless you're in Edmonton.
Our hockey teams kind of suck
Those looking for escapism through Canada's favourite sport are out of luck.
But at least the rest of Canada isn't doing much better. Here's to next season.
At @unicorncalgary being force fed a hockey game with two dead in the water Alberta teams.
What. Is. The. Point. It's over, admit it.

— Bic Pentameter (@anbayanyay) April 3, 2016
Massive fires. And no money for firefighters.
Wildfire season has started and according to one expert the province is just "waiting to burn."
Hot, dry weather has created ideal conditions for forest fires, like the one that forced an evacuation of hundreds of Albertans near Fort McMurray.
Unfortunately, the Alberta government felt this was the best time to cut almost $15 million from the province's wildfire budget, despite last year's fire season being the busiest in 25 years.
Please, nobody light a match.
The province really needs to bone up on sex ed
Alberta's sexual education programs should receive a failing grade, critics told the Edmonton Sun last month.
In probably unrelated news, sexually transmitted infections like gonorrhea and syphilis have more than doubled over the past year.
Language is failing Albertans
Albertans have a right to be upset given everything that's going on.
Unfortunately, it seems like we don't have the words to express ourselves.
One angry commenter hoping to kickstart a revolution against Alberta's NDP government accidentally coined the word "kudatah."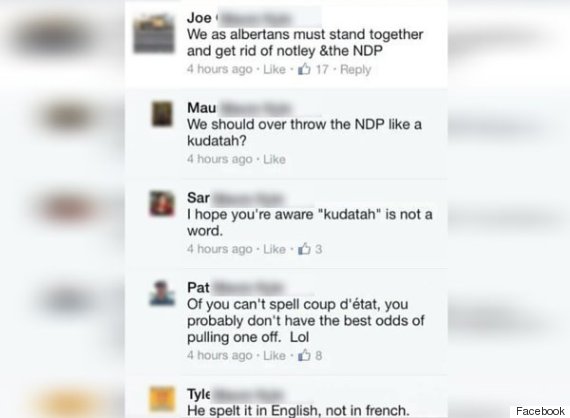 But there's one thing Albertans can be happy about
There are lots of fun, free things to do in Alberta to distract you from all the bad news.
After all, the best things in life are free.
Like Us On Facebook
Follow Us On Twitter
Also on HuffPost:
Timeline: Oilpatch Layoffs Of 2015
Here's a look at some of the major energy industry layoffs that have affected Alberta in 2015:

Company: Royal Dutch Shell Layoffs: Hundreds of layoffs at its massive Albian Sands project. The company announced it is laying off less than 10 per cent of its 3,000 workers.

Company: Suncor Energy Layoffs: The company announced it will layoff about 1,000 people from its workforce of 14,000. It also cut $1 billion from its capital budget

Company: Schlumberger Layoffs:Schlumberger announced they would cut 9,000 jobs in January, and another 11,000 in April, but did not report on how may of those jobs would affect Alberta employees.

Company: Newalta Layoffs: The company announced it would cut 180 people from its workforce to reduce costs and improve margins. The cuts amounted to 15 per cent of its staff.

Company: Weatherford International Layoffs: The oilfield services company said it will lay off 8,000 workers worldwide, or about 15 per cent of its workforce. According to Global News, about 1,000 of those positions affected Albertans.

Company: Cenovus Energy Layoffs: Cenovus Energy Inc. said it will cut its staff by about 15 per cent, the bulk of layoffs coming from its contract workforce. The company also suspended employee salary increases for this year.

Company: Precision Drilling Layoffs: Precision announced a net loss of $114 million, and was forced to adjust to a "swift and severe" decline in crude prices, said CEO Kevin Neveu. At the time, Neveu said about 50 fewer Precision rigs, and 1,000 fewer people, were running than at the same time a year ago.

Company: Finning International Layoffs: Finning International said it will cut 500 employees, or about 9 per cent of its Canadian workforce. Some of these cuts came to people working the Alberta oilsands or based in Edmonton.

Company: Husky Energy Inc. Layoffs: Husky Energy Inc. unexpectedly laid off 1,100 workers at its Sunrise oilsands project.

Company: Nexen Energy Layoffs: Nexen said they would slash 400 jobs "in response to the recent industry downturn." The majority of Nexen's cuts affected employees at its Calgary office.

Company: Talisman Energy Layoffs: Talisman Canada said it would reduce its workforce by 10 to 15 per cent as it grapples with low crude prices. Spokesman Brent Anderson says up to 200 employee and contractor jobs would be cut, mostly at the company's head office in Calgary.

Company: ConocoPhillips Layoffs: ConocoPhillips announced that they will cut seven per cent of their Canadian staff — or about 200 people in total. Spokeswoman Kristin Ashcroft said that some Calgary-based staff and workers in the oil field would be let go.

Company: Trican Well Services Layoffs: Trican Well Service Ltd. cut 2,000 employees from its North American workforce, including about 800 in Canada, and said it will stop paying dividends to its shareholders, citing the difficult current and future market conditions.

Cenovus Energy Inc. cut between 300 to 400 jobs in the second half of this year, on top of 800 layoffs announced in February.

Penn West announced it is cutting its workforce by 400 full-time employees and contractors — most of them working at company headquarters in Calgary.

ConocoPhillips Canada confirmed to CBC News it will reduce its workforce by about 15 per cent — 400 employees and 100 contractors. The majority of jobs lost will be in the Calgary office.

Cenovus, Suncor, Athabasca Oil and Calfrac all lay off hundreds of workers. "Unfortunately, these are the necessary steps required to weather an extended downturn," company spokesman Matt Taylor tells CBC.

Enmax, Transcanada and Enbridge all announced layoffs, totalling more than 560 employees, CTV reported.

ATCO Group laid off more than 400 people, according to The Calgary Herald, bringing the total group layoffs of the year to over 18,000 workers.