Big Brother Canada Week 7 Recap: Yet Another Twist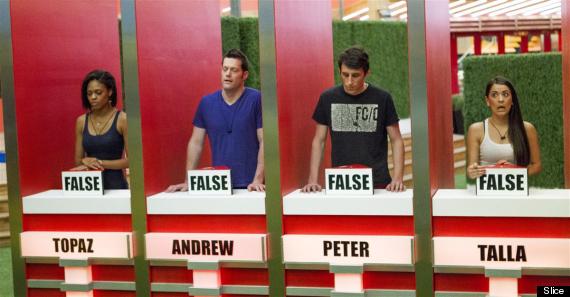 Contains spoilers! Don't read unless you've seen week 7 of Big Brother Canada, or if you don't mind spoilers.
This week on Big Brother Canada, an evil doppelgänger of Marsha the Mounted Moose was added to the Big Brother Canada house. Much like the original Marsha the Moose, the evil moose sent Peter on a mission in to the house. The task was to prank the Big Brother houseguests into thinking that Tom, the season's original persona non grata, would be re-entering the house. The joke for Peter and us viewers at home was intended to be "Ha Ha! Look how easy it is to get these crazy contestants worked up about something that isn't happening." But the real prank is on us viewers, because the houseguests realize they have every reason in the world to think that something so outlandish could happen ... after all, this is Big Brother Canada.
For the umpteenth time this season, Big Brother Canada introduced a new twist in to the game this week. This time, the twist is that a player will return from the jury house to re-enter the game. I don't believe the idea to bring a player back in to the game was part of the plan when the season started. Big Brother Canada started with 15 houseguests, which needed to be whittled down to two in the course of a 10-week show. Last night we had our second double-eviction of the season. So at this point we seem to be double-evicting just to bring back people already out of the house. Maybe next season the house can be outfitted with a revolving door to make such transitions more convenient.
The notion of bringing back an evicted houseguest at this point in the game seems a bit desperate to me. I have really enjoyed the characters on Big Brother Canada and I hope the Canadian version of the series continues for many more seasons, but these twists have gone too far. The show seems overly reactionary and afraid that viewers will jump ship if production doesn't keep raising the stakes. With the showmance of Emmett and Jillian cruising towards a victory, it seems like the show is petrified of having this predictable finish play out.
Since it's going to happen anyway, lets try to prognosticate how the Power Shift is going to unfold. We can clearly rule out A.J. returning under any circumstances. A.J.'s not going to like hearing this, especially since he left the house by the circumstance of the last twist, but there's just as good a chance that I'm entering the Big Brother house this week.
I also think that there's almost no chance that Topaz is the player to return to the game. In her exit interview with Arisa Cox last night she seemed grateful to finally be out. While there were sparks of gameplay here and there, she never seemed like a threat once Gary was out of the house. Luckilly for Topaz, her sleeping will go on uninterrupted at the jury house.
So, it'll either be Gary or Alec who returns to the game. On the Big Brother Canada website, it would seem the producers or the webmaster has reached the same conclusion. The players are listed on the front page in this order: Gary, Alec, Topaz and A.J. A.J., all the way to the right, is also behind Topaz; the site is practically saying, "Don't waste your vote." This order is very telling, since there's no reason that the order should be Gary, Alec, Topaz, and A.J. except that's the order that production would want us to vote. It is not alphabetical, nor is it in the order that the players were evicted.
I've been a fan of The Shield through the season. As the biggest Big Brother nerds in the house, I enjoyed most of their antics. My gut tells me I should be pulling for Alec to come back in to the house, but his exit did not sit well with me. Being up on the block this week, Alec seemed primed to win the veto and remove himself from the game, but he seemed to be struck by a vision that he ought to throw the veto competition. He proceeded to quit the veto and was voted out of the game as expected.
Alec seemed somewhere between aloof and smug in his post-eviction chat with Arisa. He openly asked if he intentionally threw the veto competition or not, as if he didn't know. He pleaded to Chevrolet in his nomination speech ... and were his prayers answered? Did Alec have a vision of returning to the house while competing in the veto competition? He also compared himself to Big Brother legend Dr. Will a lot this season, but there's another Big Brother U.S. player he reminds me of after this week.
Two summers ago on Big Brother 13, houseguest Lawon asked the players to vote him out of the house on a week when a player was returning to the game because he thought he would be the one returning. Lawon believed that once he returned to the house he would be granted some superpower in the game. No such thing happened, but for Alec has the prophecy of Lawon come true? Did Alec have reason to believe that a twist would return him to the game in reality TV zombie form?
Seriously, though, who are we kidding? I have every confidence that by this time next week, the house will be covered in glitter once again as Gary returns to the house from Big Brother Canada purgatory. It seems obvious to me that this is the outcome that the show is hoping for, since they feel like this will make for the best television. I can already hear Gary shrieking "I'm back, bitches!" as he sashays through the front door.
It remains to be seen if Gary will be given immunity for his first week back in the game. The notion of Gary returning at the final six with no chance of going home really does not seem fair, but has anybody ever said Big Brother was fair? Strategically, Gary will likely be out for vengeance against Andrew, the person that put him up on the block in the first place. Ironically, Gary's return to the house may only help Emmett and Jillian get rid of Andrew and Talla, two players that have feuded with Gary in the past this season.
Eventually, Gary will be voted out for the second time after he can't compete for an HoH competition. Emmett and Jillian will continue their inevitable march towards the final two with a few less obstacles in their way. After another twist on Big Brother Canada, in all likelihood, the power will not have shifted nearly as much as our attention.
Do you like the idea of a player returning to the game at this point? Let me know in the comments and on Twitter.
Big Brother Canada Week 6 Recap
Big Brother Canada Week 5 Recap
Big Brother Canada Week 4 Recap
Big Brother Canada Week 3 Recap
Big Brother Canada Week 2 Recap
"Big Brother Canada" Season 1 Cast
Toronto socialite with a passion for fashion.

A sweet dental hygienist from Scarborough, this gem is single and ready to mingle.

This calculating professional YouTuber from New Brunswick approaches everything like a mathematical equation.

A self-proclaimed party girl from Fort McMurray who knows how to get what she wants.

Quick on his feet, this slick salesman from Toronto claims he can sell anything to anyone.

A small town elementary school teacher from Nova Scotia with a big personality.

An adorable and innocent East Coast farm boy with a strong work ethic and a heart of gold.

An exotic Persian beauty from Edmonton who's out to prove there is more to her than what meets the eye.

Cocky but lovable, this doctoral student from Vancouver believes his PhD in Social Psychology is his key to the grand prize.

Free-spirited and sporty, this tomboy from Toronto loves life and isn't afraid of a little competition.

A hopeless romantic and charming down-home East Coaster.

A thrill-seeking tanning salon owner from Toronto who works hard and plays even harder.

A sweet, smart, super fan from Richmond Hill who plans to do his thesis on "Big Brother."

A loving mama bear from Vancouver with a passion for hip-hop and her community.

Handsome and hardworking, this Calgary firefighter loves to party.

She's going to have her hands full with this bunch!
Follow Rob Cesternino on Twitter: www.twitter.com/robcesternino