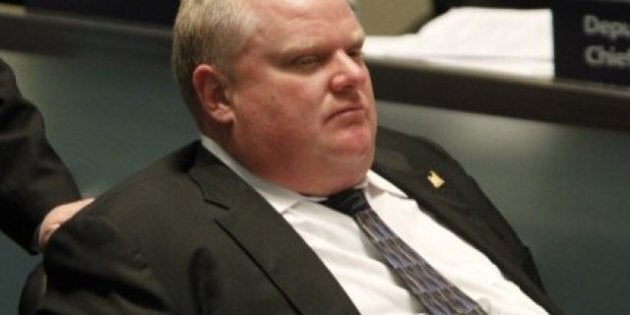 Inspired by the very public diets of Toronto's Ford brothers -- Mayor Rob and brother Doug -- a Huffpost contributor has decided to take up their Cut the Waist challenge, and shed 30 pounds by June 18. Our contributor will weigh-in every Monday (you can read his previous entries here and here) with his progress (including a photograph of his bathroom scales that morning). He would like to be less public, however, about his identity.
We've been over this a hundred times.
Yes, yes, a triple-decker peanut-butter-and-jelly sandwich, when presented as a chemistry formula is: 2PB + 2J. Two sides peanut butter, two sides jelly. But that fails to describe the essence of the sandwich whose formula is 1PB + 1J + 1PB + 1J. It all has to do with the delicate placement of the middle slice of bread, that which has been lovingly prepared with one side PB, the other side J. Now I love the gays and it's my life ambition to see them marry but in the world of PB&J there is no, nor will there ever be, PB-on-PB love. If that's allowed, then what? PB-on-dog?
Yes, once you take a bite into a triple-decker PB&J it all gets churned together and broken down to its atomic elements: 2PB + 2J. But, my friend, if you accidentally flip that middle slice of bread to create PB-on-PB and J-on-J action, you had better prepare yourself for Ted Allen to tell you, "You have been chopped."
OK, so we agree on the fundamentals, right? But maybe you're asking yourself, "Why is this guy who's trying to lose weight writing about a PB&J?" May I propose a question back to you, dear reader: It's the middle of the night, you wake up as if by command to make yourself a triple-decker PB&J, you drag yourself to the kitchen, and now, how easy would it be for YOU to prepare a triple-decker PB&J...with a lit match eight inches below your genitals?
The match, you see, is held by a man who explains the rules. He's going to raise the match slowly until after your first bite of said sandwich, in which case he's going to blow it out and go away. Is that your hand I see shaking just a bit as you are spreading the PB onto the first slice of bread? Are you starting to worry you're going to screw up the placement of the middle slice?
Or here's a better question I'd propose under the circumstances: Why is there a man in your kitchen with a lit match under your legs? And what kind of neighbourhood do you live in anyway?
That man is the physical manifestation of a sugar dive. For a diabetic, it means your blood sugar has dropped to an unhealthy level. And if it keeps dropping you will find yourself the proud owner of a diabetic coma for which death is most certain if you're not able to climb out of it.
I've experienced a couple of sugar dives since I've started blogging. That makes sense since 1) I'm taking the amount of diabetes medication to control my pre-blogging blood sugar levels, and 2) since blogging I'm eating much better and thus my sugars aren't as high. Diabetes medicine falls into two categories: medicine that will drop your blood sugar by a predicted N units, and more modern medicine that takes a Goldilocks approach of dropping sugars to "just right."
I take more of the first type (more on this in a later blog) and since my blood sugars are much lower these days, the medicine is dropping my sugars lower than I'd like. When that happens, cue the man with a match. Cue the command to prepare and swallow a triple-decker PB&J as fast as freakin' possible.
How to describe an incident of low sugar to somebody who hasn't experienced it? The body shakes like an earthquake. Ever been in an earthquake? I don't mean the L.A. kind where afterwards everybody rates the Richter scale like they're Olympic judges. Cards go up: 4.5, 4.3, 5.1, 4.3. No, I mean like Northridge. Haiti. Chile. Tohoku. The kind of earthquake where you are not sure whether the ceiling and the walls around you are going to cave. That's the fear of an earthquake. It's not the shaking that's going to kill you, it's the not-knowing how bad it's going to get that makes your stomach drop.
When my blood sugar takes a dive like the 1919 Chicago White Sox, my reptilian brain takes over. I can feel my temperature rise, my guts start to shake, and I jump out of bed to take a reading to confirm just how low it is. Next, fix it. It's easy as pie (yummmm, pie). Get. Sugar. Now.
Take a glucose tablet. How about a dainty glass of OJ? That's the cucumber cool textbook solution. But my reptile wants more. He wants a whole friggin' mouse. He wants a triple-decker PB&J. Cue the fear. Raise the flame. You don't feel the heat. Yet. But you know something real bad is happening.
You're shaking and you're not sure whether the ceiling and the walls around your body are going to cave. And this is when I begin to have this lame-o argument with myself around what constitutes the making of a perfect 3D PB&J. Your faithful diarist can be really dumb sometimes.
GOOD NEWS! Since I've been blogging I have cut my daytime medication in half, my nighttime medication completely, and I'm tracking my sugars faithfully every day. I followed all my to-do guidelines from last week and I'm down two pounds.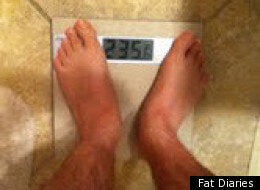 My trainer, Kickass, put me through the wringer and I didn't get barfy like I sometimes do. More about exercise in upcoming weeks.
Next week I have more business travel coming up. My goals are to repeat guidelines from last week.
Thanks for all of your well wishes!