Rob Ford Drunk Allegations Denied: Toronto Mayor Says Alcoholism Claim 'Outright Lie'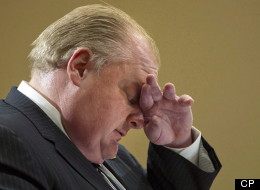 A bombshell report in Tuesday's Toronto Star alleges Toronto Mayor Rob Ford was intoxicated and asked to leave the Garrison Ball, an annual gala that celebrates the Canadian Armed Forces.
The Star, quoting numerous sources, reports that Ford spoke in a "rambling, incoherent manner" and nearly fell on the stairs near a washroom during the Feb. 23 event, and that he was asked to leave. City councillor Paul Ainslie, a Ford ally and member of his executive committee who was at the event, confirmed on the record that Ford was asked to leave, though he refused to say why.
Read the full story 'Intoxicated' Toronto Mayor Asked To Leave Military Ball' at The Toronto Star.
But an angry Ford denied the report Tuesday as "lies after lies and lies" at an appearance with boxing champion George Chuvalo.
"It's an outright lie," he said. "It's the Toronto Star going after me again and again and again."
One of the reporters on the piece, The Star's Kevin Donovan, told 680 News that sources who attended the Toronto Garrison Ball saw the mayor "out of it."
Story continues under gallery.
When asked why The Star is reporting about the mayor's alleged problems, Donovan said, "The mayor has a lot of supporters. The people we've talked to really like him, they want him to get some assistance for what appears to be … alcoholism.
"We're doing a story about Toronto's top public official who's got problems and is not getting help for it."
Ford's brother, Councillor Doug Ford, denied the claim the mayor has a drinking problem, the National Post reports. "I've never seen Rob drink at any event," Doug Ford told AM640′s John Oakley Tuesday morning, accusing the Toronto Star of being on a "non-stop witch hunt."
And Deputy Mayor Doug Holyday came to Ford's defence, telling reporters no one has ever approached him with concerns over the mayor's drinking.
Holyday also suggested the accusations are part of a broader scheme to discredit the mayor.
"There are people that do not like our agenda... We're not going to be curtailed by those people," he said.
"They can't seem to stop us politically, they're going to try to stop us in another way," he said.
The drinking allegations are troubling for a mayor who earlier this month was accused by a former rival of groping her at a public event while appearing "out of it." It also calls to mind a 1999 driving-under-the-influence charge and a notorious incident in 2006 when the mayor, visibly intoxicated, berated a couple sitting behind him at a hockey game.
Earlier this month, Sarah Thomson, who ran for mayor in 2010 and is the chair of the Toronto Transit Alliance, posted a photo of herself with Ford at a party held by the Canadian Jewish Public Affairs Committee. The image, in which Ford looks dishevelled, went viral with Thomson's claim that Ford had "grabbed my ass."
"I've never seen him so out of it. I know I shouldn't be pissed but after spending 10 months on the campaign trail together you expect a little bit of respect at the very least for my husband," Thomson said.
Thomson raised eyebrows of her own by claiming that she believed the mayor was high on cocaine at the time of the incident, though she offered no proof to back up the allegation. Ford dismissed Thomson's claims on his Sunday radio show. "In my personal opinion, I've always said, I don't know if she's playing with a full deck from the first time I met her and I told her that that night," he said.
In 2006, before he was mayor, Ford denied reports he was drunk and had verbally abused a couple at a Toronto Maple Leafs game. He later admitted the incident. "I reflected on it last night, and talked to my family. I came forward and admitted it. That's all I can do. I mean, I'm not perfect," Ford said. "Being in politics, you're in the spotlight all the time. I made a mistake. I made a major mistake. I really regret it."
In 2010, Ford came clean about an incident dating back to 1999 in Florida, where he was charged with driving under the influence and marijuana possession. Ford at first denied the allegations, but later admitted to both. He pleaded guilty to refusing to give a breath sample.
The marijuana charge was dropped, though Ford admitted to the Toronto Sun that he had been caught with "one joint in my back pocket."
Still, Rob Ford's political Teflon is likely the thickest in the country. He has survived and even thrived through years of gaffes and public blowups, including the following:
Rob Ford's Greatest Gaffes
In March, former mayoral candidate Sarah Thomson accused Rob Ford of grabbing her behind while at an event. She later suggested the mayor was so out of it that she wondered if he was on cocaine. Ford has denied the accusations.

In November of 2012, an Ontario Superior Court Judge ordered Rob Ford to be removed from office for violating Toronto's Conflict-of-Interest Act. The ruling stemmed from Ford's participation in a council vote to recommend he repay donations that he solicited for his private football foundation using official city letterhead. After weeks of uncertainty about who would replace Ford, the mayor won his appeal, allowing him to remain in power.

Ford's role as coach of a high school football team has repeatedly landed him in hot water. From a city bus used to ferry the team home after a reported brawl, to missed council meetings and court appearances, Ford's gridiron exploits have made headlines again and again. Despite the controversy, Ford has maintained that he's not giving up his other job to focus on running the city.

On a trade mission to Chicago, Ford infamously confused Winnipeg and Windsor, a verbal stumble that prompted chuckles on both sides of the border.

A video clip of Ford falling while attempting to throw a football at a Grey Cup event was quickly turned into GIF image that went viral.

In October of 2012, a photo hit the web of Ford reading while driving. The mayor admitted to doing it, but refused to hire a driver, despite pleas from the police and political allies. The incident was far from the first Fordian fail on the road. The mayor has also been accused of giving a motorist the finger while driving and has admitted that he pleaded guilty to refusing to provide a breath sample after driving under the influence of alcohol in Florida.

A photo hit the web in September of 2012 of Ford posing with a neo-Nazi dressed in a foreign military uniform. Ford explained that he was unaware of the man's political beliefs. At least one major Jewish group said it was satisfied the mayor meant no harm.

For several months in 2012, Ford took part in a very public weight-loss campaign. Weigh-ins staged before the press meant the mayor had nowhere to hide, and after some initial success, he actually started putting on pounds. Ford admitted to giving up soon after.

Ford called the police in May of 2012 and alleged that Toronto Star reporter Daniel Dale trespassed on his property. Dale denied the allegations and said Ford approached him with a raised fist. Ford would subsequently refuse to speak with reporters from the Star or to co-operate with the paper in any way.

Ford has twice bucked tradition and refused to attend Toronto's Pride parade, prompting widespread criticism.

Late in 2011, Ford called the police after Marg Delahunty (Mary Walsh) and the crew of CBC's satirical show "This Hour Has 22 Minutes" showed up at his home. While other politicians have reacted with laughter when approached by Delahunty, Ford said the "ambush" at his family home crossed the line.
With files from The Canadian Press