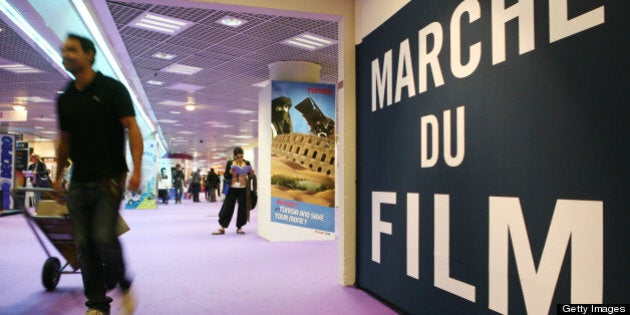 As part of Telefilm Canada's Not Short on Talent project, 40 short-film filmmakers from across Canada traveled to the 2013 Cannes Film Festival, where their films were highlighted in the market. The Huffington Post Canada is pleased to share diary entries from a selection of these filmmakers, who describe their experiences at Cannes as Canadians on the rise in the industry. Here is Marie Clements with the final entry in our Cannes Diary series. Also check out previous entries from KyleThomas , Jacquelyn Mills and Moira Sauer.
If I could have written sooner I would have but the last four days have been a marathon of sorts and a test on what I understand of the world. It takes a certain level of concentration to write which is something I haven't had since I got off the plane. There is something about traveling a long distance, in a different time zone, and suddenly being inside a beast, that is inside a different country. Both speaking a different language at the same time.
The night I arrived I walked down towards the Palais. The street is beautiful just as you imagined -- it is lined by palm trees, pale adorned hotels on one side and on the other an ocean of blue that stretches as far as it can from the rolling hill of this coast. It is relieving to be on by the water yet odd -- as a gaggle of yachts the size of city office buildings are plunked down taking root in the ocean. Weird.
I was walking, a kind of walk you do when you haven't quite landed, so it can only be recalled as drifting. Here you are squeezed into a street of moving beautiful people who constantly bump against you, pushing you this way and that -- it is like being sandwiched by Vanity Fair. Everywhere else black cars with tinted glass are stacked behind each other in a perpetual thread, security men in black suits and sunglasses herd everything this way and that, lights flash, scooters scoot, police patrol and women in heels so high stand tilted against the wind and the weight of their hair and dresses. The music underscores...It feels like being in a movie...except you are not the star.
There is something right about sitting on a patio writing in the morning in France -- this is what writers all over the world dream about...You can drink your French coffee and look out towards the ocean after your bare feet have walked across the most extraordinary white marble that extends itself across every surface of the apartment including the floor of balconies. It can make a girl feel rich. And it's best you find your own brand of rich here cause this is one town, one moment in time, one film festival where having money is close to everything. It is so expensive. And... it is so overwhelming to see the kind of wealth that could possibly feed every child who is starving in the world.
Of course, this thought doesn't stop you from secretly wanting to be on a party yacht -- one of the many lined up two city blocks in the Palais, it doesn't stop you from wanting to buy the designer dress and shoes in the window that could probably fund your next short film, and it doesn't stop you from seeing your first feature on the red carpet...it's not there now, but part of believing is seeing..... It is in the end the thing of an imperfect dream.
I not only don't have the right clothes, I don't have the right shoes, and I don't care so much because I am laying under my duvet refusing to get up. My feet hurt so much I could cry but nobody would care. There is an army of well-heeled women that are feeling my pain, and worse, so I am taking some consolation in that. If I am not walking, I am standing in line ups, or I am standing talking to other filmmakers, actors, writers, and producers from all over the world. I didn't expect to find this so inspiring but I do and it has an unexpected energy to it to keep going forward. We move from a screening, to a networking event, to a panel, to a party, to a meeting. We walk and walk and stand. I am now a we since I ran into a handful of Aboriginal actors, and directors and producers from Canada -- all being presented in Cannes. This in itself has made it all worth it. I have laughed a lot...our circle has grown. We are off to find food and scooters to drive up the coast like...well...the movies...
Did I tell you my short film screened in Cannes?